Advertisement
April 17, 2007 00:06 IST
Last Updated: April 17, 2007 09:09 IST


Latest reports continued to put the death toll at 33, including the lone gunman in the deadliest campus massacre in US history which took place at the Virginia Tech University in Southwest Virginia -- which is about 200 miles from Washington, DC.

But the number of those killed was expected to rise as scores were also seriously wounded in the rampage by the gunman.

The largely residential campus that nestles in the beautiful rolling hills of the Blue Ridge Mountain Range, with 26,000 students, which makes it the largest populated college in the Virginia university system,  is a well-regarded science and engineering university --although not in the same league of CalTech, the California Technology University or any of the Ivy League colleges -- and has a significant number of both India and Indian-American students, but according to the president of the Indian Students Association there were no reports of any Indian casualties.

Ajit Pal Singh Raina, the president of the Indian Student Association, told rediff.com, "as of now, we haven't heard of any bad news about the Indian students. But the situation will be clear once the authorities release the list of the victims."

Law enforcement authorities have not identified any of the victims who were killed or who were seriously injured till their next of kin and/or families have been informed, in keeping with privacy laws.

But several television and radio stations, including MSNBC were reporting that Justice Department sources had confirmed that the gunman was "a young man," and an "Asian individual" in his mid-20s and that he had two nine-millimeter semi-automatic hand-guns and was wearing a bullet-proof vest.

However, his identity was not been released either, and apparently the reason for the delay in naming this individual was because there is an all-out check into the alleged gunman's background and that extensive checks were being carried out of his living situation and all of his connections and to check them against the intelligence data-bases across the country and the world to make sure he was indeed acting alone and doesn't have any connections to terrorist groups or organised crime.

The gunman had not been carrying any identity on his person at the time he carried out the shootings, which began 7.15 am on April 16 in the Ambler-Johnson dorm where he shot two people and then two hours later in classrooms of the engineering Norris Hall, executed the others.

Law enforcement officials said the ATF (Alcohol, Tobacco and Firearms) had 10 agents on the scene quickly to gather the ballistic evidence along with the Virginia State police and were now in the process of tracing the weapons back to their original source.

At a briefing at the Virginia Tech, campus law officials, acknowledged that the doors of Norris Hall had been chained apparently by the gunman evidently in an effort to thwart any escape route by victims as he moved from classroom to classroom, moving down all those he encountered.

Raina said communication was a problem as those students who are on campus aren't allowed to leave the university premises and "the situation is under control."

"We heard that whoever was responsible has been short. But getting in touch with all the students is not possible right now," he said, adding, "the only information flows now is through our website (http://www.isa.org.vt.edu). Thankfully, there hasn't been any bad news till now. There are a lot of Indian students at the university."

Meanwhile, Virginia Governor Tim Kaine, in Tokyo, on the first leg of a two-week tour as the head to a trade delegation of more than 100 Virginia business and government leaders that was to take him to India next week with stops in New Delhi, Chennai and Mumbai, his office told rediff.com had cancelled his visit and would return to Virginia Tuesday.

According to a statement released by his office, Kaine said, "It is difficult to comprehend senseless violence on this scale. Our prayers are with the families and friends of these victims, and members of the extended Virginia Tech community."

He said, "The state is working closely with Tech officials, local law enforcement, and the community health system to provide whatever additional resources and support may be needed."

"I urge Virginians to keep these victims and their families in their thoughts and prayers," he added.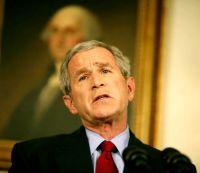 President Bush in a televised message from the Diplomatic Room of the White House, said, "Our nation is shocked and saddened by the news of the shootings in Virginia Tech today."
He said, "The exact toll is not yet been confirmed, but it appears that more than 30 people were killed and many more were wounded."
Bush said he had "spoken to Virginia Governor Tim Kaine and Tech President Charles Stiger and I told them that Laura and I and many across our nation are praying for the victims and their families and all the members of the University community who have been devastated by this terrible tragedy."
"I told them that my Administration would do everything possible to assist with the investigation and I pledged that we will stand ready to help local law enforcement and the local community in any way we can during this time of sorrow."
Bush said that "schools should be places of safety and sanctuary and learning. When that sanctuary is violated the impact is felt in every American classroom and every American community.
"Today, our nation grieves with those who have lost loved ones at Virginia Tech. We hold the victims in our hearts, we lift them up in our prayers and we ask a loving God to comfort those who are suffering today," he said.