April 04, 2007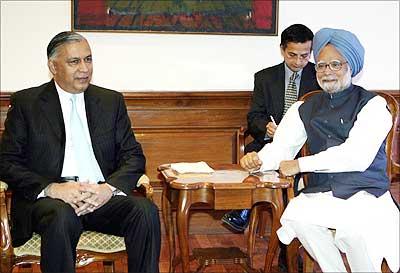 Prime Minister Manmohan Singh had a meeting on Wednesday with his Pakistani counterpart Shaukat Aziz.
The Pakistan premier is in New Delhi to attend the two-day 14th SAARC Summit, which began on Tuesday.
Noting that the ongoing dialogue process has created a 'good atmosphere', Pakistan said it was making every effort to make it a success and hoped tangible results will be achieved on Kashmir and other issues.
Aziz said he had shared these views with Dr Singh during their 50-minute meeting, which also covered Siachen, Sir Creek, Iran-Pakistan-India gas pipeline and connectivity issues.
The cross-border Samjhauta Express blasts, that killed 68 Indians and Pakistanis in February, also came up for discussion and Dr Singh assured his counterpart that the progress in investigations will be shared periodically with Islamabad, Aziz told reporters.
The two leaders also discussed the issue of prisoners, with Aziz assuring Dr Singh that Pakistan would take early action to return boats seized from Indian fishermen.
On Kashmir, Aziz said dialogue was progressing at various levels to address the issue.
"The ongoing dialogue process has created a good atmosphere and will lead to better ties," he said after his meeting with Dr Singh.
He said the two leaders discussed that if South Asia has to live in peace and people have to benefit, the dialogue process has to be taken forward. "We are trying every effort to make the dialogue process a success. It will lead to better relations," he said.
Photograph: Raveendran/AFP/Getty Images