Home > News > First Look


Karunanidhi's gift - a colour TV

September 15, 2006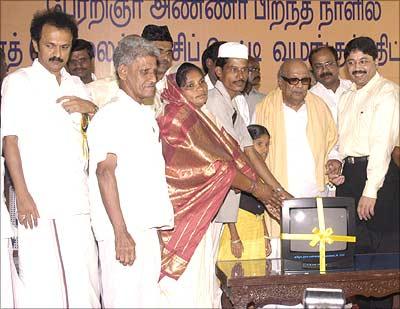 Fulfilling a major election promise, Tamil Nadu Chief Minister M Karunanidhi Friday launched the distribution of free colour TV sets to the poor at Padappai near Chennai on the 98th birth anniversary of DMK founder C N Annadurai.
Speaking at the function, in which 25,245 colour TV sets worth about Rs 9 crore were given to the residents of Samathuvapuram (a colony of all communities and creeds) at Thundalkazhani village in Padappai in Kanchipuram district, Karunanidhi said Rs 750 crore had already been allocated in the state budget for distributing 25 lakh colour TV sets.
Karunanidhi said the scheme would be implemented in phases as it was not possible to distribute all the 25 lakh sets in a single day. Those who predicted that the scheme would not be possible at all were now asking that why it was not being implemented at one stroke, he said. "Even in marriages, feasts are provided in batches, since it was not possible to feed all the guests at the same time. A person who is invited in the third or fourth batch will wait patiently without complaining. That is how cultured people behave," he said
"Even when climbing the stage, a man should walk step by step. He could not jump from the ground to the stage. If he does it, he cannot be called a man. He will be called something else," he said, asserting that 25 lakh TV sets would be given. "We will create a situation where there will not be a single house in the state without colour TV."
Image:  Tamil Nadu Chief Minister M Karunanidhi distributing a colour TV set to a family. Union Communication Minister Dayanidhi Maran (right) and state Local Administration Minister and Karunanidhi's son M K Stalin (left) were also present.
Photograph: V Ramesh


What do you think about the story?








Read what others have to say:





Number of User Comments: 22








Sub: Karunanidhi's gift

So.. color TVs have been distributed! Of course, Union Minister Maran's company, Sun TV, which is the sole distributor of these tvs (I am assuming) ...


Posted by s. r. Iyengar









Sub: Does anything amaze us anymore?

A circus called Indian politics, with politicians as the ring masters and the people as the performing animals!


Posted by Sriharsha Ogoti









Sub: What a scam using govt machinery

So every home in TN will have a color TV and will eventually get a SunTV connection and Maran's family owns the private TV network ...


Posted by Natarajan









Sub: TVs without homes!

first ensure whether all people have shelter to live.what can a tv do when the road is in a bad condition?what can a poor man ...


Posted by ramya









Sub: what a shameful waste of public money

this is the worst way politicians can waste tax money. the money which ought to be spent on developmental projects, education, health is unfortunately being ...


Posted by raider






Disclaimer