September 14, 2006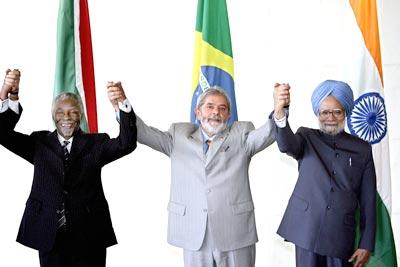 The first-ever summit of the India-Brazil-South Africa Dialogue Forum began on Tuesday in Brazil's [Images] capital Brasilia with leaders of the three countries stressing upon the need to empower millions of people living in Asia, Africa and Latin America.
Prime Minister Manmohan Singh [Images], Luiz Inacio Lula da Silva, President of Brazil, and President Thabo Mbeki of South Africa discussed issues ranging from technological cooperation to improving air linkages between the three nations.

Addressing delegates, Dr Singh said: "The success of our experiment to pursue development within the framework of an open economy and an open society is vital to the well being and empowerment of millions of people in Asia, Africa and Latin America."
Stressing upon the need to take bold decisions, the prime minister said: "Trade and tourism ties between the three nations have not yet reached its full potential. We have to take a bold decision to make things work."

Image: Prime Minister Manmohan Singh, Brazil President Luiz Inacio Lula da Silva and South Africa President Thabo Mbeki greeting media persons at the Itamaraty Palace in Brasilia ahead of the IBSA summit.
Photograph: Evaristo SA/AFP/Getty Images

Don't miss:
Why Dr Singh is in Brazil
Images: Red Carpet for Dr Singh in Brazil
Coverage: PM at the NAM Summit