September 12, 2006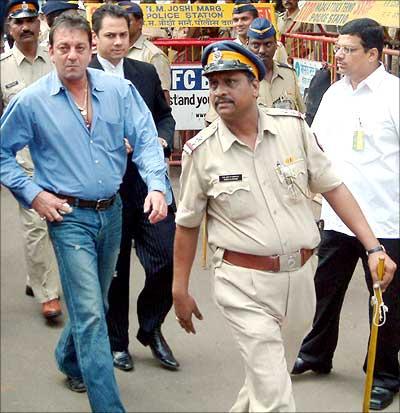 As the special TADA court began giving its verdict in the 1993 serial blasts case, the spotlight was once again on actor Sanjay Dutt [Images], whose future continues to hang in balance.
The verdict on Dutt, who is accused number 117, is likely to take time, as the designated court will pronounce the verdict in batches.
Dutt did not betray any emotion as he entered the Arthur Road jail premises where he spent 18 months.
The special TADA judge holds court within the jail premises.
The cynosure of all eyes, Dutt will have to wait for the designated court to decide his fate.
He was accompanied by sister Priya Dutt and state minister Baba Siddiqui.
Industry sources said Rs 100 crore had been invested in movies signed by Dutt, whose stock has skyrocketed after the runaway success of his latest movie Lage Raho Munnabhai. "An adverse court verdict will definitely affect the industry financially," sources said.
Photograph: Arun Patil