Advertisement
September 12, 2006
Five years ago, when American Airlines Flight 11 and United Airlines Flight 175 tore into New York's Twin Towers on a sunny morning and brought down both buildings 103 minutes later, 41 Indians lost their lives.

Many other Indians saw their future take a different course after the tragedy. They nursed the wounded, aided the victims' families and helped the the US government in the aftermath.

To mark the fifth anniversary of 9/11, in a week-long series, rediff.com brings to you the stories of some of those Indians for whom September 11, 2001 changed their lives forever.

Yesterday: The child who lost his mother

Today: A father remembers the son he lost.

The years may have dulled Anand Puttur's pain, but any reminder of his lost son brings the sadness bubbling back to the surface. So much so that he is reluctant to talk to the media anymore.

"What is there to say?" he asks, speaking his native Tulu. "I am a simple man. All I wanted was a good education for my children -- two sons and a daughter. But my son had great dreams. He worked very hard to achieve them. He was on his way to great success. But it was not be..."

Anand's voice trails off, and his eyes glaze over in grief.

Anand, a tailor in the small farming town of Puttur, 30 miles from Mangalore in Karnataka, lost his son Hemant in the September 11, 2001, attacks on the World Trade Centre in New York. Hemant, then 28, was working for a Wipro [Get Quote] client on the 97th floor of the North Tower on the fateful day.

A few days before the tragedy, Hemant called home. He wanted, he said, to get his parents over to the US for a holiday. The wish fulfilled itself in tragic fashion when, a year later, Anand and his wife Kusuma did go to the US.

"We went, me and my wife, not to join him for a holiday, but to pay homage to him," Anand says.

"Life without him has been hard, but we have to come to terms with realities. I don't blame anyone except fate."

"We have received a considerable amount of money as compensation and have no complaints. However, money cannot be equated with my son's life."

Hemant Puttur's journey from his small, nondescript hometown to the 97th floor of the North Tower of the World Trade Center [Images] was a remarkable saga.

His father Anand was a man of humble means, eking out a living from a small tailoring shop. His one desire was to see his three children -- Hemant was the youngest -- get a good education, get a chance to break out of the grip of poverty.

Hemant went to a local school, then to St Philomena's College for his pre-university education. He was set on computer science, and worked extra hard at the pre-university level to ensure he got a merit seat in college. It was a vital need, because he knew there was no way his father, who had already incurred debt just to put his two elder children into college, could afford the 'donations' to secure admission.

Hemant aced his exams and found a seat in the Kaurunji Venkatramana Gowda College in the neighbouring town of Sullia, about 20 miles away. After completing his graduation in 1995, he worked for a software firm in the information technology hub of Bangalore.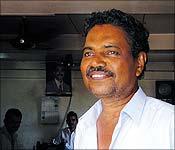 He joined software major Wipro in 1997. His job at Wipro meant that the son of a small-time tailor ended up travelling around the world, handling the fast-rising company's many clients in Britain and the US.
Hemant arrived in New York in July 2001, and was deputed as a database manager at global professional services company Marsh and McLennan. Conscientious to a fault, he was in the habit of getting to work well before 8 am -- thus, he was at his desk, hard at work, when American Airlines Flight 11 crashed into the North Tower at 8.46 am that fateful morning.
No trace of Hemant was ever found.
Hemant's loss has left a gaping void in Anand's life, which, otherwise, remains unchanged even despite the compensation the family received. The years are catching up with him, yet he makes his way daily to his tailoring shop, pedalling across town on his trusty old bicycle.
"It is better to go and work at my shop than to sit at home and brood over what has happened," he says. "After all, it was this shop that helped me educate my children."
He does his work -- the only work he knows to do -- and he does what he can to keep the memory of his son alive.
Memorials to Hemant dot the road on the way to Puttur, a town renowned for its traditional bonesetters.
There is a huge welcome arch just before you enter town. Anand paid the Panchayat Rs 300,000 (about $6,500) to erect that arch in 2004. The simple inscription at the base says it was built in memory of Hemant Puttur.
'Hemant Puttur Memorial,' it says in Kannada and English on the sides of the nearly 20-foot high concrete structure.
Further down the road is Hemant Plaza, a shopping complex the family built with the money it got as compensation. Anand Puttur also donated Rs 1.5 million (about $35,555) to the Sree Narayana Guruswamy Mandir in Puttur to build a dining hall in his son's memory.
"Every September 11, we have a memorial ceremony for my son. Special prayers are performed and the devotees are given meals. The family pays the expenses," Anand says.
Hemant's employers haven't forgotten him, either. Wipro, which lost four employees in the tragedy, has named four halls in its sprawling campus at Bangalore's Electronic City after them.
The four -- Hemant, Shreyas Ranganath, Shashikiran Kadaba and Deepika Kumar -- were all working at Marsh and McLennan.
Anand was not aware that three of his son's Wipro colleagues also met the same fate -- or that Wipro has named a hall each in memory of the four. "Is that so? Then it is good that they have also propagated the memory of my son. In fact, they had called me for some function about four years ago, but I was unable to go," he says.
Hemant's siblings miss their kid brother as much as his father does. "Hemant was the breadwinner of the family. He has shouldered many responsibilities," his brother Prashant Puttur said in an interview in 2002.
"Now it is all on me, and it is difficult to fill his shoes."
The travel agency Prashant runs out of Hemant Plaza makes it clear the family has been able to make up, at least financially, for Hemant's loss. Prashant owns several buses and luxury taxis and is evidently affluent.
His sister is married, and lives in a neighbouring town. Even the humble family home, a couple of minutes from Anand's tailoring shop, has been renovated -- though it retains its humble air, it is now a two-storied residence.
Hemant's mother Kusuma is apologetic, but firm, in her refusal to talk at any length. The family does not want to reopen old scars, she says.
"Every year around this time, media persons descend on our house," she says. "We have told Hemant's story so many times."
"Anand is a simple man; he cannot refuse to speak to you. But speaking about his son reminds him of the loss.
"He will not go out today, and he will be sad and morose."
Rediff Specials