Advertisement
September 02, 2006 16:11 IST
Last Updated: September 02, 2006 23:09 IST
In a gruesome act, three Indian and eleven Pakistani pilgrims were shot dead by insurgents in Iraq while they were on their way to the Shiite holy city of Karbala, about 80 km from Baghdad.

Unidentified gunmen freed the women and children before killing the men "execution-style," reports reaching here from Baghdad said.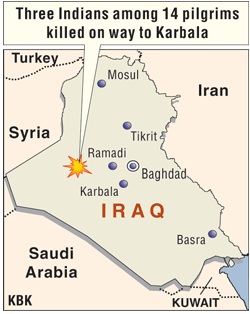 Identifying the three as Jaffer Mashadi of Vishakhapatnam, M Beigh and Mohammad Ahmad Ali, both hailing from Hyderabad, Minister of State for External Affairs E Ahamed said that they were part of a group of 40 pilgrims from India and Pakistan.
They were shot on Friday as they headed for Karbala in a bus, the officials said.
Citing information received from the Indian Mission in Baghdad, Ahamed said that armed men intercepted the pilgrims' vehicle on August 31, segregated male members of the group and whisked them away.
Quoting information received from Indian Charge d'Affaires in Baghdad Kedar Singh, the minister said the bodies of the three Indians were lying in a Karbala hospital.
The wives of the two deceased and mother-in-law of one were also part of the group, Ahamed said, adding that the relatives have given permission to the Indian mission to conduct the last rites of the dead in Karbala. The group had entered Iraq through Syria and a travel agent arranged their travel.
Karbala City Health Director Salim Kadhim was quoted by AFP as saying two of the victims are elderly men, two young men in their 20s and others are middle-aged. They were killed on a route that comes across the desert from Iraq's western border past the city of Bamadi, a stronghold of Sunni Arab insurgents, who are often blamed for attacking Shiite Iraqi and foreign pilgrims going to Karbala.


Meanwhile, Union Home Minister Shivraj Patil has said that he was is in touch with the external affairs ministry for the latest update on the killing of the Indian pilgrims.

"We don't have information as yet. We are trying to get information from the ministry of external affairs," Patil told reporters at his residence.

Andhra Pradesh Chief Minister Y S Rajasekhara Reddy, who was having a meeting with Patil when the incident took place, said, "We have learnt that three persons from Andhra Pradesh were killed in Iraq by terrorists. We are ascertaining information from MEA. Once we get all the information, we will consider what steps are required and we will take all necessary steps."
© Copyright 2008 PTI. All rights reserved. Republication or redistribution of PTI content, including by framing or similar means, is expressly prohibited without the prior written consent.