Home > News > First Look


Mayawati claims Kanshi Ram's legacy

October 16, 2006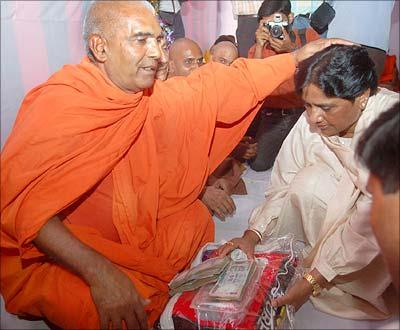 A week after her mentor and Bahujan Samaj Party founder Kanshi Ram passed away, Mayawati staked claim to his political legacy, declaring loud and clear to 140 million Dalits in the country India that she is the chosen one.
Mayawati told some 60-70 Budhdha monks and media gathered at her 11, Humnayun Road, residence in New Delhi, that, "Main manyawar Kanshi Ram ki ek matra rajkiya uttaradhikari hun. (I am the only inheritor of Kanshi Ram's political legacy)."
Mayawati took resort to a Buddhist ceremony, the religion increasingly accepted by India's Dalits in the last few decades, to declare her strategy in the post-Kanshi Ram era.
In a small religious ceremony, Budhdhist monks praised Kanshi Ram and blessed Mayawati for becoming his inheritor. She performed Kanshi Ram's seventh day rituals as per Buddhist traditions.
She highlighted the fact that she was never discriminated by Kanshi Ram because she was a woman. She said she decided to perform his last rituals herself to send the message to the "underprivileged class" that they should not believe in any kind of gender bias.
She said, "Kanshi Ram didn't discriminate between a girl or boy child."
"When it was time to light his pyre, his two brothers were filing writs in the court. They wanted a post-mortem to be done. But I have served him through out his life and made sure he didn't miss the male members of his family. I lit his pyre and I have set an example. If I can serve my parents and guru in their lifetime why can't I take part in their last ritual of agnidah (setting fire to pyre)?" she asked.
Maywati was trying to project a mellower image and was also presenting herself as a modern, trend-setting leader. But the solemn occasion turned political in no time when she made it clear to media that, "I will have to become chief minister because people of Uttar Pradesh want me to become CM!"
Her confidante and Rajya Sabha MP Satish Mishra and BSP spokesman Sudhir Goyal had arranged the entire show to send the message that Mayawati "is the fittest to inherit the mantle of Kanshi Ram."
She reminded the audience how Kanshi Ram was bed-ridden for the last three years due to a brain disease and how she was handling the party virtually without his help.
She told media persons apologetically that she was unable to meet them because her time was divided between the party and the bed-ridden Kanshi Ram.
Mayawati was cool and composed after the ceremony and also answered the controversial question of why she and Kanshi Ram have not yet converted to Buddhism.
"Many years back, Kanshi Ram had declared that on the 50th anniversary of the conversion of Babasaheb Ambedkar from Hinduism to Buddhism both would convert.
But now, Mayawati says that she will convert only when Ambedkar and Kanshi Ram's dream of capturing "absolute power" in some states and at the centre is fulfilled enabling her to become prime minister of India.
Today, she reiterated her views and said, "In India after Independence Hinduism flourished because prime ministers and ruling party leaders have been Hindus. Budhdhism has been neglected due to it. With power in New Delhi one can spread the religion."
"Kanshi Ram and me had decided that we will convert and adopt Buddhism when we will get "absolute majority" at the Centre. We wanted to do this because we can make a difference to the religion by taking along with us millions of people. If we convert without power then only we two will be converting. But when you have power you can really create a stir," she said.
However, she emphasised that Kanshi Ram and she were following Buddhist traditions and customs.
She confessed that on October 14, the 50th anniversary of Ambedkar's conversion, she and Kanshi Ram had decided to adopt Buddhism but since their, "dream of capturing power for marginalised people has remained incomplete" she was unable to convert.
She said, "Ambedkar gave us the Constitution which gave advantages to the exploited classes but he could not implement those ideals. Kanshi Ram tried to fulfill Ambedkar's dreams but since he too died before he could realise it. I'll carry forward their incomplete work to get absolute majority for the marginalised people. I will convert to Buddhism after that."
She reiterated that in the coming UP elections, the BSP will fight without pre-poll alliances. "I will decide about elections only after October 18. Right now, I am in mourning."
She told her supporters that on October 18 she will fly by a chartered flight to Lucknow carrying Kanshi Ram's ashes as per his last wish. Lakhs of their supporters will be able pay homage.
Some of Kanshi Ram's ashes will be kept in the party office in New Delhi and rest in Lucknow. She claimed that assembly elections in UP are likely to be held before mid-March because the new assembly has to be convened before May 3. In April, schools in the state (which are used as polling booths) will not be available due to exams.
She claimed that her party will get the absolute majority in the coming elections with help of upper classes who have "shunned manuwadi thinking" to join her party.
Image: Mayawati is blessed by a Buddhist monk during Kanshi Ram's seventh day ceremony in New Delhi
Reportage: Sheela Bhatt | Photograph: Saab Press
Also see:
Kanshi Ram brought Dalits to the centre of UP politics
'Kanshi Ram brought Ambedkar back into political scene'


What do you think about the story?








Read what others have to say:





Number of User Comments: 2








Sub: Conversion cannot solve problems

Conversion cannot solve any problems, but only aggravates them. To solve the problems the best way is to eradicate casteism. Nobody should be called " ...


Posted by K.G.Acharya









Sub: Mayawati claims Kansi ram's leg

The Buddhist monks/clergy would do well to steer clear of politics, and remain neutral, to avoid any untoward backlash from seeming too eager in supporting ...


Posted by labrea






Disclaimer