Home > News > First Look


Priceless weapons from Deccan's past

October 10, 2006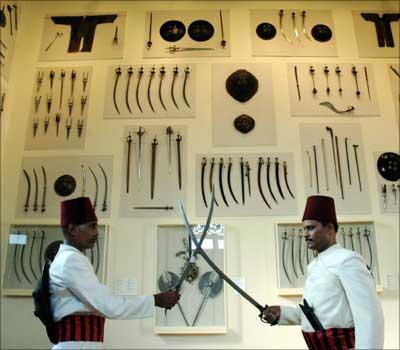 Next
When India became independent, the sun set on the realms of maharajas, rajas, badshahs and sultans across the land.
They lost their power and splendour the day the new India awoke.
Today, 59 years later, all that remains is the grandeur of a glorious past.
From time to time our former royalty takes the opportunity of giving the world glimpses of this easily forgotten royal past.
The arms and armour collection from the Asaf Jahi dynasty (1724-1949 AD), which once colourfully ruled the enormous state of Hyderabad, was inaugurated October 8 at the Chowmulla Palace in Hyderabad.
Princess Esra, first wife of the eighth Nizam, Prince Mukhram Jah, inaugurated the exhibition, which was curated by Karni Singh Jasol, curator of the museum at the 15th century Mehrangarh Fort in Jodhpur.
The armoury of the Asaf Jahi dynasty encapsulates the history of Hyderabad-Deccan and is one of the finest collections of Deccani weapons on display ever.
Text: Rupali Nimkar | Photograph: Noah Seelam/AFP/Getty Images


What do you think about the story?








Read what others have to say:





Number of User Comments: 2








Sub: good news

This is a great way to remeber the gloriouse history of Hyderbad. New genration can learn about the past because no history in the text ...


Posted by aziz mohammed









Sub: Glorious past... but what abt their atrocities

Does it not sound ironic that the nizam had such great palaces and immense wealth, but the region that they ruled (hyderabad-karnataka) is the most ...


Posted by Girish






Disclaimer