October 03, 2006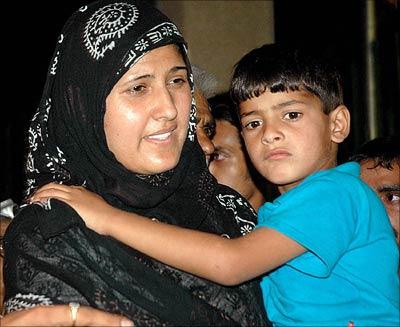 The Parliament attack convict Afzal's wife Tabassum, flew in to Delhi from Srinagar [Images] on Monday with their seven-year-old son Ghalib and other family members to seek clemency for her husband.
Afzal's execution, given for his role in the December 13, 2001 attack on Parliament, is scheduled for October 20.
On Tuesday, the family filed a mercy petition with President Kalam even as a controversy raged over the issue.
There have been indications that the execution may be deferred as the Home Ministry received a copy of the mercy plea from Rashtrapati Bhawan for scrutiny of all the aspects
The family also visited Afzal at the high-security Tihar jail.
Photograph: AFP/ Getty Images