November 23, 2006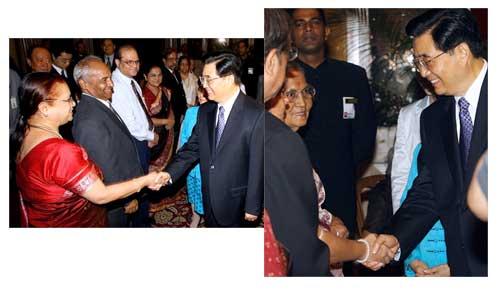 Chinese President Hu Jintao greets relatives of reverred Indian doctor Dwarkanath Kotnis in Mumbai November 23. 
Kotnis died while treating Chinese troops during the Sino-Japanese war and has become a symbol of warming ties between Beijing [Images] and New Delhi [Images].
Ten members of the family met Hu at the Taj Hotel, where he is staying, and gifted him a handcrafted bedspread from Solapur town, where the doctor was born, while Hu in turn, gifted the Kotnis family an album of rare photographs of Kotnis during his time in China. Kotnis served Chinese soldiers during the 1937-1945 war and died at the front in 1942. He married a Chinese nurse named Quo Qinglan, who remarried later and now lives near Dalian in northeast China.   
Photograph: Indranil Mukherjee/AF/Getty Images