November 22, 2006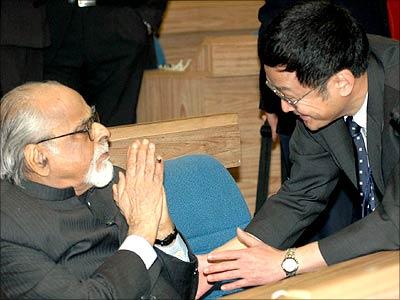 Former prime minister I K Gujral was on Wednesday upset over the seating arrangement at a function in New Delhi where Chinese President Hu Jintao delivered a lecture.
Gujral was visibly agitated as he was made to sit in the second row of Vigyan Bhavan.
However, realising the mistake after some time, officials tried to persuade him to sit on a seat in the front row. Even officials from China requested him to move to the front row.
But he did not budge and sat in the second row throughout the hour-long programme. The incident occurred before Hu arrived at the venue.
Caption: Former prime minister I K Gujral with hands folded, refuses to shift to front row as a Chinese official pleads with him during a function organised by Indian Council of Cultural Relations in New Delhi on Wednesday.
Photograph: Sondeep Shankar/Saab Pictures