November 21, 2006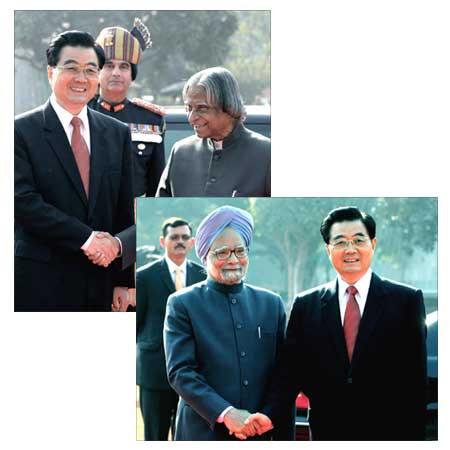 Chinese President Hu Jintao on Tuesday began his four-day official visit to India with a ceremonial welcome at the Rashtrapati Bhavan [Images].
President A P J Abdul Kalam welcomed Hu at the forecourt of the Rashtrapati Bhavan along with Prime Minister Manmohan Singh [Images] and his wife Gursharan Kaur.
The first Chinese president to visit India in ten years, Hu, who arrived on Monday evening, took the salute at a guard of honour presented by the three wings of the armed forces at the imposing presidential palace.
Hu stood on a decorated platform at the forecourt as a military band played the national anthems of the two countries.
After the ceremony, Dr Singh introduced Hu to cabinet ministers.
He later visited Raj Ghat, the memorial to Mahatma Gandhi [Images], to offer his respects.
Among others present included External Affairs Minister Pranab Mukherjee, Home Minister Shivraj Patil, Science and Technology Minister Kapil Sibal and Minister of State for Urban Development Ajay Maken.
Photograph: Raveendran/Getty Images | Text: PTI