Advertisement
May 31, 2006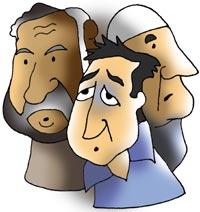 There are many tales of people wanting entry visas: tales of aspiration, migration or frustration. Some time back, I narrated one such story of Kulwant in 'Just a passport, sir' in these columns. The response from the readers was overwhelming: many were moved by Kulwant's plight, some doubted it. I have only the old defense -- Truth is stranger than fiction. Fiction has to seem credible, while truth has no such constraints.
Most Indians understand the anxieties and worries over entry visas. It is not so widely known, however, that there are regions in the world where you need a visa to leave too, the so-called 'exit visa', which can be as problematic as an entry visa. Here is such an experience from my days as a diplomat in Saudi Arabia, years ago.
Today the Indian embassy has its own impressive premises in a diplomatic enclave in Riyadh and there are a million Indians in the kingdom. In my time, the diplomatic capital was still Jeddah and our office was in an old and rambling rented mansion which looked more like a sub-divisional office in moffusil India.
Even then, there were over 200,000 Indians. The oil boom had resulted in a huge demand for labour and workers of all descriptions flocked to eke out a living, often a hard living, but still attractive to many, compared to the circumstances back home. Life was tough but the money not too bad and as the saying goes 'people went weeping to the bank once a month, so that their families back home could smile'.
Those of us in the Indian embassy saw hundreds of such workers everyday. In the hot weather, people were always milling around with scraps of paper. Greedy labour contractors, underfed actual labourers (as the Indian lingo has phrased them), passport renewal applicants, Haj pilgrims, and countless others with unspecified work hung around and the scene always seemed chaotic with a touch of pathos.
This being pre-9/11 there was no tight security and the embassy resembled a fish market.
We, the younger officers noticed gradually, however, that an alert looking young man seemed a constant feature in the shifting mass of humanity inside our compound. He used to enter our sprawling premises fairly early in the morning, was seen conferring with different groups who all hung around in the cavernous halls and was still around as most of us left in the evening.
The demand on our services always outstripped the supply and some one could just spend the whole day in the embassy without anyone bothering, but after a while this young man aroused our curiosity.
'Why is he coming every day? What does he want?' asked one of my colleagues whose job it was to look after the Indian nationals. The question was addressed to the security guard who had to keep an eye that no one stayed on in our compound at night.
'Oh. That is Irfan, Sir. He wants to leave the country, but does not have an exit visa,' was the reply.
This did not surprise us. We were familiar with the problem of the 'exit visa' in the Gulf countries, but I guess I must introduce the concept to the lay reader.
In most Gulf countries, a foreigner, any foreigner stays and works at the behest of a local citizen, a kafeel as the term goes. Say, there is a contract for construction. All the workers, skilled or unskilled, are brought in through a local citizen or company who offers them employment and 'sponsors' their visa.
All official transactions are done through this employer. To retain discipline and control, it is also necessary for employees, specially the poorer ones to get the consent of the employer, before they leave the country. Hence the concept of the 'exit visa' which one should possess before leaving for the airport.
In other words, you are checked as you leave the country, in as scrupulous a manner, as you are checked for entry. People with disputes with their bosses or those absconding from their companies or embezzlers or illegals, often have a difficult time to leave. It was so then, and I hear it is still so, now.
The next day, Irfan, the young man was brought by the security guard to my friend so that he could tell his tale of woe. He narrated his story.
Like thousands before him he had come to the Gulf with many hopes and dreams but had found life too difficult. He had quarreled with his employer, had no job and just wanted to leave. But he had no papers. The agent who had brought him had vanished, not only with his promises but also with his passport. He had nothing, bilkul, no passport, money, entry or exit visas. He just wanted to go back, that is all.
My friend had seen too many such unfortunate cases, many much worse in fact, and he was also entirely pragmatic. His job was to find a solution, not merely express sympathy. He soon decided that the only sensible and expedient way for this boy to go back was to be deported by the Saudi authorities. This too happened frequently.
After the Haj season is over, thousands of Pakistanis, Indians, Egyptians, Yemenis etc stay back illegally in Jeddah hoping to find a job. From time to time the Saudi police conduct raids, round up hundreds of such hopefuls and after a short stay in prison, deport them at the government's cost.
This process was explained to Irfan and he was advised informally that the quickest way for him to go back was to be 'caught' by the police as an illegal and then be sent back by them after a short stay at a detention centre. With the help of other more knowledgeable locals he was told about the techniques.
"Make yourself as suspicious looking as possible," said someone.
"Don't wear these smart clothes, but something more tattered. Hang around the corner of the Medina street and Al Rashid shopping centre, where most police raids take place these days," said another.
"When the police vans come, act as if you are trying to evade them. Scurry away and they are bound to catch you. Don't worry," so advised a third expert in the milling crowds.
Our young man was enthusiastic. He started looking more disheveled and haggard though inwardly expectant. A date was set for him to try and get arrested. We all wished him luck and not too much spanking in the jail period. "They are using soft canes, these days," an old man who usually hung around assured him. After a small farewell function with samosas and chai, Irfan was bid adieu.
Two days later, he was back in our compound looking completely defeated.
"What happened? Didn't you manage to get arrested?" asked our security guard, with scorn mixed with sympathetic concern.
"I did bhai sahib. But what to do. My kismet is bad," said Irfan.
Everyone wanted to know, what had happened, and Irfan told his tale.
The previous evening he was hanging around in the target area and indeed had dressed carefully to look like a real refugee. The police vans came and started apprehending lots of people, Somalis, Yemenis, Bangladeshis. Irfan tried to look furtive and suspicious, as if trying to evade the squad. But whatever he did, the police were catching people all around him, but not touching him. He tried very hard to get arrested but failed.
After a while, the leader of the police squad shouted to his men that it was enough. The open pick-up vans in which they were taking people, revved up and the team got ready to leave. Irfan was frantic. In sheer desperation he jumped into one of the police pick up vans. He too was among those 'caught' though he had not been arrested; he was more like a volunteer.
They were all taken to the police station. Here came a bigger mudeer (boss or supervisor). He looked at the rag-tag group that had been brought in and told his staff to take them inside, count them, register their names and lock them up. The staff started counting the people and sending them inside when they noticed that there were 21 persons.
'Didn't I tell you to bring twenty and exactly twenty? Can't you count?' thundered the station chief to the leader of the squad.
"How can that be? I got exactly twenty," said that worthy.
They counted again. Something was wrong.
'Who came without proper arrest?' shouted the squad leader. He was really angry.
'This guy here, he just jumped into the van at the last minute. He had not been caught earlier,' said some Somalis, pointing at Irfan. They already were buttering up the big mudeer. 'Is this true? Did you jump in?' Irfan was asked
'I too am completely illegal, have no papers and fully qualify for arrest and deportation,' Irfan pleaded.
His pleas fell on deaf ears. This is not a free for all for anyone to come in as and when he liked -- he was told. He was expelled from the jail and was back on the streets of Jeddah, condemned to his freedom. He spent the next day in shame.
"What to do? Your naseeb (luck) itself is like that. But don't worry, one day you will succeed," consoled his advisers
He must have, as we stopped seeing him after some days.
B S Prakash is India's Consul General in San Francisco and can be reached at cg@cgisf.org
Illustration: Uttam Ghosh
B S Prakash