Advertisement
May 24, 2006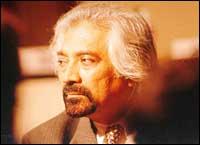 Sam Pitroda who is known for speaking his mind has done it once again.
Unlike the government and Prime Minister Manmohan Singh [Images] who appointed him chairman of the National Knowledge Commission, Pitroda believes that expansion of educational opportunities and facilities is the solution and not reservation.
In an exclusive e-mail interview to Managing Editor (National Affairs) Sheela Bhatt, he said though it was imperative that we right the wrongs done to a vast section of our society, reservation cannot become a blanket solution for all time to come.
Do you identify with the comments made by two of your colleagues who resigned from the National Knowledge Commission on Monday?
Let me first say that the resignation of two of my colleagues, Pratap Bhanu Mehta and Andre Beteille, is a great loss to the Knowledge Commission. Their presence was of great value not just to me and the Commission but in our overall endeavour to turn India into a knowledge society.
Bhanu Pratap Mehta's resignation letter in The Indian Express
My views on the question of reservations are quite well known. To the extent that Mehta and Beteille have spoken along those lines, I am in agreement with them on the need to focus on reservations in schools and not the universities.
The Commission's majority position has been quite clear in this regard. We are not in favour of reservations in the institutions of higher learning and for maintaining a status quo on other questions till such time as there is a national consensus on it.
I have spoken in favour of reservations at the primary level and in some ways even at the university level. However, we must give our institutions of higher education autonomy, freedom and flexibility to promote the best talent available to build the knowledge society of tomorrow.
Knowledge Commission member Dr P M Bhargava: 'The middle class only bothers about itself'
We must recognise that there are separate issues related to access and excellence. We need both simultaneously.
Do you think the granting of quotas to OBCs in centrally managed/funded institutions of higher studies match the mandate given to you by the prime minister when he nominated you chairman of the Commission?
You must understand that the Commission's mandate is much larger than one or two specific issues. We have been entrusted with the task of looking at and advising on knowledge from five key standpoints of: Access to Knowledge; Knowledge Concepts; Knowledge Creation; Knowledge Application and Knowledge Services.
We are looking at generational changes and not changes related to the next term of a university. Reservations are just one part of a much larger puzzle related to access.
In access we are focusing on library networks, portals, translations, literacy, reservations and affirmative action programmes.
Don't you think that large section of OBCs in India have not been privy to advantages of reservation in the last five decades only because the government didn't improve the standards of primary education simultaneously? Why blame the poor and backward for acts of omission of the governments?
Proper primary education is the key to building a sound foundation for higher education in the university. I wish we focus on this first.
I also believe that every child must have opportunity for good education without worrying about caste or income levels. If the student is qualified we must find funding to support them in colleges.
Do our institutes connect with the real India?
It is time to go beyond labels that stigmatise an entire group of people. I believe now in the early part of the 21st century we should make fundamental changes in the way we approach the concept of education, employment, equality and empowerment.
How can one avoid the numerous instances where reservation has been an effective tool to empower the backward or 'dishonored' of Indian society?
I am not quite sure about the drift of your question. But if you mean how we can disregard so many examples of people having been helped by reservations, my answer would be we cannot.
But the point is it is time for a whole new approach in the 21st century. We cannot build the nation in the 21st century with the 19th century mindset.
Do you have any other roadmap to uplift the OBCs and other deserving classes than the current system of 'reservation?'
Among the five key areas that we at the Commission are looking at is access to knowledge. In that we have spoken about the need to significantly increase access to institutions of learning both at the primary as well at the higher levels of education.
'What more do upper castes want?'
Once we make access uniform I am sure you would begin to see all sections of society make gains. To improve access we must improve quantity and quality of higher education.
What is fundamentally wrong with the quota system? How do you offset the injustice meted to OBC and others since many centuries?
There is nothing fundamentally wrong with the quota system as long as it is applied judiciously and at the right levels. It cannot become a blanket solution for all time to come.
It is absolutely imperative that we right wrongs done to a vast section of our society. The question is whether keeping them frozen in those labels forever is the right approach. I do not think so.
What we need is to create opportunities for everyone of equal merit to have proper access. On this subject there are many views and many sentiments. At times people look at this in terms of black and white while there are many shades of gray.
Would you like to share your own struggle to come up in life although you had a caste disadvantage? Did you face social speed-breakers or not?
It is my considered position to reject labels on the basis of anyone's birth. It is an outdated, antiquated thinking to keep talking about caste based disadvantages. The first step for me is to reject all such labels in the 21st century and focus on equality for youth.
'Stupid to suggest that OBCs are inferior'
In my case ;hard work, good education and focus on technology helped me a great deal to overcome any disadvantages that I had because of what people still obsessively describe as caste.
Technology gave me an equal footing for everything I have done in my life and career. I have said this before. Technology is a great leveler, second only to death. I have always negotiated challenges on the basis of my whatever little intrinsic merit quality and perseverance. I have never taken the route of quota or reservations. I hope this shows that it is possible.
The Reservation Issue: Complete Coverage