Advertisement
May 23, 2006 17:52 IST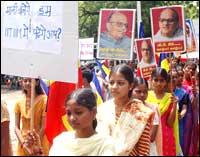 The Pattali Makkal Katchi demanded on Tuesday that the government should immediately bring an ordinance to implement the proposal for OBC quota in elite educational institutions.
"With the budget session ending today, waiting for a bill will delay matters. We want the immediate promulgation of an ordinance to implement the proposed 27 percent reservation for OBCs in educational institutions," PMK MP E Ponnuswamy said at a rally.
Another party MP, K Dhanaraju said, "We welcome HRD Minister Arjun Singh's [Images] move to bring reservation for OBCs. We wanted to give voice to the silent majority of 95 percent people who want reservation."
The anti-reservationists cannot suppress the voice of the majority for long, he added.
When asked about the Left proposal to keep the 'creamy layer' among backward classes out of the quota purview, Dhanaraju said, "This could be taken up later. First we want reservation for the socially and educationally backward people."
The demonstration, which saw placards like 'mali banenge hum, aur IIT-IIM me padoge tum' (we will become gardeners and you will attend IITs and IIMs), was also addressed by PMK MPs A K Murthy and Senthil.
Complete coverage: The reservation issue
© Copyright 2008 PTI. All rights reserved. Republication or redistribution of PTI content, including by framing or similar means, is expressly prohibited without the prior written consent.