Advertisement
May 16, 2006


Dr Udit Raj (formerly Ram Raj) is the chairman of the All-India Confederation of the Scheduled Caste/Scheduled Tribe Federations.

In 2001 he embraced Buddhism. "Conversion is a rejection of whatever caste stands for. It is a great walkout from Hinduism," says the man who is now a follower of Dr B R Ambedkar and supports conversion as "a healthy process."

In an interview to Managing Editor (National Affairs) Sheela Bhatt on the current anti-reservation movement favouring reservation for Other Backward Classes, Dr Raj spoke about why reservations are important for Indian society.

How do you see the vigorous protests of medical students against the reservation policy for OBCs?

I don't think it is very vigorous. Few medical students are doing it. In fact the media is helping them.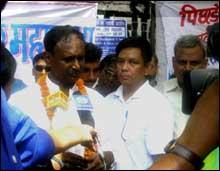 On May 2 and May 10, we had our agitation which was much more bigger but the media didn't report it or gave little coverage. This shows that the liberal voice in India is shrinking.
Unfortunately, the Indian Medical Association is also going on strike. On May 11 students and IMA protestors disrupted traffic at India Gate, New Delhi. We never do that. We restricted ourselves to the Jantar Mantar area assigned to us by the police.
It seems the doctors want to draw more attention. It shows the protestors' mindset. Medical students were protesting with brooms and trying to say that some (kind of) labour does not have dignity. Every labour has dignity. This is unbecoming of doctors.
If professionals like doctors behave like this it shows they are not interested in academics. The doctors' protest is illegal and against the spirit of the Constitution.
There is a background for their agitation. There is a big change in the law.
In the last winter session, Parliament amended the Constitution. It was the 93rd Constitutional amendment where Other Backward Classes have been given reservation in IITs, IIMs and universities.
On August 12, 2005 the Supreme Court delivered its judgment in the case of P A Inamdar & Others versus State of Maharashtra and others that the state can't impose its reservation policy on minority and non-minority unaided private colleges, including professional colleges and medical colleges.
My organisation, the Justice Party of India, Left parties and many others strongly protested at a huge public meeting. It was attended by leaders like (Janata Dal-United leader) Sharad Yadav, (Communist Party of India-Marxist MP) Nilotpal Basu and (Communist Party of India Secretary) D Raja.
We protested that we will not accept the Supreme Court judgment. Later, the 93rd Constitution Amendment was brought and passed unanimously by all the political parties except two members who abstained. The OBCs were given 27 per cent reservation but at that time nobody opposed it.
Why didn't the doctors oppose it then?
Because the media is playing a greater role now. When Arjun Singh [Images] gave a statement nobody opposed it for a week. But the media started going to campuses for stories and reactions. The media took up the role of agitators in this issue by opposing the government's move and the protests gained momentum before television cameras.
In Bangalore more than a lakh supporters of reservation came out on the streets but no television channel reported that. How do you explain it? Dalits and OBCs are coming together and supporting the government that is not taken as news.
What are your arguments for having quota in higher education even for OBCs?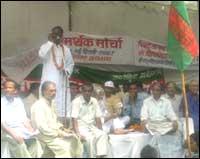 First, wherever reservation is implemented in the southern states it is working well. In Mysore state in 1921, reservations were implemented. In Kolhapur state it was introduced in 1902. In Tamil Nadu reservations are up to 69 per cent but nowhere have you seen a law and order problem.
Two, in Tamil Nadu, the education standards and administration are not compromised. What these students are protesting about is the issue of merit. What is merit? They are talking about something that is achieved with the help of cramming, tutoring, support by public schools and knowledge of English.
India doesn't have to its credit in the international arena any great invention of modern times achieved by students in general categories. They get higher marks to get into big universities. But these big institutions don't think merit should also consist of patriotic feelings, hard work, honesty and a humble aptitude.
For our society these are not element of merit. Not many Dalits or OBCs have the money to fit the current merit criteria.
And just give me one answer: Why are these doctors not opposing the colleges who disregard merit and take money in form of capitation fees?
Why are they not opposed to the NRI quota?
Why are they not opposing those inferior students of private medical colleges who are rich? Is it not affecting the medical profession?
The medical students should call off their strike because it is not in the interest of the nation. The integration of society is more important than any other thing.
Reservation is the method to integrate society; it will take time but have patience.
Facts don't support the argument that it will integrate society.
Till the reservations were given, Dalits in Indian society were totally isolated. They were living on the outskirts of villages and were humiliated. But after reservations they are sitting side by side with the upper castes.
They are now in state assemblies and Parliament only because of reservations. How are you forgetting that? Similarly, the OBCs will gain now. Although it will shrink the privileges of the Dalits for the sake of justice we the Dalits want reservations for OBCs!
Reservation serves the purpose of social harmony.
If quotas are introduced now, eventually there will be reverse discrimination. How will it bring about social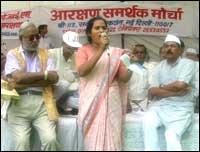 harmony?
For long, in many places 70 per cent to 80 per cent seats were open in the general category. The upper castes were using it. Right? Now they have been given 50 per cent of the total seats whereas the upper caste population is just 15 per cent. I think that is good enough. What more do the upper castes want?
It is a good deal that 15 per cent of India's population has 50 per cent of the seats. Do you want India's majority on the streets agitating against this 15 per cent? What do you want us to do? Do you want the majority population initiating the demand that let reservation be given on the basis of the proportion of the population of each caste?
Whatever reservation now exists for the Dalits and tribals is not filled up by them? OBC reservation may also remain underutilised.
Blame it on the mindset of the upper castes. Many Dalit medical students are suffering because during internal assessment, they become victim of biases. The Dalit student's identity is known and the supervisor knows he is poor in English and that creates a bias.
Only in India are Indians victims because of their lack of knowledge of English. It is not just lack of sophistication, it is the mindset of the upper castes that is a hurdle in filling up posts.
Why don't you understand that (Human Resources Development Minister)Arjun Singh's action and politicians' support to him is nothing but vote bank politics?
They will have to support reservation otherwise a majority of India will throw them away in the coming elections.
Even if politicians don't support reservations from their hearts electoral equations are such that they have no option.
The agitators must understand the combination of Indian society and where they stand! They should part with the pie of cake they have!