Home > News > Report

Pramod Mahajan passes away

A Correspondent in Mumbai | May 03, 2006 17:11 IST
Last Updated: May 03, 2006 19:04 IST



Bharatiya Janata Party leader Pramod Mahajan passed away at the P D Hinduja hospital at 4:10 pm on Wednesday. He was 56.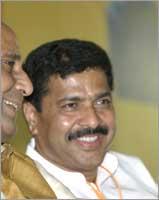 Mahajan is survived by his wife Rekha, son Rahul and daughter Poonam.
According to P D Hinduja hospital Chief Executive Officer Pramod Lele, Mahajan's condition had deteriorated in the last four days when he was diagnosed with Advanced Respiratory Disorder Syndrome.
Mahajan had been on ventilatory, ionotropic and dialysis support for the past few days.
Doctors at the Hinduja Hospital allowed family members to see Mahajan at the Intensive Care Unit on Wednesday morning after the BJP general secretary's condition worsened. Doctors had said that Mahajan was going into multiple organ failure and that they were trying hard to revive his blood pressure.
The news came as a shock to BJP leaders and party activists, who had been hopeful that Mahajan would be able to fight his way out of the bullet injuries inflicted upon him by his younger brother Pravin Mahajan at the former's residence on April 22.
His body will be taken to his Worli home tonight. The funeral will be held at the Shivaji Park crematorium at 12 noon on Thursday.
Earlier in the day, diasppointed faces of those who visited Mahajan, including senior leader Sushma Swaraj, gave an indication of what was to follow.
Talking to reporters, Sushma said: "The doctors are doing their best. But only a miracle can keep him alive."
Long before the hospital came out with the official statement, BJP leaders went on record on Mahajan's death. At the BJP headquarters in New Delhi, the party flag had been lowered to half-mast and Mahajan's potrait garlanded.
Maharashtra Chief Minister Vilas Rao Deshmukh and his deputy R R Patil were among those who paid their respects to the departed leader. Party President Rajnath Singh and senior party leaders Atal Bihari Vajpayee and L K Advani are expected to arrive in Mumbai later in the evening.
Complete coverage: Pramod Mahajan shot


What do you think about the story?








Read what others have to say:





Number of User Comments: 111








Sub: thankgod parmod is dead

we have to loose many more leaders like him who love scrwin up our nation his hands in riots n all is bad he is ...


Posted by Gautam









Sub: we miss a gem

We missed a good prime minister


Posted by Vedharaj









Sub: Sad News

In this Kali Yug good people find an exit route faster than crooks. Pramod Mahajan had all the signs of a good national leader and ...


Posted by T.P. Viswanathan









Sub: death of promod mahajan

death of promod mahajan is a blow. he had lot of experience - he had gone through good and bad days and learnt his lessons ...


Posted by savita









Sub: Pramod Mahahan passes away

While all of us must express grief at the untimely demise of a young stalwart of the BJP, an important message that must not get ...


Posted by Nirpinder Singh






Disclaimer