Fresh violence broke out in Vadodara on Wednesday after a man was burnt alive in his car on Tuesday night even as the Centre dispatched five companies of 500 paramilitary personnel to contain the situation in the city.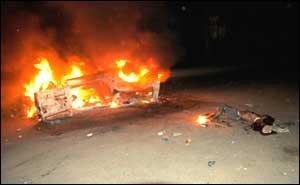 The 32-year-old man was burnt alive by a 1500-strong crowd. According to eyewitnesses, the victim was chased by a crowd and burnt alive when he was passing through Ajwa Road's Mahavir hall crossing. The man was taken to a nearby hospital, where he was pronounced 'dead on arrival'.
Sources report that crowds have been gathering across the city through the night. Vadodara is rife with rumours making the work of the police difficult. The city has been tense since the demolition of a dargah and the death of two person in consequent violence.
Two factories were set on fire by a mob in Sardar Industrial area of curfew-bound Panigate and sporadic violence, including incidents of stone-pelting, were reported from some parts of the city, police sources said.
The authorities have withdrawn their earlier decision to relax curfew in Navapure, Wadi, Raopura, Panigate and Karelibag following Tuesday night's incident in which a mob set ablaze a car burning alive a person in Arjuwa Road.
Clashes also reportedly broke out between the two communities at Kotiadnagar, Bawamanpura, Sardar estate under the Panigate police station late Tuesday night.
With the killing of one more person, the death toll in the last two days of continued violence and police firing had risen to six. About 20 victims of the riots were still admitted to the SSG hospital.
Meanwhile, in a bid to contain the violence, the Centre has dispatched more than 500 Central Reserve Police Force personnel to be deployed in and around the trouble-torn city.
"Five companies of CRPF, including four of the Rapid Action Force, are on their way to Vadodara. Two RAF companies (200 personnel) have already reached the spot and have been deployed," Home Ministry officials told PTI in New Delhi.
He said the Special Secretary is in constant touch with the state administration and is reviewing the situation at regular intervals. The Centre has also offered all kinds of assistance to the state government, he said.
With PTI inputs
Photograph: Strdel/AFP/Getty Images