Home > News > First Look


A school day with the Duchess

March 31, 2006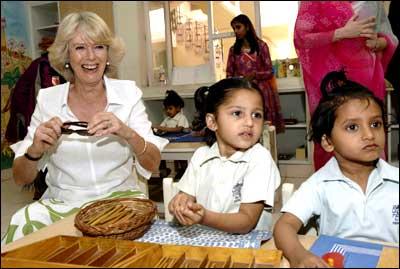 The Duchess of Cornwall had a date Friday morning with the kids at the Palace School situated in the Jaipur city palace.
Dressed in a greenish white floral skirt and white top, Camilla, the wife of Britain's Prince Charles, mingled with the kids easily.
She sat with them to work out puzzles and even made a straw necklace along with the kids who come to the school from the SOS village. She tied the necklace on her wrist, bringing smiles on the faces of the kids.
Camilla chatted with the kids, asking them about their favourite subjects, colours and was quite amused when told about the monkey menace in the city. The school has a put a net on its roof to protect children from monkeys, who often create chaos. "It must be amazing for the kids to see monkeys playing in the Palace grounds," she remarked.
The children ranging from two-and-a-half  to eight years chanted Sanskrit slogans to welcome the Duchess.
Princess Diya, who is responsible for the school, her husband Kunwar Narendra Singh and the erstwhile Maharaj of Jaipur, Brigadier Bhawani Singh were also present on the occasion.
The Duchess planted an almond sapling and also took a look at the kadam tree planted by Prince Charles three years ago, when he visited the school.
Alka Rathore, the principal, said, "The Duchess came across as a easy-going person and interacted with the kids freely. She is not at all reserved as is usually made out, but is quite informal."
Photograph: Jeff Spicer-Pool/Getty Images