Advertisement
March 21, 2006


Prime Minister Khaleda Zia, leader of India's crucial neighbour Bangladesh, has arrived in New Delhi when both sides have a long list of concerns and a substantial deficit of trust. That things between the two nations are not all hunky-dory can be seen from the fact that since taking over in 2001, this is Zia's first visit to India.

There are issues that bedevil ties between the two nations. For Bangladesh, the imbalance in trade and the sharing of waters as two major contentious issues, and the Indian side has a graver grouse regarding the use of Bangladesh territory by Pakistan's intelligence agency, the Inter-Services Intelligence, for spreading terror in India.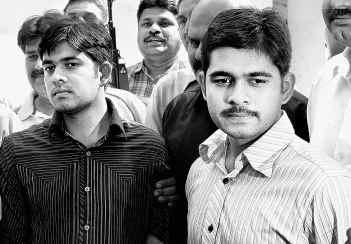 Delhi police investigations reveal that since the last nine months, the ISI has changed its strategy by outsourcing terrorism to Bangladeshis and by motivating the "alienated sections of Muslim youth" in India.
Ahead of Zia's high profile visit to India, National Security Advisor M K Narayanan told a television channel that Prime Minister Manmohan Singh [Images] will raise the issue of terrorism when both leaders meet. Bangladesh's radical Islamists are among India's major concerns, Narayanan said.
Bangladesh Foreign Secretary Hemayetuddin, who briefed the Indian media before his PM's arrival, insisted that Bangladesh was not complacent about India's concerns. "India should note that terrorists are on the run in Bangladesh, they are not able to hide. We have taken action against them. The arrest of Bangla Bhai recently was an important step towards it," he said. 
Just 12 days before Khaleda Zia's arrival, a Bangladeshi was shot dead by the Delhi police in an encounter.
According to sources in the Delhi police, around nine months back, during the investigation of some militancy related cases, it came to be known that the ISI and various militant organisations based in Pakistan are using Bangladesh as a transit point for pushing terrorists into India. It also came to be known that Bangladeshi nationals, who are part of the terrorist organisation, have been asked to illegally enter India and set up base in different parts of the country. They then provide safe hideouts to terrorists, act as couriers of explosives and transact in hawala activities for them.
"We have arrested a few militants whose interrogation has revealed clearly that since the last eight-nine months, external agencies like the ISI have changed their modus operandi to create disturbances in India," said Ajay Kumar, deputy commissioner of Delhi police, in charge of the Anti-Terrorism Cell.
Speaking to rediff.com, he quoted the example of one Ibrahim from Andhra Pradesh, who went to Bangladesh and then to Balochistan in Pakistan for training in terror tactics. "His arrest proves that external forces are keen to misguide our youth," Kumar said.
There are many people involved in the entire operation:
1) First and foremost is the handler or the operator; this man or group of men, based in Pakistan, are the ones who have a plan in mind of the kind of terrorist activities to be executed in India.
2) Then there is another person or group of persons in Bangladesh who receive the terrorist sent from Pakistan.
3) Then there are a group of people from Bangladesh or India who ferry the terrorists to different parts of India.
4) Then there are people or a group of people in different parts of India (at times they are 'sleepers cells', who silently work for these organisations) who provide or arrange for shelter for the Pakistani terrorists. For carrying out the terrorist activity, arms and ammunition, explosives etc come either from Pakistan or from Kashmir. At times, terrorist organisations from Kashmir also provide logistics and armed support to Pakistani terrorists for such activities in India.
There are many terrorist organisations based in Pakistan, such as the Jaish-e-Mohammed, Lashkar-e-Tayiba, Hizbul Mujahideen etc. The JeM gets funds from the Taliban and from Osama bin Laden, the LeT  from the Pakistani community in the Persian Gulf, the United Kingdom and Islamic organisations, and the HM gets its funds from other sources.
The Delhi police claims that after 9/11, open funding of terror activities in India has become difficult and in order to let the flow of money continue, these organisations in the garb of jihad continue to outsource terror from Bangladesh into India. For that, they either incite Indians or send their people into India along with loads of explosives, arms and ammunition and other materials.
These claims of the Delhi police are being disputed by some experts like Dr Ajay Sahni of the Institute for Conflict   Management.
Abdul Hamid Nomani, spokesman for the Jamiat-Ulama-i-Hind, told rediff.com, "A strong propaganda is on against Indian Muslims. We have always condemned any kind of violence in India. A few young Muslims are involved in such activities, but there are not many youngsters as claimed by the police." He alleges that the police doesn't distinguish clearly between merely criminal Muslims and terrorists because "there is more credit in nabbing or killing of terrorists".
The police also claim that Pakistani terrorists are increasingly getting exposed because of their Punjabi-Urdu diction and their manner of clothing and dietary habits.
Also, intense pressure from the Indian Army and the Central Reserve Police Force in Jammu and Kashmir [Images], the barbed wire fence along the Line of Control and better intelligence have made it difficult for the LeT and JeM to achieve a high rate of success.
"Pakistan gets a bad name internationally when the Indian police guns down and flashes pictures of Pakistan-born terrorists slain on Indian soil. Their dead bodies always remain unclaimed because of political embarrassment," says a Delhi police officer.
What's more worrying for security agencies is the Delhi police's latest input, which shows that a growing number of Indian Muslims are now identifying with pan-Islamic issues like US military operation in Iraq, Iran's nuclear issue and Palestine; the findings have vertically divided the experts.
This was brought into sharp relief during the massive demonstrations across India to protest US President George W Bush's [Images] recent visit to India, his Iraq policy and so-called 'anti-Islamic' leadership as well as the Danish cartoons. The protests have caught the attention of academic experts, who say it is trendsetting because it reveals the change among Indian Muslims.
Three issues -- identification with international discrimination of followers of Islam, Gujarat riots and economic deprivation, in that order -- are being used to lure away some Indian Muslims, says a senior police officer.
One member of the Justice Rajinder Sachar Committee -- appointed by Prime Minister Manmohan Singh to look into the socio-economic conditions of Muslims in India -- said, "We are shocked by the alienation of young Muslims of India."
In view of the charged atmosphere, security experts believe the government has its task cut out: to halt the spread of influence of external forces among young Indian Muslims.
Terrorism expert Ajay Sahni told rediff.com, "I think we can't say that more and more local Muslims are getting involved in terrorism within India. There are no statistics to support it."
According to him, out of 65 ISI-related terrorist modules neutralised by Indian security forces between January 2004 and March 2006, outside Jammu and Kashmir and the north-east states, none was exclusively handled by Indian Muslims.
In all the cases, various Pakistan-based terrorist organisations or Bangladeshis were involved, he said. And even in Uttar Pradesh, where more than 40 Pakistan-based 'Islamist' terrorist modules and activities have been busted between April 2001 and March 2006, none were managed exclusively by Indian elements.
The Delhi police believes the ISI operatives are still the masterminds behind terror, but increasingly the responsibility of execution is being shifted to Indian-born 'terrorists'.
However, opinion over the growing involvement of Indian Muslims in acts of terror remains divided.
B Raman, India's leading anti-terrorism expert, told rediff.com, "It's not a question of small or big number of Indian Muslims' involvement in terrorism inside India, the fact is that they are increasingly identifying with pan-Islamic organisations and movements."
Experts like Raman who believe there are perceptible changes in the Indian Muslims' attitude, point to the fact that there were no violent protests in India when the US went to  Iraq or when copies of the Quran was flushed down toilets in the US prison camp at Guantanamo Bay.
Since the last few years, it came to light that Bangladesh is being used as a breeding ground for terrorist activities in India. Indian security agencies have flight details and details of armed training in two such cases investigated by the Special Cell of the Delhi police in 2005 and 2006.
In the first case of the Special Cell investigations, the following persons were arrested after five Pakistani terrorists attacked the Ram Mandir-Babri Masjid structure in Ayodhya. How these Pakistan-trained terrorists entered India and how they managed to get a huge amount of arms and ammunition is a frightening story in itself.
Abdul Baki Mandal, resident of West Bengal

Amir Ali, resident of Assam
Nafiqul Biswas, resident of West Bengal
Nadir Sheikh, resident of West Bengal
Mohammad Ibrahim, resident of Hyderabad

Sohag Khan @ Hilal, resident of Bangladesh
Their interrogation revealed that Pakistani terrorists from the JeM involved in the Ayodhya attack came through Bangladesh. One Indian named Maqbool, a resident of Assam now settled in Dhaka, was the conduit for militants coming to India from Pakistan. He sent them through Abdul Baki Mandal to Delhi. In Delhi, Amir Ali provided them shelter. Prior to sending them to India, a meeting was held in Dhaka and a strategy was chalked out to attack the shrine.
During Mandal's interrogation, it was revealed that Maqbool also helped Gazi Baba, the so-called chief of JeM in Kashmir. When Baba was killed by Indian security forces, Maqbool escorted his wife and daughter from Kashmir to Karachi through Bangladesh.
Among the Ayodhya accused who were arrested is Mohammad Ibrahim, a resident of Hyderabad who had undergone training in Bangladesh and subsequently in Pakistan. His testimony has opened the eyes of Indian security agencies.
He is a normal Indian who was lured into the terror network. When he was arrested, he gave rare and astonishing details of the ISI's change in strategy.
During the course of getting information, one scrap dealer by the name of Saidul, residing near Ghadde Wali Masjid, Usmanpur, was identified as a Bangladeshi national by the Delhi police.
On January 24, 2006, specific information was received that Mohammad Saidul would deliver a consignment of explosives along with his associate Sohed-Ul to some militant at Main Pusta Road, Shastri Park, New Delhi.
A trap was then laid, a raid conducted and Saidul, 30, (son of Abu Haldar and a resident of village Ghunsi, post office Ballokdi, Madaripur, district Madaipur, Bangladesh) and Sohed-Ul, 32, (son of Dharook, living in the same village) were apprehended.
During interrogation they revealed they were Bangladeshi nationals and members of the Harkat-ul-Jihad Islam, a militant organisation active in Bangladesh; on the direction of their handler Anwar Bhai, they were to deliver the recovered consignment of explosives, which was brought from Bangladesh, to one Saeed Bhai.
It was also revealed they had received training in handling arms, ammunition and explosives in Bangladesh. Saidul is involved in many terrorist activities, including murder and bomb blasts in Bangladesh.
In one such terrorist attack, he had killed one senior army officer. His left hand was blown away in another incident of terror and he is wanted in Bangladesh for many terrorist deeds.
He was sent by the outfit to deliver the explosives in Delhi during the Republic Day celebrations.
He told the Delhi police he was in regular touch with his ISI mentors operating from Pakistan and Bangladesh. Sohed-ul is a cousin of Saidul and the duo had taken responsibility for terrorist activities in India.
Their leader Abdul Hannan @ Bhai Jaan of HUJI is presently in a Bangladesh jail.
Hannan's two other associates, Anishul Murshlin and Muhibbul Muttakin, twin brothers from Faridpur in Bangladesh, are alleged to have supplied explosives used in the terrorist attacks in Hyderabad and the Shramjivi Express in 2005. They were arrested at New Delhi railway station by the Special Cell in February.
The police claim to have recovered 3 kg of RDX, two electronic detonators, two pistols, Bangladeshi passports and fake Indian currency worth Rs 40,000 from them.
While probing the increased infiltration of terrorists from Bangladesh, the Special Cell learnt that two LeT militants would arrive in Delhi from Kolkata via the Howrah Express with a consignment of explosives, to set up base in Delhi. Subsequently, a team comprising inspectors Badrish, Mohan Chand Sharma and Sanjay Dutt [Images], laid a trap at the Ajmeri Gate side of New Delhi railway station and arrested both terrorists.
They disclosed that way back in 1995, when they were studying in a madrassa, one Peer Baba, associated with the HUJI, would visit there for lectures and encouraged students to join the "jihad". They were so impressed by his teachings that in 1999 they joined the HUJI. Under its chief Mufti Hannan, they targeted a Communist Party meeting at Dhaka, killing six people in January 2001. The same year, they triggered explosions at a cultural festival killing 10 people.
According to Joint Commissioner of Police Karnal Singh, in 2001, the accused were involved in two other terrorist attacks, including one in the office of an Awami League leader Shamim Usman at Narainganj, in which 20 people were killed.
In 2003, their group carried out two more terrorist strikes targeting festivals. The same year, the duo met Ghulam [Images] Yazdani alias Naved of Hyderabad, who had fled to Bangladesh after eliminating senior Bharatiya Janata Party leader Hiren Pandya in Gujarat.
The duo confirmed that through Yazdani, a young boy from Hyderabad, about 14 people from that city had been sent to Pakistan to undergo training in ISI-run camps.
They too began working for him and in June 2005, they along with their accomplice, Ahsan Ullah Hassan, provided explosives to Yazdani, which was smuggled into India.
Three bombs were prepared from the materials, one of which was used in the July 28 explosion on board the Shramjivi Express and one at the Special Task Force office in Hyderabad on October 12.
Three of the accused, Ibrahim, Hililaluddin and Nafiq-ul-Vishwas, who were involved in the Hyderabad attack were earlier arrested by the Special Cell.
The third bomb, which was to be used in Bangalore, was recovered by the police in Hyderabad. Meanwhile, in October 2004, the duo was involved in an attack on former Bangladesh prime minister Sheikh Hasina, in which 22 people were killed.
Anishul and Muhibbul allegedly disclosed that Yazdani had asked them to set up base in or around Delhi. After reaching Kolkata, they received the explosives from one Ayub and came to Delhi where they were arrested.
Meanwhile, on March 8, the Delhi police's Special Cell gunned down Yazdani and his associate Ahsan Ullah Hasan, a high-ranking HUJI militant .
Yazdani was a 28-year-old engineering dropout and native of Nalgonda in Andhra Pradesh. His father Ghulam Mustafa, a government teacher, had said he was not sorry over his son's death for indulging in anti-national activities.
However, he said he wanted to perform his son's last rites, but local Bharatiya Janata Party activists tried to prevent him from doing so. Only after the intervention of the Hyderabad police and amidst tight police bandobust, were Yazdani's last rites performed at the Bade Masjid burial grounds at Hayatnagar on March 15.
Rediff Specials