Home > News > PTI

MiG crashes in Rajasthan; 2 pilots killed

March 21, 2006 17:32 IST
Last Updated: March 21, 2006 20:15 IST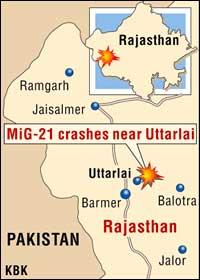 A trainer version of the MiG 21 fighter aircraft of the Indian Air Force crashed soon after take-off from Uttarlai airbase in the Barmer district of Rajasthan on Tuesday. Two pilots were killed in the crash.
"The aircraft crashed near Uttarlai village in Barmer district at 3:35 pm," an IAF spokesman said in New Delhi.
The bodies of the pilots were found near the crash site by rescue helicopters.
"So far, no damage has been reported on the ground as the fighter crashed in an open area," he said. A team of flight safety officials from Air Headquarters had also rushed to the spot. The IAF has ordered a court of inquiry to find out the cause of the accident. The ill-fated aircraft was one of the older versions, which are progressively being phased out.
© Copyright 2006 PTI. All rights reserved. Republication or redistribution of PTI content, including by framing or similar means, is expressly prohibited without the prior written consent.



What do you think about the story?








Read what others have to say:





Number of User Comments: 19








Sub: MiG Crashes

when these are obsolete why gradually being phased out ?


Posted by a sen









Sub: My sympathies to the families

when the govt. can spend 88,000crores on a defence budget. can't it spend 20,000 or 30,000 crores out right to buy new planes at oe ...


Posted by Miky









Sub: About the MIG plane crash Yesterday

Thousands of films like "Rang De Basanti" is not enough for making Government think about this issue. For the Govt., it is a mere loss ...


Posted by Amarnath









Sub: MIG 21

This is nothing but absolute carelessness on the part of the government and the Air force authorities. When everybody knows that these MIG 21 planes ...


Posted by Gaurav









Sub: MIG crash

Rang De Basanti, thats the super duper hit movie of 2006. after watching movie, many of us come to know about the freedom fighters, but ...


Posted by Raj






Disclaimer