Home > News > Interview

The Rediff Interview/National Conference President Omar Abdullah

'Jihad is a religious battle, not a political one'

March 16, 2006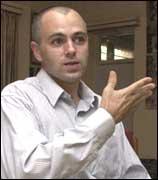 Omar Abdullah, minister of state for external affairs in the National Democratic Alliance government and president of the National Conference, is happy with his first trip to Pakistan.
During the visit he met with Pakistan President Pervez Musharraf on Kashmir and presented him a document on greater autonomy for Kashmir passed by the Jammu and Kashmir assembly when his father, Dr Farooq Abdullah was chief minister.
In an interview to Senior Associate Editor Onkar Singh after his return from Pakistan, he spoke about the highlights of his visit.

How was your trip to Pakistan?
Personally and professionally it was a very satisfying trip. I had gone there with mixed feelings about what to expect, and returned very satisfied. I was there to attend a meeting on Kashmir.
What would you say were the highlights of your visit?
I would say that the whole trip itself was a highlight because I did not expect I would be able to visit Pakistan for various reasons.
One of the highlights of my visit was a one-on-one meeting with President of Pakistan Pervez Musharraf. Second was the reception hosted by the government of the other side of Kashmir where prime minister of POK [Pak Occupied Kashmir] Sardar Sikandar Hayat Khan was present. Others who there were Sardar Abdul Qayyum Khan and Sardar Atiq Khan. I would say this was a very good visit.
Are you disappointed that you did not go through the Srinagar-Muzzaffarabad route?
No. Since I had to go to Islamabad I had to go by the Lahore route. I got invitations to visit Muzzafarabad, Mirpur and other places. But I did not make an attempt to go there.  I would like to visit the other side of Kashmir through the bus route later this year if the opportunity arises.
What was the focus of your discussions with Pervez Musharraf?


Since this was our first meeting it gave me an opportunity to put to rest certain misgivings that might exist while laying the groundwork for any future conversation that we may have. He asked me what was my point of view on the whole problem and the possible solutions and autonomy. Then he sought to explain to me why he has been suggesting self-rule and other matters.
Do you get the feeling that your concept of autonomy is somewhat similar to his concept of self-rule?
He was very honest and clear when he said his conception of governance was still an evolving concept. It is not something on which any document has been prepared wherein you can compare and contrast positions taken by different political parties and how they fit into current scheme of things.
I got the feeling that he was still working on it. Perhaps [that was] the reason why he was interested in hearing from me what autonomy was all about. He may or may not incorporate some of the suggestions that we made in our proposal on greater autonomy for Jammu and Kashmir to the Government of India. I presented him a copy of our proposal on autonomy to him.


What was his response?


He told me that he needs to study it, and I did not expect anything else from him as an answer. He could not have said that this is what we were looking for without going through the contents. I understand that he handed over the document to one of his aides and asked him to study and report to him. He even consulted legal experts.


Are you satisfied with your interaction with Musharraf?
I cannot speak for him but as far as I am concerned I am satisfied.


Would you say that he has stepped back from the stated position that Pakistan had been taking in the past?
Yes, he has stepped back from the traditional line on Kashmir that Pakistan has taken since 1947. Pakistan is no longer talking about the United Nations Security Council resolution. This is a very significant development from my point of view.
The Hizbul Mujahideen chief was reported to have been arrested during the last leg of your tour. Is that true, because something like this has not happened before?
Well, this was a news item that was reported only on the Indian side but the Pakistani papers did not say anything on that score. None of the Indian journalists based in Islamabad could confirm this story for me. Assuming that this is true it is a significant development but it had nothing to do with my being there.


Your interaction with media-persons was good in the sense that unpleasant questions were asked to you?
This is not the first time I have been asked unpleasant questions. I have been asked such questions in my own country. This is something that we have to be prepared for all the time. I would have been surprised if there had not been some unpleasant questions thrown at me. It was not something that I could not handle.
There were people who were upset because I used fairly harsh words for the so-called jihadi elements operating in Jammu and Kashmir.
There are journalists in all conferences who are out to make trouble. This was a small aberration to otherwise a very useful and purposeful visit. I told the gathering that what was happening in Jammu and Kashmir could not be called jihad by any stretch of imagination. Jihad is fought when Islam is in danger and at no point of time it looked that Islam was in danger in Jammu and Kashmir.
Jihad is a religious battle and not a political battle. What is happening in Kashmir is that some elements feel they need independence. Jihad does not mean killing innocent people. Most of the victims are Muslims. They got angry when I asked them how did they justify this kind of jihad.


A newspaper columnist claimed that you had walked out from Prime Minister Manmohan Singh's round table conference held last month. Is that true?
It is unfortunate that some people who attended the meeting have sought to twist the facts. I had already informed the Prime Minister's Office and the national security advisor about my previous commitments after they changed the date of the meeting from February 24 to February 25.
I think it was a path-breaking initiative and our leaders from other regions attended the conference till the very end. There is no question of walking out of the round table. I presented my views and left Delhi for Chandigarh to attend a function.
I feel it would have been better if the separatist groups had also joined the meeting. We have another meeting coming up in May in Srinagar and I hope the separatists will now join the round table discussions.

What is the general image of Prime Minister Dr Manmohan Singh in Pakistan, and do Pakistanis feel that India has also shifted its stance on Kashmir?
The general image of Dr Manmohan Singh is very high and they feel he wants to do something but it is the Indian bureaucracy that is holding him back from making concessions. No, India has not moved an inch forward. We have once again said that Jammu and Kashmir is an integral part of India and that is our stated stand. So where is the concession?
Photo: AFP/ Getty Images
The Rediff Interviews