Advertisement
June 22, 2006
Mata Amritanandamayi (Mother of Immortal Bliss), 'the hugging saint', grew up and attained fame in a village not far from my ancestral home. But I met her for the first time in Washington, DC with thousands of American devotees lined up to get comforted by her motherly hug.

There is nothing unusual about India rediscovering its gems only after they have been admired abroad. But for a person, who speaks nothing but Malayalam, preaches no intricate philosophy and claims no divinity, the following that she has gathered around the world is nothing but a miracle.

The five star hotel in Washington, DC was reverberating with Hindu hymns and Vedic chants as I entered its roomy lounge. Pictures of Amma, as she is popularly known, were everywhere and American women, some of them clad in white saris and men, many of them in Indian costumes, were selling food and other necessities and portraits and dolls of Amma.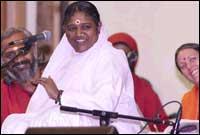 At one end of the banquet hall was a stage on which Amma sat in the company of her disciples and there was a long line of people, sitting in line, slowly moving towards her in total silence. As a person neared her, there was someone at hand to remove any sharp objects and to give a quick clean up before she hugged him.
The Rediff Interview/Ma Amritanandamayi
As Amma hugged me, she said nothing even though I was introduced to her. What she whispered in my ears were no magic mantras, but simple Malayalam words, normally used while petting children.
Since she had already accepted an invitation from my wife to visit our home, I reiterated the invitation and she simply broke into a childlike giggle and said that she would come. She warned me, however, that she might come at an unearthly hour. Indeed, she kept her promise and stopped at our Maryland home on her way from Washington to New York at about 3 am and stayed for nearly an hour.
Amma talked to us, including our houseguest, Ambassador K P Fabian, like a long lost relative, catching up with family news, interspersed with prayers. We asked her questions about her work, her devotees and her mission. Her answers were simple. She said that her message was just love, love for God and love for all beings. She spoke of her accomplishments as though she herself was surprised by them. She had no idea, it seemed, why so many people gathered to hear her and to serve the causes dear to her.
I finally asked her why she hugged everyone. "What else can a mother do to console her children?" she asked. She said that she used to hug the sick and the infirm, but others felt deprived and so she decided to hug everyone who came to see her. I was struck that her explanation was simple and convincing.
Hugging every devotee, even the sCeptical ones, imposes a physical strain on her. Since she does not discriminate against anyone and makes sure that nobody goes away without seeing her, she has to stay in one place for several hours. Apparently, she has the stamina to stay in one place for many hours, without getting up and she stays till the last visitor departs.
Many people bring their problems to her and she patiently listens to them. The devotees seem satisfied by just basking in her presence. They come to her again and again to seek her blessings and to soak in her love. Many devotees tell stories of her anticipating their problems and solving them without any fanfare.
Amma addresses everyone, regardless of age, as "mon" (son) or "mol" (daughter) and this helps establish an instant rapport. There is a real story, however, of a friend of mine misunderstanding her intentions. He was conscious that his wife was often mistaken for his daughter because of her youthful looks. When Amma turned to the wife and asked her how "mol" was doing, he corrected her and said: "She is not my daughter, she is my wife." Amma had a hearty laugh.
The second time I went to see her was at Columbia University in New York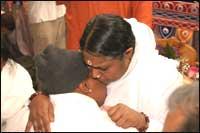 , where she was receiving her devotees. She totally disarmed me by saying that she would have come to see me if only she knew I was in town. She also regretted that we had no time to chat like in Washington.
In Thiruvananthapuram, I decided to sit at a distance, not wanting to join the massive lines of people. One of her associates spotted me and took me straight to Amma. When I said to her that I did not want to trouble her, she instructed one of her disciples that he should go round and check whether there were more people like me, who did not want to trouble her!
Amma's official biographies tell the story of a girl, Sudhamani, who was born in extreme poverty and worked hard as a little girl to earn her bread. Her ardent devotion to Lord Krishna was the only exceptional thing about her and she was often seen in a trance even in the midst of hard work. Her parents were not patient with her and she had to struggle all the way to her sainthood, which people grudgingly acknowledged after they were convinced that there was something divine about her.
French university honours Amma
On occasions, she assumed the form of Krishna or Devi, which caused consternation in the village. They resorted to force and even black magic to bring her back to normal life. But Amma dealt with these challenges with patience and faith in God and convinced the sceptics of her special mission in life. Some even hired assassins to get rid of her when her saintliness began to get established. All her enemies were thwarted in one way or another in mysterious ways and people saw these as miracles, which increased their faith in her.
The nucleus of an Ashram was built in 1978 by some of her devotees and what is now a great institution, Mata Amritanandamayi Math, came into being in 1981. She made her first world tour in 1987 and won a massive following in several countries. Today, the Math has several educational, health and service institutions, which have been built by devotees under Amma's tender care and supervision. Amma has given her concept of love a physical form through these institutions.
I was at the Amrita Institute of Medical Services in Kochi, considered one of the most advanced medical institutions in India. Its massive buildings have the best equipment in the world and some super specialists, who have come back from abroad to serve Amma and her mission. Many of them have invested their lives' savings in the Institute and are working there with dedication. Caring for the sick and poor is as much a part of the work of the Institute as providing the best health care.
The uniqueness of Mata Amritanandamayi is that her message is simple and she makes no claims to divinity. She gives abundant love to those who go to her and charms them into serving humanity itself. The wonder is not that she is capable of so much love and has done so much for the common man, but that a hand of another fellow human being was raised to do harm to such a soul. She could not but forgive him, as Jesus Christ did, as the only emotion she is capable of is love.
The Rediff Specials: Encounter