July 27, 2006
More than a fortnight after Terror Tuesday, we meet some of the survivors.

An ongoing series: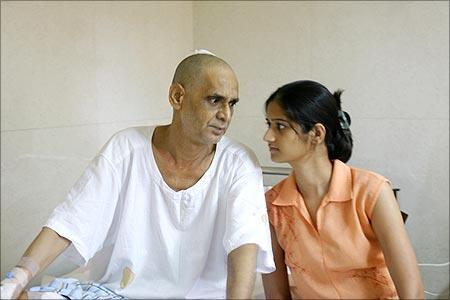 When you tentatively push open the door of Room 414, on the fourth floor of the Holy Family Hospital, Bandra, northwest Mumbai, you will find Liladhar Sharma sitting hunched in the middle of the bed.
His head is shaved and two large white bandages cover stitches on his scalp. His chest is stooped and he winces as he painfully adjusts his position. His face is wan and drawn.
Yet he gives you a half-smile and ushers you into his room. But Sharma's thoughts, you sense, are not really in that quiet little room.
Firstly, he has suffered acute hearing loss and consequently cannot catch the drift of a conversation unfolding around him unless his conscientious and gentle daughter Geeta carefully repeats the conversation into his ear.
Over and above that Sharma does not seem to have emotionally recovered from the blast he was caught in. One can sense a mental anguish and his far away look leads one to believe that he is not the person he was before July 11, injuries apart.
Sharma, head cashier at the Oriental Bank of Commerce [Get Quote], Kalbadevi boarded the 5.57 Virar fast at Marine Lines at 6 pm and was standing near the aisle in first class. He was headed home to Vasai in north Mumbai, to his wife, his son Girish, who works with cell phone major Hutch India, and daughter Geeta, who works in the software department at AC Nielson India.
Two minutes after the train pulled out of Dadar, Sharma's world blacked out.
When he came to, he was lying on the floor of the compartment in a pool of blood and he was buried under a few bodies. "He waved his hand so the rescuers would know he was alive," says Girish. And he was pulled out of the bombed compartment at the Matunga Road station by rescuers and sent in a police vehicle to the Bhabha Hospital, a municipal hospital in Bandra, northwest Mumbai.
Across town neither his daughter nor his son knew what had become of him. They knew he was probably on one of the ill-fated rush hour trains and were frantic. But cell phone lines were impossibly jammed and they could not get through to his mobile. An anxious Geeta dialled his number over and over again, maybe a hundred times. Finally someone -- they don't who -- answered and said he had been taken to the Bhabha Hospital.
Girish rushed to the Bhabha Hospital. There was a Liladhar Sharma on the list. He went from ward to ward but could not find his dad. The police personnel told him to go back and make another round in case he had not recognised his father. By then Girish was overtaken with panic.
Even after the second round he could not find his father.
At about 9.30 pm or 10 pm, nearly three-and-a-half long hours after the blast, their mother received a call from the Holy Family Hospital. The medical staff at the Bhabha Hospital had taken a decision to transfer some of the more critically injured to the Lilavati and Holy Family Hospitals and that was where Sharma was brought.
The wounds on his head and back were sutured. His ears were attended to; the tymphanic membrane and nerves were damaged and he may need surgery at a later date. A small operation was performed to remove the air unnaturally sandwiched in his thoracic cavity after it was injured probably during the impact of the blast.
Sharma -- who came to Mumbai from Delhi in 1975 and hails from Uttaranchal -- is a quiet man and the type to keep a lot within him, explains Geeta and Girish. Their father usually hordes his troubles to himself, his children say. "He is trying to think positive. But sadness is there," says Geeta.
For Geeta and Girish, who have lived through Mumbai's earlier brushes with terror, it is a deep shock that terror has come home. "We could not even believe this could happen to our dad."
Adds Girish, calmly but wisely, "We have a basic question. Is our future secure? We live in Vasai so we have no choice but to be travelling in the trains again. This has happened. What can happen next?"
He feels an average citizen can do much to contribute to the safety of Mumbai by being alert.
"Mumbai will always be a soft target. The same people travel in a train every day and they know each other. They should be alert and attentive and report anything suspicious or anyone suspicious."
Geeta expresses quiet anger with the delayed legal process that leads to the reoccurrence of tragedies like 7/11 and that no one is worried about the consequences of committing such crimes.
"They know they can get away with it," she says. "Whether it is a small thief or a big criminal he knows if he has money he will not get caught. When the offender comes to trial (many years later) we forget the victim. The offender is in front of us and human rights activists will give excuses for him. That he was poor. Or misguided and influenced. That he has a family to support. No one remembers the victim then. We are so lucky that our dad survived in one piece!"
Text: Vaihayasi P Daniel | Photograph: Rajesh Karkera
MORE IN THIS SERIES:

'My taqdeer was bad. But my taqdeer was also good'
'I'll take the same train and sit in the same compartment'
'Why does this always happen to the common man?'