Representatives from 70 countries and the United Nations meet in London [Images] this week to discuss the rebuilding of Afghanistan, the second such meeting on the country's future after the Bonn conference in 2001.
Afghan President Hamid Karzai will present his development plan at the London conference and has reiterated the need for international support for his country.
In a six-part exclusive interview with Managing Editor Sheela Bhatt and Nikhil Lakshman, Masood Khalili, until recently Afghanistan's long-serving ambassador to India, provides fascinating insights about his country -- its troubled transition towards democracy, the revival of the Taliban and the consequent increase in violence.
During the Taliban regime, Khalili continued as the Afghan envoy to India, as a representative of the Northern Alliance, which was recognised by India and the United Nations.
A close friend of the legendary Afghan commander Ahmed Shah Masood, Khalili was in the room with Masood on September 9, 2001 when two Al Qaeda [Images] assassins posing as television journalists set off a bomb that killed the 'Lion of the Panjshir.' Khalili was seriously injured and still bears the scars of that murderous attack.
After Karzai took over as president of Afghanistan in 2001 after the eclipse of the Taliban regime, Khalili continued as his nation's envoy to India, a position he gave up at the end of last year, to move to Turkey, as the Afghan ambassador in Ankara.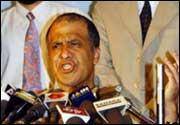 Is it true, Your Excellency, that the Taliban have again become a very dangerous force in Afghanistan?

They have not become a very dangerous force, but have become a force in Afghanistan. After September 11, 2001, when the Americans, Afghans and the international community attacked them, their morale was broken, their forces were scattered, their mentors were scared.
Al Qaeda, their supporters were swept from Afghanistan, but slowly and gradually they started to return. They have returned to the south and east of Afghanistan -- to very limited provinces. Their bases are Zabul and Kunar on the eastern side of Afghanistan, which borders Pakistan. And then to Paktia and Paktika, the southern provinces of Afghanistan, bordering Pakistan.
The Taliban's numbers are limited, but since they are waging a guerrilla war, that has created some concern not just for the Afghans but for the Americans, NATO, the Britishers -- those who help us to not allow the return of the Taliban.
In conclusion, they have returned as a force -- not a dangerous force -- and they have returned to a very limited part of Afghanistan -- maybe 10% to 15% of the country -- not in great numbers, but small numbers.

What would their numbers be?

It's very hard to say because they are not alone. They are accompanied by some Pakistanis from madrassas. So sometimes they are between 600 and 1,000 and sometimes it can be little more or less.
Since they are waging a guerrilla war they just hit and run. In a hit and run tactic it is hard to know how many they are because a. they use small numbers; b, they avoid frontal attacks; c. they won't stay in one place; and d. they do try to expand themselves in guerrilla ways. I think this is their policy. Personally I have seen many wars, and I don't think they can be successful.

Who is supporting the Taliban? Are external forces like Pakistan involved in the resurgence of the Taliban?

It is very hard to say that Pakistan is doing it. Because Mr (Pakistan President General Pervez) Musharraf is saying we are not doing it. So, then, who is doing it?

Who is doing it?

Their (Taliban) offices are unfortunately in Pakistan. Some of their hideouts are in Pakistan.

Mr Karzai has told the international community: Go and fight fire, not against smoke. He means don't let them (Taliban) go and live in another place. Go and chase them where they are staying, living, financed, armed, encouraged. He does not mention Pakistan.


Unfortunately they are not in Iran, they are not in Uzbekistan, they are not in Tajikistan, they are not in Turkmenistan. They are not in Russia [Images]. They are not in China. They are -- then one country is left -- in Pakistan. They go back and forth.

How did you tackle that fact of life?
You talk about the Taliban, right?

How will you tackle the Taliban? How will you stop them?

1. As Mr Karzai's government is doing, they are talking to Pakistan. A tripartite meeting takes place every two months. They are trying to help each other to stop or to decrease the infiltration of the Taliban, some Arabs, some Chechens, some Uzbeks from Uzbekistan.

2. To get the national army, national police in Afghanistan, the American forces, to not allow the Taliban to enter Afghanistan.

3. To attack their bases, which are in Afghanistan. These few things we are working on.
4. Above all, to make Afghanistan strong. Economically, politically, socially with democracy, institutionalised democracy. If you combine all these tactics, the Taliban, Al Qaeda, will be defeated. All will wither away slowly.

I read a report where European diplomats said, 'We did not want to believe that Pakistan wants to destabilise Afghanistan but now we have come to the conclusion that this is the reality.'

Diplomats are seeing the facts on the ground, the reality on the ground. This is the unfortunate reality. Why is it unfortunate? Because it is bad for Afghanistan, bad for Pakistan, bad for the region.
Europe is blossoming, and this region could blossom much better than any other region.
Central Asia is full of oil and gas. India is full of new technology, personnel. Pakistan is a great country with manpower. So all combined, South Asia could be very rich.

The people of Afghanistan want the international community to stop the infiltration of the wrong people into Afghanistan. And in the meantime we have promised we will do our best to make Afghanistan strong economically, socially and politically.
I think it is more beneficial for Pakistan not to create problems for Afghanistan. Afghanistan is a country no one has been able to control throughout history.

It is the people. They have their culture, their mindset. And no one could do it. The Russians tried, the British tried to control Afghanistan, and failed.
Part II: 'Americans should not be called occupiers'
Photograph: AFP/Getty Images