Home > News > Interview

The Rediff Interview/Anita Pfaff

'I don't think Netaji survived the air crash'

January 23, 2006

At 63, Anita Pfaff, the daughter of Netaji Subhas Chandra Bose, is grace and dignity personified.

Pfaff, a professor of economics at Germany's Augsburg University, is a mother of three -- two sons and one daughter. Her German husband Martin Pfaff is also an academic.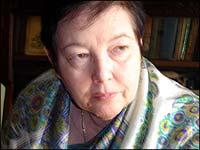 Her ongoing India visit -– which comes after a four-year gap -- followed the submission of the report of the Justice M K Mukherjee Commission which was probing for nearly six years Netaji's mysterious disappearance in the air crash at Taihoku, on August 17, 1945. It is believed Netaji died in the crash.
Ensconced in the south Kolkata living room of former Trinamul Congress member of Parliament Krishna Bose, the widow of the late Sisir Bose, Netaji's nephew and Anita Pfaff's cousin, the daughter of India's Independence hero speaks softly about her father's disappearance enigma, his marriage and what role he could have played in post Independence India.
An interview with Sujoy Dhar.
When did you last come to India?
My last visit was four years ago but I didn't come to Kolkata. Coming to Kolkata this time was to attend my mother (Emilie Schenkl)'s 95th birth anniversary function and meeting relatives. I notice certain improvements in the city. We are also visiting Chennai and New Delhi to attend some other functions there.
The Shah Nawaz Committee (1956) and the Khosla Commission (1972), which probed Netaji's disappearance, had concluded that he died in the plane crash. You have come at a time when the report of the latest Netaji Commission (the Justice Mukherjee Commission) has been submitted. Do you expect anything major to come out of it?
In terms of analysing the information, I certainly hope that some work has been put in; but whether it would lead to any stunning new information I doubt very much.
I don't really expect anything terribly new to come of it. In terms of new evidence on Netaji analysed by the Mukherjee Commission, I think it is mainly documentary evidence which is of importance because some of it might have come to light after the Khosla Commission concluded its probe. So, analysing these things and also combining new and old documentation may bring out new insight.
Some of it may be of very high interest to historians and give a more complex canvas, but general public probably are not going to glean much from these things.
Given the fact that it took so long, I got to be rather doubtful of the usefulness (of the report) but thank god we have a report now. Ideally, the Commission should have been for a year or so.
You seem convinced Netaji died in the crash. Why are you so sure of his death now?
I respect the emotions of Bengalis for Netaji but some quarters have an axe to grind and stall things. The emotional side is perfectly understandable and it is not only Bengalis but in other parts of India as well. The Tamils and Punjabis are as emotional and Netaji is very much alive in their minds.
But I don't think Netaji survived the air crash.
Unless some fantastically new evidence comes up, if I look at the evidence available to me, he did not survive. I have been present at the interview of some of the survivors of the plane crash, including some Japanese officers, more than 20 years ago, and their story sounded quite consistent, credible and reasonable.
If you look at the whole lot of evidence, this is the most consistent.
Some speculation also occurred in the reports that the doctor who treated Netaji after the crash when interviewed this time had confusion about what he said earlier. He is 90 years old now! You can't expect much from an interview unless it is done very carefully of a person of that age. Ultimately what he said many years ago made lot more sense. At this age, you certainly have lapses in memory; you can't deal with a hostile interview. Even if his new interview sort of triggered some controversy I would not place too much emphasis on it.
But what do you say about those who firmly believe that Netaji survived the crash?
After Independence there was always suspicion on the part of many about the air crash. Netaji's associate Colonel Habibur Rahman claimed he was on the plane and he got burnt and died as a consequence of that. Now if you look at it from another point of view, he may have sort of said what he was told to say by Netaji.
But if that was a disappearance ruse, it would not have been just for the fun of it. He (Netaji) might have said that to avoid arrest by the British or to continue to work for Indian Independence.
He may have hid for a while but there was no reason why after Independence he would not have come out of hiding. If it is assumed for the sake of it that he was kept imprisoned somewhere then I can imagine that Colonel Habibur Rahman would have definitely come forth and said there is something very seriously wrong and that Netaji had not died.
He (Rahman) even told his wife and his children that Netaji died. Don't tell me that Netaji was somewhere in the Himalayas and became a monk and forgot everything.
The Rediff Interview/Colonel Lakshmi Sehgal
Please continue.
I don't think he was a kind of a person who would be so neglectful of his country and his family. As long as the struggle for Independence was there, his family always took second or third position. But it would have been rather surprising if he had done anything of that sort after Independence.
There are many who still do not believe that Netaji married your mother Emilie.
It is nonsensical. Some heroes in India are not allowed to die or marry. Gandhiji was married and he died, Pandit Nehru was married and he died too. But if some people don't want to believe it, they might not believe it. I am not going to go out of my way to argue it.
It was a secret marriage and it was done secretly because of both Bose's position and my mother's position at that critical juncture. My mother would have lost her (German) citizenship if she had married a foreigner as per rules that time while he (Netaji) too was in no way able to take care of a wife and family at that time. Making the marriage public was not a practical thing to do. Circumstances were rather different.
Bose did not die in plane crash, affirms US
How did your mother remember your father?
My mother had a very strong emotional involvement even when he was not around for the rest of the life, besides her personal commitment. She was a very private person and there are many things she never talked about. Not to me or even my relatives or aunt.
She talked more about their work together. But she never talked about their political side much. I was surprised when she produced the letters written by Netaji to her since for a long time she said she would burn them.
But when my cousin Dr Sisir Bose and his family visited us (her and her husband Martin) and she came to our place too, she brought most of them. She previously said they were personal letters and that she would destroy them before her death. So it was all very surprising when she agreed to publish them. She maintained earlier that those can be published after her death but my cousin (Dr Sisir Bose) said he wanted to publish them before he died.
Part 2: Find out what Netaji's daughter thinks about her father's impact on post-1947 India
Trans World Features
The Rediff Interviews