Home > News > Specials

The Rediff Special/ Shobha Warrier in Chennai

'Never trust a paper that's never wrong'

January 20, 2006



The credibility of a newspaper increases when it admits an error, a mistake, and not otherwise. An ombudsman helps a news organisation to be an honest, self-correcting institution with dedication to getting it right and no interest at all in getting it wrong," began The Guardian's Readers' Editor Ian Mayes.

He was delivering a lecture on the topic, 'The News Ombudsman -- a Visible Presence, an Independent Voice' at Chennai in a seminar organised by The Hindu.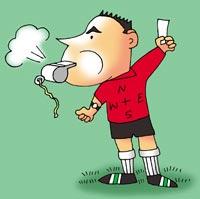 It was after Alan Rusbridger became editor of the veneral British daily newspaper, The Guardian, that a readers' editor was appointed for the paper.
Also see: Are newspapers becoming extinct?
The role of a readers' editor, according to Mayes, is that of a referee on a football ground, "one that can get pretty rough at times."
The rules of the game for an ombudsman in Britain and many other countries are set by an industry regulator called the Press Complaints Commission, which has developed a code for the industry.
"He or she, the ombudsman, that is, represents the form of self regulation, the only kind of self regulation that has the effect of building trust between a specific news organisation and its readership or audience through the systematic, impartial and public handling of complaints, and through the open discussions raised by readers concerning its journalism," elaborated Mayes on his role in The Guardian.
Mayes is the first ombudsman of this kind in the history of journalism in Britain.
"Any news organisation that recognises the responsibility to the society itself will have an ombudsman. But it is also something that readers are increasingly demanding in the new electronic environment in which e-mail and easy access and responses are more and more expected, if not demanded," he added.
The presence of an ombudsman in a news organisation represents a positive answer to the question: Why should a newspaper or a news programme that by its nature is constantly calling on others to be accountable for their actions not be accountable for its own actions?
Mayes said an ombudsman enables a newspaper to "feed into the arena of public debate, accurate information upon which citizens could rely when he or she is forming an opinion on affairs of the day."
"The question for the individual editor or journalist might be, 'Would I say this if I was talking directly to an individual reader, or a respected friend rather than communicating to a mass of people through a medium of a newspaper or broadcast program?'" he added.  
"If I slip an error when I was talking to an individual, I naturally wish to correct it. This is the moral rather than the legal duty."
The first step in fulfilling the duty to society and readers is appointing an ombudsman, said Mayes. "It's a voluntary, regular systematic application of corrections, an easy matter for newspapers and now made much easier for broadcasters of news through the happy advent of their related web sites. One only has to look at the way the BBC is using its web site for this purpose."
Why has it been so difficult for news organisations to take this in full stead? From his experience at The Guardian, Mayes found that with the systematic publication of corrections, a majority of readers felt confident with the newspaper, and only 3 per cent said their confidence had been undermined.
"But what had undermined the trust was the discovery of or revelation or forced admission of a significant error that had gone uncorrected."
An honest piece of advice from Mayes to readers is, "never trust a newspaper which never appears to get anything wrong and treats the others with a degree of scepticism.
He revealed that last year The Guardian made 1,600 corrections while some of the largest newspapers in the US exceeded 2,000 corrections.
Most newspaper ombudsmen have a regular column in which they discuss issues raised by readers, particularly ethical issues, at greater length.
"Thinking people want responsive, responsible and accountable news organisations. I believe ombudsmen are one way to achieve that," Mayes concluded.
Illustration: Uttam Ghosh
The Rediff Specials


What do you think about the story?








Read what others have to say:





Number of User Comments: 7








Sub: Never Trust a paper that pontificates !!!

Excellent idea to monitor the papers who do not know where the news ends and editorial starts. An increasing trend is seen in papers where ...


Posted by Charan Rawat









Sub: We need to monitor Newspaper

Yes,There's absolute need for the newspapers to be monitored by ombudsman.We see that newspapers are not neutral since they get huge amount from the private ...


Posted by Kumar K Nair









Sub: Media, the fourth pillar of dreaded Democracy of India 06122

Sir, Democracy is fraud imposed upon humanity to steal the possessions of the humanity. The revered martyr Pandit Nathuram Godse had long back disclosed the ...


Posted by Apt









Sub: newspapers social responsibilty

Nowadays many newspapers are indulged in yellow journalism and try unhealthy and unethical tactices and print any information without confirming or asertaining the facts behind ...


Posted by praksh mehendale









Sub: View

This is very good, indeed. We need the same in India.


Posted by Kaushik Das






Disclaimer