Home > News > Report

'Serious issues facing N-deal': Nicholas Burns

Saisuresh Sivawamy in Mumbai | January 18, 2006 19:32 IST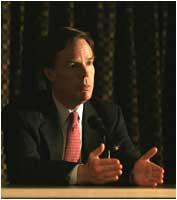 Six months to the day when Prime Minister Manmohan Singh and American President George W Bush agreed upon civil nuclear cooperation between the two countries, US Under Secretary of State for Political Affairs Nicholas Burns said the deal, "a unique venture in international relations," also faced a "number of difficulties and complications."
That the agreement is bedeviled by many imponderables is well known. Reports suggest that the Bush administration is not fully convinced that India's initial plan for separation of its nuclear reactors into civilian ones and those for military purposes will pass muster in US Congress where already the non-proliferation lobby has made its move.
Congressman Ed Markey has already moved a resolution against the nuclear agreement, and Burns, asked by this correspondent if it would find approval, refused to hazard a guess. "I cannot answer hypothetical questions," he said, "except to say that I am hopeful of the deal going through."
Addressing the media in Mumbai on Wednesday, ahead of his discussions with Foreign Secretary Shyam Saran -- his Indian counterpart in the negotiations -- in New Delhi the next day, Burns said the July 18 agreement entailed issues the two nations have never spoken about. "There is no problem that is insuperable. It does require the full 6 to 8 months it is going to take to decide on how best to put that into a bilateral agreement that the President and Prime Minister Singh can then agree upon finally as the way ahead."
Asked about India's nuclear separation plan and if his various meetings in Mumbai also included interactions with the Atomic Energy Commission chairman Dr Anil Kakodkar, Burns said the nuclear deal-related meetings were scheduled for Thursday in New Delhi, that would include officials from the atomic energy establishment as well.
He also conceded that achieving a separation of nuclear facilities as envisaged in the July 18 agreement is an enormously complex task, and is at the heart of these negotiations. "I will be getting into the details of that with my friend, Foreign Secretary Saran tomorrow morning," he said.
"I really don't want get into the details of my discussions I will have with Foreign Secretary Saran, that is left to the privacy of the diplomatic conference table. Except to say there are serious issues that need to be addressed seriously by both our governments, and we hope very much for a successful conclusion."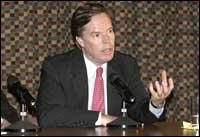 About his engagements in Mumbai on Wednesday, Burns said he met a variety of people, including from the think tank community, the strategic community, and the business community.
"I am trying to get a refined sense of what is possible in building a better economic relationship. A lot of work needs to be done, and we obviously want to fill out the economic relationship. Today I was talking what can be done to increase the Indo-US cooperation in the agriculture sector. Energy is the second area of focus, and infrastructure is the third," he said.
The July 18 agreement, Burns pointed out, also spoke of joint ventures in agriculture, higher education, space, and welcoming Indian astronauts on American space shuttle missions, energy, and business promotion. "All of these areas are important, and I will be discussing them as well in New Delhi," he said.
About the hot button issue of Iran's nuclear programme and India's own ties with that country, Burns said, "All of us need to think about our relationship with Iran. A country that talks about its rights to uranium enrichment, doesn't talk about its duties and obligations in the international arena," and added that it would be best if Teheran listened to the voice of the international community and returned to the negotiating table.

Photographs: Jewella C Miranda
Other roadblocks for the deal:
More trouble for Indo-US nuclear deal
Massive campaign on against N-deal
India won't take any more conditions
Indo-US nuclear deal will trigger arms race in South Asia
Indo-US deal may be dead on arrival