Advertisement
January 08, 2006 17:10 IST
Last Updated: January 08, 2006 23:08 IST


"Come to God's Country and see the changes." Kerala [Images] Chief Minister Oommen Chandy beckoned the Overseas Indians and non-resident Indians on Sunday.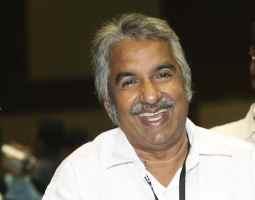 Addressing the delegates on the second day of the 4th Pravasi Bharatiya Divas 2006 in Hyderabad, Chandy said, "It is not my intention to do a sales talk here. Any discerning, prudent investor will easily notice the changes that are taking place in the God's own country. I would only appeal to you to come and see the changes. The rest will follow, I am sure."
Complete Coverage: Pravasi Bharatiya Divas
Recalling that Kerala was the first state to set up a separate department and Ministry for the welfare of the NRIs, he said the central government emulated the Kerala model by establishing the Ministry for Overseas Indian Affairs.
"When I took over as the chief minister, I directly took responsibility for the Ministry of Non-Resident Kerala Affairs because of my deep association with the NRIs," he explained.
"Majority of our citizens living abroad are people from humble origins; people who are struggling in adverse weather and living conditions; people who are at the mercy of their masters who often have little regard for human rights; people whose terms of contract have been violated and those who have been denied their salaries, leave and terminal benefits," he said, pointing at the plight of the NRIs, particularly those working in the Gulf.
He asked the central government to become a co-signatory to every single contract abroad so as to protect the interests of the NRIs who go to the Gulf for jobs.
"By becoming co-signatory, we would be protecting the lives of those people who are not covered by the labour laws such as maids, domestic servants and other unskilled workers. This would give the government a locus standi in labour cases," he pointed out.
He also suggested evolving a skill upgradation programme for all the unskilled workers going abroad and making this mandatory.

"Nobody should be allowed to leave the Indian shores without getting proper training. In Kerala, we have initiated training programmes for nurses, housemaids and drivers," he said, pointing out the need to come out strongly against illegal recruiting agents who were bringing ill-repute to the country and playing with the lives of innocent victims.
"The Emigration Act needs more teeth to deal with these criminals. We have taken the initiative to suggest amendments to the Act. We need a comprehensive Emigration Act that would protect the lives of our people abroad. We need an Act that would empower the states to take strong action against unethical recruiting agents," he observed.
He also emphasized the need for forming a corpus fund to meet emergencies such as accidents and repatriation charges.
"No emigrant would object paying an affordable amount for meeting such exigencies. In Kerala, we have an emergency repatriation fund. There is another fund for meeting other exigencies. It is necessary to set up similar funds at the national level. Maybe, we can rope in some insurance companies to contribute their mite," he added.
Chandy said providing reliable and affordable travel facilities to NRIs should be another focus area.

"Please remember, these poor people cannot afford the fancy fares of Air India/Indian Airlines. The Civil Aviation Ministry has been insensitive to our repeated pleas for moderate air charges. It is out of sheer frustration that we decided to have our own airline," he said.
Already, Kerala has the first private sector airport in the country functioning at Kochi. Now, it would have its state-owned airline -Air Kerala. A company has been registered to run this airline. The Kerala government has sought centre's permission to operate this airline, he added.
Photograph: Jewella C Miranda