Home > News > Specials

The Rediff Special/ Usha Bhagat

The day Sonia wed

February 25, 2006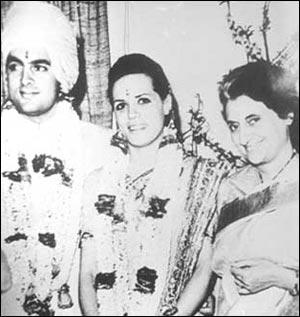 Thirty-eight years ago on February 25, Rajiv Gandhi wed a shy, Italian girl, with warm, doe eyes, at 1, Safdarjung Road in New Delhi in a simple ceremony.
Sonia Maino was her name.
Who could have predicted Then that nearly four decades later she would become the most powerful woman in India?
Usha Bhagat -- who worked closely with her mother-in-law, Indira Gandhi, and once worked in the nursery school, where Rajiv studied -- recalls the arrival of Sonia into the Gandhi family:
Rajiv returned from the UK to India in 1967. Although he studied engineering there, he decided to become a pilot. When he started the flying lessons, I was very worried and would say that flying as a hobby is all right, but as a profession it is dangerous. He would smile and say that something can happen even while crossing a road.

Rajiv and Sonia had met in Cambridge, England. Their friendship had developed into a serious relationship. Rajiv had introduced Sonia to Mrs Gandhi when she went to London in 1965 for the Nehru Exhibition. Sonia and Rajiv had made up their mind to marry; Mrs Gandhi felt that Sonia should come to India for a few months to see things for herself before taking the final decision.
Priyanka's wedding: A most relaxed evening at 10, Janpath
Sonia's father was not particularly keen on Sonia marrying Rajiv, not because he did not like Rajiv, but his daughter going to a distant land and culture must have worried him. I think he was also concerned at Rajiv being the prime minister's son. Nobody could have imagined then the situations which developed later. Unconsciously perhaps the father's concern had a point.
Sonia thus waited to complete her 21st birthday in December 1967 and arrived in Delhi in early January 1968. She was put up with the Bachchans at their Willingdon Crescent house, though she spent the day at 1 Safdarjang Road.
After a week or two, Mrs Gandhi realised that both were very serious and there was not much point in waiting; their going around would only encourage gossip. Towards the end of January, their engagement took place and the wedding was fixed for February 25.
Images from Priyanka's wedding
Although it was a simple civil marriage, Mrs Gandhi took an interest in the minute details of all arrangements for both the sides, the bride's and the bridegroom's. The following slip I found with her instructions conveys this:

Usha,

1. Invitation
2. Music -- wedding and reception
(a)Wedding March (Mendelssohn or Lohengrin) during bride's entry

Then selection of classical Western and Indian music. Someone to sing?

3. Décor—1 Safdarjang and Hyd(erabad) House
Flowers
Plants
Jasmine screen
Alpana [rangoli]
Two types of shlokas -- one for invitation card and the other for chanting at wedding.

Author slip said:
1. Will it do to have a garba dance immediately after the wedding here?
2. Music, before and after? At dinner?

Sonia's father did not come but her mother, sister, and maternal uncle arrived a day or two before the wedding and they had to be looked after, too. The mehendi ceremony was held at the Bachchans' house. The marriage, a simple and elegant civil ceremony, took place in the back garden of the PM's home, against a floral backdrop. The only untoward thing which happened was that on learning that there were a couple of journalists present amongst the gathering, Rajiv became furious and refused to come out. Mrs Gandhi had to cajole him and brought him out with difficulty for the ceremony! A reception was held the next day at Hyderabad House.

After the wedding, Rajiv would go off on his flying duty and Mrs Gandhi to her office. Sonia was lonely as she had no relations or friends in India and was new to the country. Very often she would come and sit in our office where she could talk freely and perhaps also gain insights into things Indian.
Priyanka's wedding is the first happy event in the Nehru family for many years
My colleague Amie Crishna would tease her that instead of one, she had three mothers-in-law. As I myself had noticed earlier, Mrs Gandhi took quite some time to be free with people. It was so with Sonia, too. One day Mrs Gandhi left a long letter for Sonia expressing her views, some critical, on certain things. Sonia arrived in our room very distressed, and almost in tears; she could not understand why Mrs Gandhi could not talk to her rather than write a letter.
I told Sonia that Mrs Gandhi often found it difficult to communicate and said that if she had left letters for her father and husband as well, Sonia should not mind this form of communication. For quite a long time Sonia was very shy and most reluctant to go before or mix with people whom she did not know. It used to be quite a job to persuade her.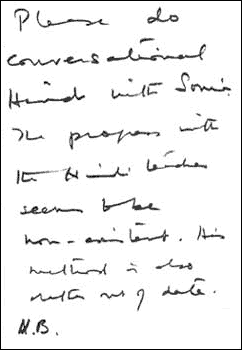 I think it took Sonia some time to get accustomed to things but she was a quick learner and gradually started gaining Mrs Gandhi's confidence and created a place for herself in the family. One could see that Sonia was an organised person, knew her mind, and was the stronger of the two. She was low key but knew what she wanted. Mrs Gandhi was keen that Sonia learn Hindi. A teacher was arranged for her but Sonia was not interested in learning the language academically. The attempt was given up and she gradually picked it up by listening and speaking.

Rajiv was gentle, good-natured, and accommodating. However, he had a streak of temper. He was a very meticulous person and expected the same standards from others. Once in the 1970s he was dissatisfied with the work of the PWD in the house and sent for their senior officer. He really lashed out at him. Later I spoke to Rajiv regarding his manner of reprimanding as it reflected on his mother too. I do not think he took this kindly. I realised that he was no longer my 'student' and that I should not intervene in his affairs.

The birth of Rahul and Priyanka, with an age difference of one- and-a-half years, made the family complete. When Rahul was born, Mrs Gandhi was on tour and I rang her in Patna to give the happy news. The children added joy to Mrs Gandhi's life and she loved to fuss over them. She would think of their needs and comforts and send messages even from her office.
As the children were growing up, I could see the difference between them. Rahul was naïve and carefree, while Priyanka knew her mind and was very poised from the beginning. She would hardly get into trouble, but Rahul often did; the grandmother then was very protective towards him. I used to enjoying watching her with her grandchildren.

Excerpted from Indiraji: Through My Eyes by Usha Bhagat, Penguin Viking India, with the publishers' permission.
Ms Bhagat was a kindergarten teacher who gave up her job to become Indira Gandhi's secretary and worked closely with her for about 31 years, attending to personal and official matters. She witnessed Indira Gandhi's happiest and saddest moments and had a close view of the life of India's only woman prime minister. She lives in the capital and has been associated with the Sangeet Natak Akademi and the Indian Council of Cultural Relations.
Photographs: India Abroad Archives and from Indiraji: Through My Eyes
Also see: Images: India's Iron Lady
Mrs Gandhi comes to power
The Rediff Specials


What do you think about the story?








Read what others have to say:





Number of User Comments: 38








Sub: its reall a mind blowing one. good keep it up.

this is really good eg to be a positive nri who came fr where. which know one knows now what she is every one knows


Posted by Abhay salwan. (X-GROVIAN)









Sub: Amazing Lady

What an amazing lady she is. However the knickerwallahs and the saffron yahoos, incapable of any sacrifice, detest her. Hardly surprising for the knickerwallahs are ...


Posted by GB









Sub: wasting of time

I thought Sania (Sonia, I got confused)Mirza's wedding day has been fixed. Why such news are published ? Sonia Gandhi might be the most powerful ...


Posted by Mahen









Sub: Good one

Good one as only rediff can produce !!Keep it up! It's really interesting to know something about the life of India's Iron Lady.Those criticize this ...


Posted by Raj









Sub: sonia

instead i would prefer some history of usha bhagat herself coz nothing is better than nonsense.


Posted by ram






Disclaimer