Advertisement
February 22, 2006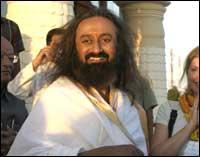 As the ancient Indian practice of yoga gains widespread acceptance the world over, some 27 patents have been granted to various branches of yoga. Art of Living founder Sri Sri Ravi Shankar believes this has led to a situation where you can't teach yoga if you don't patent it.
In an exclusive conversation with Editor Saisuresh Sivaswamy and Nikhil Lakshman, he says there should be a total ban on patenting essentials like medicines and spiritual practices. By allowing some to patent it will deprive many others. The fifth segment of a six-part interview.
Part I: 'The overwhelming problem is corruption'
Part II: 'Basically people are good'
There was a report recently that said some 27 patents have so far been granted on various branches of yoga. How does Indian heritage become a commodity that can be patented like this?
You have to go with the flow. You know what, some people patent yoga, and if you also don't patent it then you can't teach it. Either there should be a total ban on patenting things that are so essential, some medicines, spiritual practices etc. But if you allow some people to patent it then naturally others will be deprived of it. So people go ahead and patent it.
But aren't patents restrictive in nature? Don't they restrict access to knowledge, practice, isn't that the case?
Correct. Personally if you ask me, I will say it should be free-flowing. But we had to take copyright because somebody else was going to take copyright over what we had done. So our teachers went and took the copyright so they could teach. Otherwise they would have lost it to someone else.
This copyright etc, though it is not a healthy practice, I am really not for it. I believe knowledge should be free for all. Commercial organisations take up these things and start patenting, so then NGOs, charitable organisations are forced to patent so that they can continue with their work.
Part III: 'The gullible are being fooled in the name of religion'
What is the divine logic for so much suffering in the world? If there's a god above why should there be so much suffering? Karma surely can't be the cause of suffering?
You cannot stuff god somewhere above so he won't make you suffer; He is full of compassion and love, why should He make you suffer? That is not the case. There is the principle of karma, action and reaction.
Do an in-depth study of our scriptures to clear this mystery what the world is really bothered about, what is happening to god, why is He behaving this way etc.
There are opposite values that coexist in this planet. Creation, destruction. Joy, suffering. Pleasure, pain. But you are something beyond that. This understanding is a gift to the world from Indian philosophy, the Vedas.
The whole world is groping in an ideological struggle to play Satan. If god is omnipresent, present everywhere, where do you keep Satan? Satan should be in a place where god is not. Then god is not omnipresent. If He is not omnipresent, He is not omnipotent also. Then Satan becomes even more powerful. So there is a fight between good and evil.
Our Vedanta, our philosophy in India, has given a big solution to this. The age-old struggle we are talking about, the good and bad, right and wrong are relative. In the absolute sense there is only one truth. The divine. It is one. It is beyond duality. One step below comes the good and bad. They are the opposites, and they all complement each other.
Like the hero and villain. They appear to be in conflict with each other but they merely complement each other. There is no hero, there is no villain. Similarly poison and nectar. Even nectar, if consumed too much, can be poisonous. And poison very often saves the lives of people. All the life-saving drugs have poison written on them.
Take the concept of opposite values that are complementary to each other, which exists in the world, in our philosophy, and it solves most of the riddles the Western world is facing about good and evil, right and wrong, why some people are happy, why some people are not happy.
The theory of karma and the principle of dharma go hand in hand.
Talking of one's past karma catching up, how does it hold true in the light of modern day scientific advancement, rationality?
Karma is the latent tendency in all of us.
If you went to school, studied, all those impressions you had about mathematics, biology, etc, that you make use of in the future. Your life is so many days, years of knowledge, and knowledge is all part of karma. They are impressions, and we walk through the impressions.
Karma is not fatality, it is not the fear of fatality. It is not what we think as the fatalistic attitude.
If I were to come to you and ask how can I be a better human being, what advice will you give someone like me?
Are you thinking about yourself all the time? Or, are you also caring for the people around? That's one thing. What divine qualities have you kindled in the people around you? That's the second question you need to ask yourself. Ask yourself how you could be useful to people instead of saying what they can do to you.
If we keep asking these questions it will put us in the right path.
Photograph: Jewella C Miranda
Next: 'India even today leads in human values'