Advertisement
February 20, 2006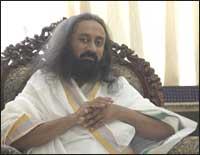 The grand three-day silver jubilee celebration of the Art of Living Foundation drew to a close on Sunday with its founder His Holiness Sri Sri Ravi Shankar stressing the need for peace, non-violence and spirituality.
Celebrity guests like former US President Bill Clinton [Images], Vice-President Bhairon Singh Shekhawat and former prime minister Atal Bihari Vajpayee could not attend the event due to security concerns, but there were thousands of devotees from around the world at the celebration in Bangalore.
In an exclusive interview to Editor Saisuresh Sivaswamy and Nikhil Lakshman Sri Sri Ravi Shankar discusses terrorism, the spiritual solution to corruption and what discourages him most about India. The second of a five-part interview:
Part I: 'The overwhelming problem is terrorism'
Since you spoke of terrorism, many volunteers we spoke to here spoke of your work in Kashmir, and how terrorists there renounced violence after doing the Art of Living course. What is the magic formula you offered them?
Basically people are good. The human being's structure is like that of an atom. At the center is the positive proton. The centre of every human being is positive, of compassion, love. But the negativity somehow comes in, and we need to take care of the delusions that people have.
How can mankind respond when confronted with terrorism? In an earlier interview to our newspaper India Abroad, you mentioned the concept of saam, daan, dand, bhed. You are not averse to using the stick?
No! But you don't need to use it if you have followed the other three methods. It should be the last resort. Unfortunately people start with the last resort. Then it goes from bad to worse.
Sri Sri Ravi Shankar on the Rediff Chat
Given the number of conflict spots in India, do you think the failure of the Indian State to address problems effectively has led to such a situation?
It is the lack of spirituality that has given rise to problems like terrorism and suicidal tendencies.
The lack of proper spiritual education is responsible for suicidal tendencies on one side, and domestic violence and societal violence everywhere.
We can educate our people through yoga etc. We have all the techniques in India, hundreds of techniques which can calm people's minds, and which can bring up their energy and improve their spiritual levels, which can bring about creativity. But it is not done.
We use toxic medication. Instead of curing people of a disease, we go from one illness to another illness. It is the same with agriculture. We are not using our natural way, organic farming. These are some things we can revive in our country.
Our villages (Art of Living assisted villages in some Indian states) have started using natural farming. They do it with a zero budget. Our villages have produced three times more crop. There are many, many villages in Maharashtra, Andhra Pradesh that are doing this.
I saw an interview on television where you said you read newspapers and keep in touch with current events. When you read the newspapers, what is it about India that encourages you the most?
What discourages me the most is corruption, the scandals that are happening.
What makes me happy is when youth come forward, be successful in society.
When I read about youth taking responsibility and working for their villages or country, to bring about harmony in the country, that gives me the feeling that not all is lost.
Do you have any spiritual solution to corruption?
Corruption can happen only beyond one's sense of belonging.
If the sense of belonging is expanded, the natural tendency is to be uncorrupt. The tendency for corruption will go down drastically.
A sense of sacrifice is what you want.
There is a genuine desire in people to do service. Whenever there is a natural disaster we did not order, give an edict to people to go and do seva (service) etc. It just came up naturally in people. Hundreds of people gathered together, they collected food and material. All this is a result of spiritualism.
If you have spiritually nurtured someone, then the natural tendency is to be of service to humanity.
Photograph: Jewella C Miranda
Part III: 'The gullible are being fooled in the name of religion'