Home > News > Specials

The Rediff Special/ Shobha Warrier in Chennai

'We are shunted out of the system'

February 15, 2006



Noorie, the head of a non-governmental organisation that has more than 1,500 members, is Auntie Noorie to some, Ayah (Grandma) to some others and just Amma to many others.

She has devoted her entire life to work for those afflicted with the dreadful virus that causes AIDS.

She is also HIV positive. And she is a transgender, an aravani in Tamil.

Today people shower her with respect and affection, but there was a time in her life when abuse, ridicule and insult were her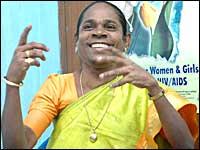 constant companions.

As a 13-year-old boy, Noor Mohammed's friends laughed at him for walking and acting like a girl. The villagers asked his father, a village head in Ramanathapuram, Tamil Nadu: 'What have you given birth to? Is this a human being? If we had such a creature in our family, we would have killed him that instant.'

His father took out his frustration on Noor Mohammed by beating him up.

Little Noor didn't know why god created him different, why people made fun of him. But he knew one thing: When other boys laughed at him for behaving like a girl, and when they called him Fathima instead of Noor, he felt happy inside. Because his mind always told him he was a girl.

"Those were the darkest days of my life," recalls Noor. "How long can a young boy bear the physical abuse of his father and stepmother? Whenever my stepmother saw me dressed like a girl in the confines of my room, she thrashed me. So, I stayed away from home most of the time, wandering around the streets."

Even though Noor was dressed in a lungi and shirt, the boy saw to it that the shirts were always bright coloured, shining and very tight fitting. He also grew his hair long. All this angered the parents even more.

Unable to bear the ridicule and abuse, in 1968, Noor decided to catch a train to Madras (now Chennai) though he didn't know anyone in "this big city."

At the station, he happened to see an aravani dressed like a woman, and that happened to be the turning point in Noor Mohammed's life.

"I felt only an aravani could understand the mind of another aravani. She took me home," Noor recollects.

From then onwards, Noor Mohammed started calling herself Noorie and dressing like a woman. "I cannot explain how liberating it was to be in a woman's dress! For the first time in my life, I felt so happy."

Instead of working as a commercial sex worker like other aravanis, Noorie, now 55, worked as a housemaid for some time; but that didn't last long.

She decided to move to Bombay (now Mumbai) where "aravanis make a lot of money, where they are respected. Only in Tamil Nadu are we treated so badly. In the two years I was in Bombay, I could save close to Rs 50,000."

She made all the money from "begging." And she never felt bad about it.

"You should feel ashamed of begging only if you are given fifty paise or one rupee. There (in Mumbai), we were given alms in hundreds!"

She fell in love with an army man from Maharashtra. "It was one of the most blissful moments of my life. He knew I was an aravani, and he still he loved me for what I am."

Noorie decided to return to Chennai to undergo surgery that would make her a woman physiologically.

"My lover had promised to come to Madras, and I wanted to be a woman in all aspects when he came. That was my gift to him."

The surgery was not performed in a hospital by a surgeon but by another aravani, whom the rest of the community fondly calls 'Daima.'

"I was very thin those days, so everybody told me if I went to Daima for surgery, I would die; but I was willing to take the risk. I wanted to be a complete woman. Those days, no doctor would do such a surgery for us. Moreover, other aravanis would tease you, saying, 'How could a man do the surgery for you? Are you not ashamed?' So, I had no other option but go to our own Daima."

Noorie underwent the surgery without anaesthesia.

In the months that followed, she worked as a commercial sex worker to support herself till her lover came to Chennai and married her. She made money. But she also contracted the human immunodeficiency virus.

"I still remember the day I was tested positive; July 23, 1987," Noorie says. But till 1990, she didn't reveal it to her husband.

After eight years of happy married life, her husband died in a helicopter crash in Jammu and Kashmir.

"Even when his family found out that I was an aravani, he stood by me and said, 'I will die in your lap.' But that was not to be. I could not even see his body. He loved me not as an aravani but as a woman."

From the day she discovered she was HIV positive, Noorie stopped working as a sex worker. She didn't want anybody else to get the virus from her. She chose to work as a peer worker to spread awareness about the dreaded disease.

Her life as an NGO worker was not easy either. Some women objected when her name was proposed as an office bearer.

"They said, 'The organisation is for women.' I never felt so hurt. Wherever I went, the stigma of being an aravani never left me. I walked out from there and decided to work for all HIV positive people irrespective of their gender."

In 2001, she started her NGO called South India Positive Network with just 26 members. Now, SIPN has more than 1,500 members. Two of her close women friends helped her achieve her dream and realise her self-esteem.

"The members of my organisation do not look at me as an aravani; I am their mother, Thai," says a grateful Noorie.

Within three months of starting SIPN, she got a small project from the National AIDS Control Organisation. Today, she has six major projects and 52 people working for her. She also runs a home for AIDS orphans.

When she found that young HIV positive women face the worst ostracism once they become widows, she wanted to help them by taking on the role of matchmaker.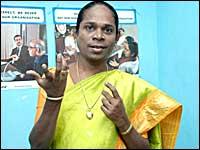 "Men find ways to fight their loneliness, not these young widows. So, I decided to help them. Among our members, when I find a positive man who is ready to remarry, I try to help him find a positive woman from our network itself."

So far, Noorie has helped 11 couples get married. "I feel extremely happy because I am giving their dark lives a ray of shining light."

Thanks to her spreading the light, she is Auntie Noorie to the young women and Amma to the young men. Little children call her Ayah. "Like all women, I like being called Amma," says Noorie.

It was to fulfil her yearning to be a mother that she adopted the two children of an HIV positive sex worker. Both boys study at a boarding school, far away from "this world."

They not only provide emotional support to Noorie but if she gets Anti Retroviral Therapy from the government, it is only because she has two adopted children.

"I am alive because of them, in all senses," says Noorie, who has been on Anti Retroviral Therapy for the last two years.

"There are aravanis like me in the entire spectrum of society but all of us are ostracised. We suffer from two kinds of stigma, one as an aravani and another as an HIV positive person. I want to start a home not only for aravanis but for all HIV positive people where people like us can live with the others," says Noorie about her life's ambition.

Noorie feels sad that Indian society shuns people like her and they are easy targets for insult and abuse.

"It is only because we are shunned that we act aggressively. If we were given jobs, do you think we would beg? How many aravanis are there in this country? How many NGOs are there in India? If each NGO gives a job to one aravani each, you can give a life to people like us. Instead, we are shunted out of the system."

But things are changing for the better with people like her coming out in the open, and speaking their mind loudly enough for a society that turns a deaf ear to their plight.

"Thanks to Purachi Thalaivi (Tamil Nadu Chief Minister J Jayalalithaa), today, we have an option to declare ourselves as aravanis in the ration card. That itself is a big achievement for us."

"Are we not human beings? Is it our fault that we are born like this? Are we animals to be kept away from you people?" asks an agitated Noorie.

"We also have a soul that yearns for love and affection. We want to be a part of society."

Photographs: Sreeram Selvaraj


The Rediff Specials




What do you think about the story?








Read what others have to say:





Number of User Comments: 4








Sub: thank you for your contribution to the society.

Noorie, you are just like one of the many different people that we meet everyday. Your contribution to the society will always be remembered and ...


Posted by Hubert









Sub: love

dearfriend The realstory which i read was hearttouching,every human being\\\'s stand and fight for their right\\\'s no one in this world can be let behindorinsulted. ...


Posted by marina victor









Sub: Fantastic Courage

I am very delighted to read this article - after all the news abt murders,rapes,things gone wrong, here is a story which brings hope - ...


Posted by shampya









Sub: hai

i want to joint with you


Posted by basker






Disclaimer