Home > News > First Look


Meet India's fastest train!

February 15, 2006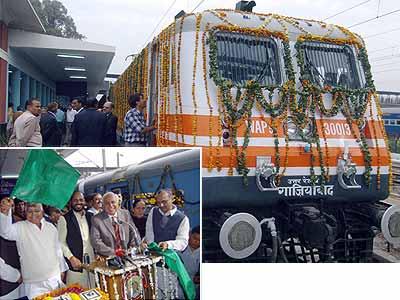 India's fastest train -- the New Delhi-Bhopal Shatabdi Express --was flagged off on Wednesday from the New Delhi railway station by Railway Minister Lalu Prasad Yadav (far left), and Science and Technology Minister Kapil Sibal (at the microphone).
Graphic: New Delhi-Bhopal Shatabdi Express
This new superfast train, which departs from New Delhi at 0600 hours, daily except Friday, will travel at a top speed of 150 kilometres per hour. The Delhi-Agra 198-km journey that usually takes 2.5 hours, will now be accomplished in less than two hours. But from Agra onwards, all the way to Bhopal, the train will continue at its usual top speed of 120 kilometres per hour.
To accommodate this high speed on India's tracks the railway ministry has taken a few precautions. Tracks that could, till now, handle a speed of maximum 120 kilometres per hour, have been fortified to handle the Shatabdi's new momentum. Tall barriers will seal off the tracks to jaywalkers, stray dogs and livestock.
Brand new coaches for the train have been repeatedly tested and then brought in from Kapurthala, Punjab, to give passengers a smooth ride. The train will be pulled by a extrafast WAP-5 engine, which are high speed electric locomotives.
PTI
Photographs: Getty Images


What do you think about the story?








Read what others have to say:





Number of User Comments: 18








Sub: something to be proud off ???

guys.. just see how our h\'ble railways minister is flagging off the india\'s fastest train .. i am amazed to see that but one shud ...


Posted by hardeep singh narang









Sub: Superfast Train services on other routes

Hope superfast train services are introduced on other routes as well very soon. Safety is one aspect which should be given highest priority. ...


Posted by Azizuddin









Sub: Disagree!!!!!

Indeed its a good initiative by Indian Railways but have they kept in mind lot of risks involved while doing this thing. Firstly, are the ...


Posted by Ambrish









Sub: Dear Lalujiii

Dear Lalujiii,, Tausif bhai is correct regarding the train from hubli to bangalore which is in the northern part of karnataka and the crowd from ...


Posted by Sanjeev









Sub: Fastest train? What fastest??

Sir, The trains abroad have achieved 650Kms per hour speed. We, the citizens of India, feel cheated by usurper Railway Ministry. Lalu is CHARA-CHOR & ...


Posted by Apt






Disclaimer