Advertisement
February 08, 2006


Actor turned politician Raj Babbar's outburst last weekend against Samajwadi Party General Secretary Amar Singh has created a flutter in the party that leads the ruling coalition in Uttar Pradesh.

Angered by the filmstar attacking Amar Singh, Uttar Pradesh Chief Minister and Samajwadi Party leader Mulayam Singh Yadav asked his brother Gopal Yadav to set up a three-member committee to go into the allegations and recommend suitable action against Babbar.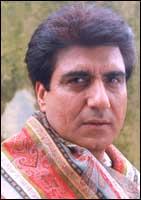 On Wednesday Babbar was suspended from the party's primary membership for 'anti-party activities.' A day earlier, he was suspended from the party's parliamentary group.
The Samajwadi Party's doors may be slamming on him, but Babbar, the Lok Sabha member from Agra [Images], remains defiant.
"One day before the committee was constituted, Mohan Singh accused me of acting as a Congress agent. He was made convener of the disciplinary committee. So why not include Amar Singh in the committee as well?" asks Babbar in an exclusive interview with Rediff India Abroad Senior Associate Editor Onkar Singh in New Delhi.
Why the sudden outburst?
I have just raised a very important question: Do we go ahead with that face of the Samajwadi Party which refers to the broker culture or (do) we go to the people with the ideology of Dr Ram Manohar Lohia who was a people's man and whose Socialist ideology we all swear by?
Why target a party colleague like Mr Amar Singh?
I am not targeting an individual. I am targeting a culture -- the culture of brokers in the Indian polity.
We, the Socialists, should be proud of having the legacy of Mahatma Gandhi [Images], Jayaprakash Narayan and Dr Lohia. We cannot afford to have the face of a broker culture.
Mr Amar Singh is a powerful man.
So what? Let time decide who is powerful.
Did you speak to Mr Mulayam Singh Yadav about what you allege is the 'broker culture' within your party?
Yes, I did bring it to the notice of Mulayam Singhji and other senior leaders of the party as well. Though they did not say it in so many words, they all agreed with my point of view.
But Mr Mulayam Singh is angry with you.
He is my elder and he has a right to be angry with me. He is a senior politician of the country and he has his style of thinking. I, as a small-time worker of the party, have put across my point of view according to my limited thinking.
Now it is up to him to decide.
If he calls me then I will certainly go and meet him.
You have been called a Congress agent and a CIA agent.
That is unfortunate. They should not have done this at all. But since they have given me these decorations I guess somewhere deep within them there is a growing sense of insecurity.
I guess they must have done this to make me react angrily. But I am not falling into their trap. I am laughing at their misconceptions about Raj Babbar.
Are you planning to meet Mrs Sonia Gandhi [Images]?
I am prepared to meet all secular minded parties and leaders who will strengthen the country and the government.
Is the Samajwadi Party going to move a no confidence motion against Dr Manmohan Singh's [Images] government in the Budget Session of Parliament?
It would be unfortunate if he does so.
I hope those who are close to him and claim that they are for strengthening the secular forces will tell him about the disastrous consequences that may follow.
Dr Singh's government has done well on various fronts and I hope that Mulayam Singhji thinks about his decision all over again.
Why did you go to the Left parties instead of going to the Right wing parties?
The Left parties' adherence to the cause of secularism is well known. I met CPM (Communist Party of India-Marxist) General Secretary Prakash Karat to assure him that I would do nothing that would undermine the secular polity and fabric of the nation.
If I had gone to the Congress party then their (the Samajwadi Party members against him) charges would have proved correct -- that I was making allegations against the broker culture at the behest of the Congress, which is not true.
Have you charted out your future course of action or are you prepared to go the Uma Bharti way?
I have not charted out any course of action for myself but I guess I do not have to be worried about it at all.
I will go to the people of Agra who I represent in the Lok Sabha. I am fighting my battle irrespective of the consequences.
Will you appear before the three-member disciplinary committee?
I will appear before the three-member committee only if they hold the meeting in front of the cameras. It may not be live coverage but it should be recorded. That is what I want.