Advertisement
August 29, 2006
The killing of Baloch Nationalist leader Sardar Akbar Khan Bugti along with two dozen of his followers on August 26 by the Pakistani army has raised a storm in Balochistan.

Many see a close parallel between the happenings there and in erstwhile East Pakistan in 1971,  when it seceded and became Bangladesh. There was the infamous massacre of the intellectuals/leadership at Dacca University.

Ironically, Akbar Khan and his Bugti tribe were considered closer to the ruling establishment of Pakistan as opposed to the Mengal or Marri tribe that was allied with the National Awami Party founded by 'Frontier Gandhi' Khan Abdul Gaffar Khan.

Turmoil in Balochistan has a long history. It is the largest province of Pakistan, but is very sparsely populated. In addition, it has almost all of Pakistan's mineral and natural gas resources. Yet is also undoubtedly the least developed part of Pakistan.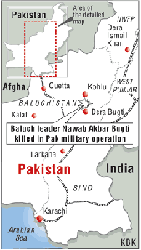 While Balochistan supplies the natural resources, the Balochis themselves remained poor. This had bred a sense of grievance. 
In 1971, at the height of the Bangladesh war, processions were taken out in Quetta in favour of independence for Balochistan. Slogans were raised praising Indira Gandhi [Images] and surprisingly, General Jagjit Singh Arora, who was perceived as the liberator of Bangladesh. The first revolt in the 1970s was ruthlessly put down by the Pakistani army led by General Tikka Khan, who earned the nickname of 'Butcher of Balochistan'.
Like the initial Six Point programme of the late Sheikh Mujibur Rehman of Bangladesh, most Balochis agitated for regional autonomy and not independence or secession. That this struggle was violent has more to do with the tribal ethos and general lawlessness of Pakistan, rather than any real evil intent.
Yet like Bangladesh, Pakistan, under military rule, has used purely military means to solve a political problem. In the case of Bangladesh, according to the report of the Hamidur Rehman Commission (appointed by the Pakistan government), more than 300,000 Bangladeshis were killed in a span of six months. Yet rather than end the revolt and solve the problem, Pakistan lost its eastern wing.
Pakistan has also been freely using helicopter gunships and airpower against its own people. It is interesting to compare Indian operations in Jammu and Kashmir [Images] with this. We have never used airpower in Kashmir. The reason is simply that it is a blunt instrument and the danger of collateral damage is great.
Despite all the motivated anti-India propaganda, the total casualties do not exceed 40,000 over 10 years in Kashmir (of which 2,000 are Indian soldiers and many thousands are victims of terror strikes). Does it mean that the Indian army uses rubber bullets?
The truth is that it is well understood in India that quelling an internal unrest is a long haul, and massive force cannot be used indiscriminately. Do the Pakistanis (and their sympathisers in India) realise that in this brutality there is very little to choose between Israel's attacks on Lebanon or Palestine and Pakistan?
The Indian approach towards the leaders of insurrection has also been very different, be it the late Angami Zapu Phizo of Nagaland, Laldenga of the Mizo National Front or even Ahmed Shah Geelani of Kashmir's pro-Pak Jamaat-e-Islami.
As a matter of record, Geelani got a lease of life when he was treated for cancer in Mumbai's Tata Memorial Centre (at the Indian taxpayers expense) a few years ago. That he continues to spew venom at India and Indians speaks volumes of his character.
Indians never went in after individuals. Maybe it has something to do with the fact that Indians would rather follow the British model of Malaya (under Sir Gerald Templer who successfully dealt with the Malayan communist insurgency).
The Pakistani army, under the heavy influence of the Americans, is more prone to follow the Vietnam model of body count and search and destroy missions.
Obviously the Pakistani army does not want to learn from its own mistakes in Bangladesh or its neighbour's success. When Musharraf calls it a 'great victory' he betrays a 'company commander' mentality (using deductive military logic of tactics for complex strategic and politico-military issues). With this one event it seems Musharraf has used up his nine lives and his physical or political continuity is in grave doubt.
Prime Minister Manmohan Singh [Images] should be well advised to avoid meeting him in Cuba or the US since he is a likely to remain a 'lame duck' dictator (despite his high sounding title of President). India's indirect endorsement of him will alienate Baloch opinion as well as his likely democratic or military successor.
Essentially Balochistan and Pakistan's tragedy is its inability to evolve a federal structure. Autonomy of provinces is wrongly viewed as a threat to national security. Our southern neighbour Sri Lanka [Images] suffers from similar disease.
The creation of a set-up similar to India's provincial structure is something the Tamils would be quite satisfied with notwithstanding their demand for an independent Eelam. But the movement towards federalism in Pakistan is stalled in the absence of true democracy, the only ultimate solution (as advocated in Great Danger, Grand Opportunity by Inpad members on rediff.com).
India's success in dealing with centrifugal forces owes a lot to our federal structure where the states have a great degree of political and economic freedom. The creation of linguistic provinces keeping in with the wishes of people was the best thing that happened to India.
This was partly an accident as Pandit Jawaharlal Nehru was opposed to it. It was after Potti Sriramulu fasted to death for the creation of Andhra Pradesh that the floodgates to reorganisation of states were opened. The reality of the Indian subcontinent or for that matter South Asia is that many regional identities like Tamil, Marathi and Sikh have a long historical and cultural context.
Baloch identity similarly goes back to pre-historic days and predates the birth of Islam (the Brohi language is one of the oldest in the world). To think that the killing of one man or wiping out the leadership would end the problem is foolish.
However, Pakistan is unlikely to be ousted from Balochistan in a hurry. The differences with the Bangladesh situation are quite obvious. Pakistan suffered from a grave handicap of distance as well as the cutting off of lines of communication in case of war in erstwhile East Pakistan.
Balochistan is a geographically contiguous part of Pakistan. External help for the Balochis can at the most come from landlocked Afghanistan, and with the heavy US and NATO presence there, even this is problematic. Thus there are severe limitations on the the kind of external help the Balochis can depend on. .
Both the Vietnam war in its final stages and the Afghan conflict clearly proved that a conventional armed force cannot be defeated by guerrilla fighters alone. In the case of Vietnam there was wholesale defection from the South Vietnamese army that paved the way, a situation most unlikely in Pakistan.
The Najibullah regime survived the Afghan guerrillas' onslaught for nearly a year, and in the end it was the major defections by his forces and direct Pakistani intervention that ultimately sealed his fate. In the Bangladesh war as well, while the Mukti Bahini indeed was a great help, the ultimate knockout blow was delivered by the regular Indian army. Unless there is a radical change in the US/NATO approach to Pakistan, this is unlikely to happen.
The most likely scenario is that guerrilla war will continue in Balochistan and Balochis in other parts of Pakistan will carry out a campaign of sabotage. The Pakistani state will continue to limp along. Balochistan is not Bangladesh.
The author, a former Joint Director, War Studies Division at the Ministry of Defence, has studied insurgencies in Mizoram, Kashmir, Sri Lanka and Northern Ireland
Guest Columns