Advertisement
April 25, 2006


Gopal Siwakoti Chintan is a lawyer and general secretary of the Forum for Protection of Human Rights. Along with 30 other pro-people organisations, he and his group was at the forefront of the campaign for full-fledged democracy in Nepal.

He spoke to rediff.com Managing Editor Sheela Bhatt in Kathmandu.


How was this movement possible?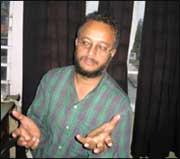 There are many reasons. All political parties who wanted peaceful political change have been betrayed by King Gyanendra. They realised that without uniting on a single platform they would never get back their political powers. They realised that the Monarchy cannot be trusted and without a democratic system they have no future. This unity is historical, path-breaking and it has happened for the first time in Nepal. Another historical change was that the Maoists joined these democratic forces peacefully. Ordinary people, Dalits, women and the poor who are ignored came out with one agenda -- to create a new political set up in Nepal.    
Complete Coverage: Crisis in the Himalayan kingdom    
The strength of this movement is in a fact that people and political parties forced the Maoists to understand that a peaceful movement helps better than isolated armed insurgencies.
This movement is peaceful and sporadic violence has happened only when provoked by security forces. The co-ordination with underground Maoists is possible through e-mails, mobile and telephones. The communication is based on trust. Dalits and ethnic communities, ex-servicemen are also big part of the movement.  
Who was leading the movement?
There was no hierarchy. The main actors were the people. Ordinary people, radio stations and the media have made such large-scale protests possible.  A few months back the King tried to curb the media but it is challenged in the court. In Kathmandu intellectuals and the media were leading the protest in rural areas the local people were leading it. There is no need to communicate on day-to-day basis as long as all of us are clear about who is the enemy -- who is against democracy in Nepal. There is no doubt about the irrelevance of King Gyanendra to our future. There is also no disagreement among people that you cannot bring peace by alienating the Maoists.
Salaam Nepal! The war has just begun
Any amount of arms from the US, the UK, India or China cannot finish the Maoist insurgency.
Are the Maoists behind the success of this movement?
No doubt! It was the people's wish to bring in the Maoists to the political mainstream. All of us have campaigned for a cease-fire and peaceful participation by the Maoists. There was 12-point and later on seven-point agreement between the Maoists and political parties.
The Maoists are convinced that a permanent solution in Nepal is possible through peaceful means. This movement would not have been possible without active involvement of the Maoists.
Girija Prasad Koirala to be Nepal's next PM
How different is this from the 1990 movement?
In 1990 the movement was urban-centric. It was led by intellectuals but this time the whole of Nepal was mobilised. It is the suffering that people have gone through in past 15 years that is forcing them to come on the streets. They are victim of the Maoist insurgency and they think that democracy will help them tackle the Maoists by bringing them into government.
Political parties failed to serve the people. That frustration is also behind the movement. This was self-controlled and self-initiated movement rather than an organised or structured movement.
You are ignoring the fact that Maoists have arms in their hands.  
We are not ignoring that fact but it's not practical to ask them to give up all their arms now and then tell them that we will talk to you. In the history of armed struggles all over the world it has never happened like that. Giving up of arms should be a parallel process. It is a complex process to monitor the army and the Maoists. We will ask the United Nations or any such reliable party to monitor this process. In Nepal, when the final peace will arrive in two to ten years time there will not be any armed groups.
Please remember, the strength of the Maoists in Nepal is support of the ordinary and poor people of Nepal. As soon as we have peace and democracy restored at our terms we will start seeing the breakdown of the forces which are united behind the Maoists. The existing Maoists structure will undergo change eventually on basis of ethnic identity and geo-political basis. The Maoists will have to take all of them along to rule democratically. They will have very hard time maintaining a majority through the election process. They will have to agree to the political agenda of groups who are supporting them now. The Maoists gathered support only because other processes have failed in the past. The Indians and the international establishment have not understood role of multi-ethnic society and issue of their rights behind the Maoists existence.
Do you really believe that Maoists will shun violence?
It's not a question of believing, it's reality. They have seen it and now they are saying that they cannot take power militarily because of external pressures and interests.
A people's movement grows with fury
They know that Nepal's geo-political factors like China and India and international factors are totally against any kind of Left revolution in Nepal.
In the new political set-up, Nepal's Maoists won't be dominating but part of power structure. There is a realization that they have to work peacefully in a new political system.
How do you see the future of  the King?
The royal proclamation on April 21 did not address the real issues.
The most fundamental question is who is going to write the new Constitution of Nepal and what will be its content. So enormous is the task at hand. About the position of the Monarchy, about the role of the army, the position of Dalits and backwards are issues on which a decision will have to be taken while writing the new Constitution. And such rewriting is possible only when 'everybody' in Nepal is involved in the making of new Constitution including the Maoists. Nepal is not Peru, its situation is close to the South African political process. We must have inclusive and participatory process of making of the new Constitution. In future, the Monarchy will not be able to decide the future of the Monarchy.
In the new Constitution there will be surely be a provision so that Monarchy can be abolished peacefully.
What was the single-most important factor behind the 19-day protests?
The repeated betrayal by King Gyanendra is responsible for the movement. It started with mistrust when the Royal massacre took place. People began to have doubts. Why was there no proper criminal and legal investigation into royal massacre according to the country's laws. That created doubt about whole politics within the palace. Instead of helping the country's democratisation process he started to control power, unconstitutionally.  Then, he started exercising unconstitutional powers with use of force. The Royal Nepal Army was used first time on huge scale without declaring an emergency. More than 300 intellectuals and leaders are in jail.   
Images: Will Nepal ever be the same?
How do you see India's role?
India's role is always confusing. India is relying too much on traditional political forces when so much is changing in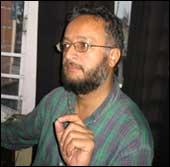 Nepal. These experts and diplomats come here, meet some general, go to the palace and meet established politicians and make demand for peace and pray for democracy. Nepalese won't believe such gestures. India makes old arguments, they failed long ago.
How do you explain Nepalese sentiments against India?
India has not done enough either in the 1950s or in the 90s. And even now India is not listening to people of Nepal and the messages they are sending through various struggles that they want full-fledged democracy. We want a proportion-based federal system of governance. We are not talking about a multi-party system where few parties dominate as it happened in Nepal in 1990. Unless we get representation for all in our system the demonstrations will continue. Also the Maoists have not expressed strong anti-India sentiments as many Nepalese have in the past10-12 years because they also have their interest in mind. This armed insurgency could not survive without some kind of tolerance from India.
Why India fears democracy in Nepal
It's a strategic silence by the Maoists and India. India had a wonderful chance to win hearts if they had come out in favour of the people from day one.
The published material of Nepalese Maoists is enough to make Indian stand clear against them. Their aim is to take on Indian Army in the future.
Such material was seen four-five years back. If you are in the national liberation movement this is what you say! They have to fight domestic power forces first, then international forces. These are plain ideological statements.
Indian Maoists and Nepal 's Maoists have linkages?
This is where the Western countries and India make mistakes in assessment. The Maoists cannot make it to power in alone. They will have to make peace with other forces and political parties. We have never supported the Maoists armed insurgencies but we have supported their social and political agenda. Even if the Maoists come to power alone it won't be possible for them to support Indian Maoists insurgencies as they would be already confined in a multiple power equations and no arms in their hands.
 Gyanendra: Last Hindu Monarch?
So you want India to trust the Maoists.
It is not a demand, it is there reality of Nepal. They are not classical Communists. They are not like Pol Pot of Cambodia or the hardcore Leftists of China of the 1960s and 1970s or like the Leftists of Bolivia. If they were hardcore Maoists they would not have declare a cease-fire or they would not have joined peaceful movement. They have even said that they are for a Constitutional monarchy if the Constituent Assembly is created.
So you trust the words of Prachanda and Baburam Bhattarai?
Otherwise there is no solution. They are not popular because of arms but because they took up a socio-economic agenda which political parties fail to take it up. The support to the Maoists in our society is not always ideological but at many places they are like a popular brand like Coca Cola. People support them because people think they pick up their agenda. They are catering to people's taste.
For solution to your problems you are again relying on the same old and corrupt leaders.
No, in this movement we told corrupt leaders not to lead the procession. They were not on the frontlines.  
How do you see the balance between the Maoists and conventional political parties?
It all depends on how progressive they will be in their social, political, economical, cultural and linguistic agenda. None of these parties or the Maoists can survive long without recognising the people's ethnicity because these groups are divided but well-organised. Nepal will have no peace without the Maoists in politics.
Photograph: Sheela Bhatt