Advertisement
April 25, 2006


Kanchan Chaudhary Bhattacharya decided to become a police officer when she saw her father being humiliated and the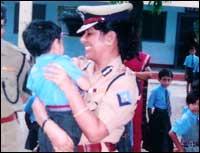 police refusing to register an FIR (First Information Report).
Her inspiring story as an officer of the Indian Police Service formed the basis of the hit television drama Udaan in the 1980s, where the lead role was played by her sister, Kavita Chaudhary.
Two years ago, she became the first woman director general of police in Uttranchal.
She spoke to Senior Associate Editor Onkar Singh at her office in Dehradun about women police officers and complimented Latika Saran, Chennai's new police commissioner.
Latika Saran has been appointed the new commissioner of police of Chennai. It looks like more and more women police officers are now in key positions. How do you feel about this development?

I congratulated her on her appointment and sent her an SMS wishing her well. I know her personally. She is a fine officer and is very competent who can handle any assignment.
Women officers are more fair and more accessible than their male counterparts. Yes, women have started coming up. It is a good sign for women aspiring for higher offices to prove their own calibre.

If you were to tell Latika Saran one thing what would it be?
I would tell her to be herself. I sent her SMS that 'I am delighted to hear about your posting. Wish you luck and a lovely time.' She is an upright and no-nonsense officer I can tell you that.

You became DGP before Kiran Bedi [Images] (the first woman IPS officer) did.
She is a very fine officer and I have my own job to do.

When the appointment came, was it like a dream come true?
I wanted to enjoy helping people. Getting into the Indian Police Service had a motive behind it. Help the helpless. Help as many as you can. This certainly helped me catapult to this post.
I was in the gym when I got the news of my appointment as the first woman director general of the state of Uttaranchal. After that I have never been able to go to the gym regularly.
This post has a lot of demands. Honestly when the orders came I could not believe it. But I am ambitious to deliver. But it is not linked to the post that I hold. This is not my line.

Udaan made your sister famous.
It was a beautiful serial, wasn't it? I admire my sister for doing that serial.

Male officers generally believe that women police officers are not good investigators.
At my level there is no investigation involved at all. I do not think this is held against women police officers. They are fine investigators and they get to the bottom of the case and fish out the facts.
Good investigation is all about getting the information of the case concerned. And women do a good job of it.
Is crime against women on the rise in Uttaranchal?

This is an area of concern to me because crime against women is on the rise. Since more and more women are coming out for jobs and hence their falling prey to crime has increased as well. Their accessibility to crime has also gone up.
Two areas where crime against women is on the rise are dowry deaths and rape.
We increase the police presence in universities and schools when they open for a new session. We try and prevent it but fortunately there is not so much of eve teasing in our state. We have women officers acting as decoys to trap eve teasers.
We are now going to give training to young school and college going girls in unarmed combat to fight this menace. That should help a lot.

Does your personal experience help in dealing with poor people?

Of course, it does. I understand much better what they must be going through. I know what hardships the poor man undergoes while dealing with the police. I keep at least three hours a day to meet such people. On an average I see 50 of them, mostly women. Sometimes I have to skip lunch to listen to their problems, trying to sort them out.