Advertisement
April 24, 2006


Days before Prime Minister Manmohan Singh's [Images] trip to Tashkent, Indian ambassador to Uzbekistan Skand R Tayal explains the importance of the visit to Deputy Managing Editor Ramananda Sengupta.

How do you see Indo-Uzbek ties today? How can they be improved?

Bilateral relations between Uzbekistan and India are close and friendly.  The ties between the peoples of Central Asia and India go back many centuries.  We have good cooperation in diverse areas ranging from economy to culture and our relations are growing in several directions for mutual benefit.

What are the main concerns of Uzbekistan vis-a-vis India and vice-versa?

The task before us is to provide greater economic and commercial content to our strong political relations. The economic and trade relations between our countries are developing steadily but not at a satisfactory pace.  This area is being given special attention.

What are the main articles being traded between the two countries? What is the total value of bilateral trade today? How can it be improved?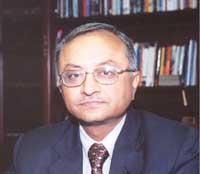 The total value of our bilateral trade last year was about $ 61 million. India's exports to Uzbekistan show a vast rate of growth -- our export grew by 50% in 2004 and by another 33% in 2005. 
The main items of trade from India are pharmaceuticals, chemicals, light engineering goods and tea. From Uzbekistan our companies have imported cotton, copper, chemicals etc. Our companies are negotiating establishment of joint ventures in textiles, silk, pharmaceuticals, automobile ancillaries etc. and this would result in improvement in both trade and investments.  
There is considerable scope for cooperation in mining as Uzbekistan is very rich in minerals.  
Gas Authority of India Limited has been discussing some possible investment ideas in both upstream and downstream sector in energy with Uzbek company Uzbekneftegaz."  Uzbekistan has been successfully utilizing the coal gasification technologies and some of our major companies have shown an interest in buying this technology. 
I am, therefore, very optimistic that we would see a significant boost to forging of such linkages in the coming months.  The 'Focus CIS' policy of the Ministry of Commerce has provided a fresh impetus to the growth of trade relations between India and Uzbekistan.
What commonalities are there between the two nations? (I believe there are some 3,000 words which are common to Uzbek and Hindi, and that 'samosa' and 'pulav' are originally Uzbek words?) Are there any other cultural similarities?
Yes. You are right and there are more than a thousand words which are in common usage in Uzbekistan and North India.  Every day I come across Uzbek words which we also use -- today I came across 'khat' which means 'letter' both in Uzbekistan and in North India.
When one visits Uzbek monuments one can immediately notice similarities with our medieval architecture.  However, the knowledge of contemporary India and Indian culture to the Uzbek masses is through our Bollywood films.  Every week at least three Hindi films are dubbed in Uzbek language and shown on the National Uzbek TV.  Shahrukh Khan [Images] is as popular among youth as Raj Kapoor [Images] was to the older generation.
While inter-governmental ties are very good, people to people contact is limited. Why? What can be done to improve it?
Contacts are steadily growing among professionals and academics. There is considerable scope for boosting tourism from India as the cities of Tashkent, Samarkand, Bukhara etc. are richly endowed with beautiful historical monuments. We are working to promote group tourism from India and this should encourage more people to people contact.
What are the other areas besides trade in which India and Uzbekistan are cooperating? Military? Terrorism [Images]? Science? Culture?
During the visit of President Islam Karimov to India in April 2005, an Agreement on Cooperation in Military and Military Technical areas had been signed.  This is being implemented largely by way of training of Uzbek specialists and special forces.  The two countries have been coordinating their efforts to fight terrorism through a Joint Working Group on Combating International Terrorism.  In the field of Science and Agriculture, we have ongoing bilateral programmes of cooperation which involve exchange of visits by scientists and joint research projects.
In Tashkent, we have a Cultural Centre named after Shri Lal Bahadur Shastri which holds free classes in Hindi, Kathak, Tabla and Yoga.  These classes are very popular and have become a very effective vehicle to familiarize Uzbek nationals with India's rich cultural heritage.
What is India's position on western criticism of President Karimov's attempts to tackle terrorists and secessionists?
The two countries have stated their resolve to fight terrorism on a long term and sustained basis and have affirmed that international terrorism constitute one of the most serious threats to international peace and security.
What is Uzbekistan's position on the Kashmir issue?
Uzbekistan supports a resolution of this issue bilaterally between India and Pakistan through negotiations.
How important is Prime Minister Singh's visit to Uzbekistan, and what are the events he is likely to participate in... I understand he is supposed to inaugurate a Jawaharlal Nehru IT centre in Tashkent?
The visit of the Prime Minister is very important and continues the tradition of high level contacts between the leaders of the two countries.  The prime minister will have wide ranging discussions with President Islam Karimov. He would also inaugurate a Jawaharlal Nehru Indo-Uzbek Centre for Information and Technology in Tashkent, which has been established with an assistance of Rs 3 crores from India.
What are the agreements likely to be signed, if any?
Several documents are under consideration and you would know on April 26.
What would you, personally, like to do to improve bilateral relations?
Our bilateral relations need to be given a greater economic content.  My efforts during my term here would be to work for forging new partnerships to exploit considerable opportunities which exist.  In the field of culture, my attempt would be to take Indian culture to other major cities and regions of Uzbekistan by organising cultural evenings and to work with institutions in different cities to make the students better aware of India's social and economic progress.