Home > News > First Look


Modi fasts for Narmada

April 17, 2006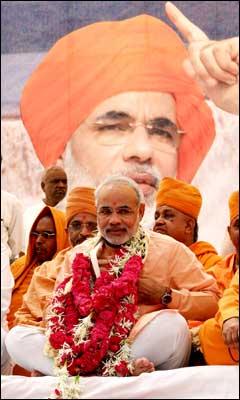 Chief Minister of the of Gujarat Narendra Modi sits with Hindu priests as he starts a 51 hour 'fast' in Ahmedabad, on April 16.   
After taking blessings of several religious leaders Modi began his fast to protest the central government's stand on the Sardar Sarovar dam height issue.
Also See: Medha Patkar: The struggle prolongs
Project advocates say raising the Sardar Sarovar dam's height by 12 metres (39 feet) will provide much-needed water and electricity, but critics say increasing the height of the dam will displace even more people and submerge farmland.
Reader's say: Medha Patkar is doing a fine job
According to the United Nations, more than additional 24,000 families in 177 villages of Madhya Pradesh would be displaced if the height of the dam is increased to 122 metres. The Supreme Court ruling six years ago bans any fresh construction at the Sardar Sarovar site until the displaced villagers are adequately resettled. 
Also See: Narmada protests: A quick guide
Photograph: Strdel/AFP/Getty Images


What do you think about the story?








Read what others have to say:





Number of User Comments: 6








Sub: FAST OF MODI

Modi saheb now u have already pressurised goverment and the ball is in Supreme Court. Also u have won good publicity. So stop fasting and ...


Posted by Hardik Pandya









Sub: REHABILITATION

Real cultprits of this drama are not political parties orleaders or activists but bureacrats. Our Babus. Our so called highly intelligent IAS Officers. Messy situation ...


Posted by Hardik Pandya









Sub: True?

Is it true that Modi's fast is in a airconditioned environment? Heard this on one of the national TV Channels.Got to be one good summer ...


Posted by Sunflower









Sub: Modi fasts for Narmada

Dam construction work must go on. To oppose dam-construction under the pretex of the issue of resettling displaced is a political cry. A bad trend ...


Posted by Dr Prabhakar









Sub: narma dam

We have tremendous problems for water and this dams on Narmada is the largest and will iggigate 1.8 million hectares and hence it will help ...


Posted by GOR JAGADISHKUMAR M






Disclaimer