September 29, 2005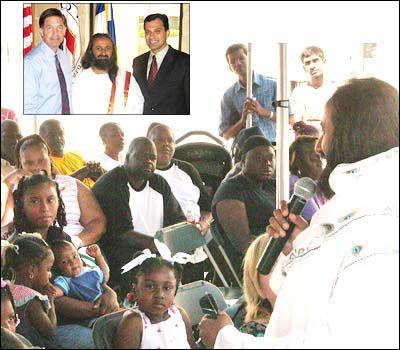 Spiritual leader and founder of the Art of Living Foundation Sri Sri Ravi Shankar visited Hurricane Katrina survivors, volunteers and public officials carrying out relief operation in Texas on September 27.
Sri Sri was invited by Austin Mayor Will Wynn to meet with survivors of Hurricane Katrina, where the Art of Living and its sister organisation International Association of Human Values are conducting trauma relief workshops.
"It is truly an honour for our community to host a greatly respected world leader such as Sri Sri Ravi Shankar," said Austin City Council Member Raul Alvarez.
"I always feel the world is a global family and during such disasters, we can learn from one another," Sri Sri said.
IAHV is organising a series of concerts in the US with Pandit Jasraj to support its trauma relief and rehabilitation initiatives. The concerts will be held between 1st and 23rd October in New Jersey, Houston, Atlanta and Bay Area.
In photo: Sri Sri Ravi Shankar speaks to victims of Hurricane Katrina at a temporary housing complex in Austin, Texas. (inset) Austin Mayor Will Wynn (left) and Austin City Council member Raul Alvarez with Sri Sri Ravi Shankar.