Advertisement
September 29, 2005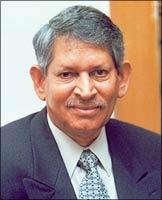 Dr Tad S Murty is one of the world's most respected tsunami experts. Till recently, he advised the Canadian government on tsunamis and played an important role in the development of the 'Baird' simulation model of the December 26, 2004 tsunami.
He was on the editorial board of the prestigious tsunami journal, Science of Tsunami Hazards for many years and presently teaches at the University of Ottawa.
Dr Murty was in Chennai as a part of the Canadian delegation led by Dr Irwin Itzkovitch, assistant deputy minister, natural resources Canada [Images], and the Canadian consulate to conduct a workshop on natural disaster mitigation and management.
He spoke exclusively to Contributing Editor Shobha Warrier on natural disasters and the Sethusamudram Canal Project.
You are part of the Canadian delegation on disaster management. What exactly is your role for the Canadian government?
In Canada, until recently I was a federal government scientist. After my retirement, I am teaching at the University of Ottawa.
I was involved with developing various numerical computer models for natural hazards such as cyclones, storms, tsunamis, coastal erosion, submarine landslide, etc. I am not involved in the socio-economic aspects of natural disasters as I do not have the expertise; my role is on developing the scientific techniques.
The tsunami tragedy: Full coverage
Since nobody can prevent natural disasters, as a scientist, are you involved in developing systems that warn people of disasters in advance?
Yes, you are right, we cannot prevent natural disasters but we can do two things; we can minimise the effects of disasters, and we can also considerably reduce loss of lives by predicting hazards like cyclones, storms, hurricanes, etc.
Also, we can mitigate to some degree the actual effects of the disaster but we can never prevent them.
When the tsunami struck southern Asia, nobody had predicted that something of this size was going to happen.
It is not quite correct to say that. There was no warning because we do not have a tsunami warning system in the Indian Ocean. My feeling is, had there been a warning system in place, at least 90 per cent of the loss of life could have been avoided.
So, it is not a question of failure of science. Last time a major tsunami struck was 60 years ago in November 1945 in the Arabian Sea. 60 years before that in August 1883, a tsunami happened in the Bay of Bengal.
Since it happens after a gap of 60 years, there was no memory of a tsunami; nobody felt the urgency or need to have a warning system in place.
Now, India is going ahead with a tsunami warning system, and I am happy to see the progress. We will have an operational system by September 2007.
It is estimated that when natural disasters strike, there is more loss of life and more loss of materials in the developing world. Is it because there are more people here? Or, is it because the developing world is not as prepared as the developed world?
Yes, that seems to be so, there are more people in the affected areas.
Similarly, there is a general feeling among the public that there is an increase in disasters. No, disasters are not particularly increasing. We always have had natural disasters. For example, 100 years ago, there was no reporting of such disasters. What has increased is the effect of such disasters. That is because of the increase in the population and coastal infrastructure.
Between the 19th and 20th century worldwide, the coastal infrastructure has increased by 13-and-half times! So, to put it in another way, in the 19th century, if there was one house in a place, there are 14 houses there now.
And, the population is four times more. So, with all that increase, the socio-economic effects of disasters are increasing. But the disasters themselves are not increasing. Their number remains about the same.
The developed world always used to ridicule the developing world on the way the latter handle disasters but was it not alarming the way the United States handled Hurricane Katrina?
When it comes to reaction to disasters, there is really no difference between the developing and the developed world. It's like this; you can never prepare enough for a disaster. We should be pragmatic. And, humans need time to react to a disaster; that doesn't change whether a country is rich or poor.
In the case of Hurricane Katrina, as a person who has been working on hurricanes, my interpretation is this: what happened in the US was that the enormity of the disaster caught everybody by surprise including the US government. I am not defending anybody.
The area that was hit by Hurricane Katrina is more than the size of Great Britain, more than the area of the entire state of Tamil Nadu, it's almost the size of Andhra Pradesh. 92,000 square miles of area was affected. It's like a war; you can't be there everywhere.
Look at Hurricane Rita. Of course, it was far less devastating. The authorities responded well.
The area is said to be hurricane prone, and hurricanes are lashing quite regularly. Why was it that Hurricane Katrina was so ferocious? Like some scientists said later, was global warming the reason behind the ferocity of this hurricane?
No. The hurricanes are not stronger now. Katrina is only category 4, and the biggest hurricane that hit the US happened in the early 1900s. It is a wrong perception.
Hurricanes are not getting bigger, and they are not happening more frequently. Only the effects are more, and that is because of the population increase, and the infrastructure increase. Reporting in the media is more extensive now.
Those levees on the coast were built earlier for much weaker hurricanes. In the 1980s, engineers wanted to raise the levees and prepare for category 5 hurricanes, and they got the money from the US government to do it. But the environmental groups went to court and stopped it. See, what happened now? Who is to be blamed? The environmentalists are the people who are responsible.
If you look at the Bay of Bengal, in the 20th century, there have been far fewer tropical cyclones than in the 19th century. I have studied this globally, I have looked at 200 years of records, and I have found that not a single record has been broken in the last 25 years. But people don't realise this
A lot of pseudo experts appear in the newspapers and make all kinds of ridiculous statements. Last time any record was broken was on October 12, 1979. Typhoon Tip (wind speeds reached 300 kmph) was the strongest typhoon in historical time.
The maximum number of hurricanes in the Atlantic were in 1969; there were 12 hurricanes. Now, you have two and you are saying all hell is breaking loose. During 1933, there were 21 tropical cyclones.
If global warming is responsible, the number of hurricanes should have increased but they have not. Intensity of hurricanes should have increased but it has not. But effects have increased.
See, you need a cure for the diseases you are suffering from. If you have diabetes, you need insulin, and not dialysis.
So, what should be done to reduce the effects? Is having a mangrove forest along the coast good?
We should plan coastal development so that we leave buffer zones. Yes, we need mangrove forests. Mangroves can mitigate 50 to 60 per cent of the impact and not 100 per cent.
Can anything mitigate the effects by 100 per cent?
No. Up to 90 to 95 per cent, you can mitigate the ill effects from tsunamis by creating sandbars in the ocean near the coast. These are very effective dissipaters of long gravity tsunami waves. Sandbars can dissipate up to 95 per cent of the energy. They are environmentally good.
What about building sea walls along the coast? The Tamil Nadu government had a plan to build sea walls along the entire coast.
No, I will not advocate sea walls for the entire coast. You can have sea walls where you cannot take a chance like nuclear power generator, harbours, etc though I do not personally like sea walls because they are ugly.
The coast of Tamil Nadu can be protected in more environmentally sound ways. What I suggest is, have sandbars and grow mangroves; also have buffer zones.
Let me ask you about the Sethu Samudram project. You said it would put the southern Kerala [Images] coast at risk.
Let me be clear. I am not against the Sethu Samudram project. I think it is a good project. I am not opposing it on environmental grounds as I have not studied that aspect. There may be ecological and social issues which I am not an expert to comment upon.
I feel that the Bay of Bengal entrance of the present orientation of the channel will undoubtedly funnel the tsunami energy, when a tsunami strikes, into the channel and this will divert the tsunami travelling from south of Sri Lanka [Images] to the southern part of Kerala.
The southern part of Kerala was not much impacted by the December 26, 2004 tsunami mainly because the tsunami that arrived from the Indian Ocean diffracted around Sri Lanka, took a very wide turn (because tsunamis are long gravity waves and cannot bend as easily as short waves, just like a big car versus a mini. A mini car cuts corners, but a big car has to take very wide turns.) and missed south Kerala.
So, what I suggest is a slight modification of 0.1 per cent. If there is a reorientation of the eastern entrance of the channel towards the northwest, it will fix the tsunami problem. Otherwise, there is a real threat to southern Kerala from future tsunamis.
I am 100 per cent certain about this.
Photograph: Sreeram Selvaraj