Home > News > Specials

The Rediff Special/Suba Vasudevan in Austin, Texas

The American tabla man

September 27, 2005



When David Courtney, at that time a middle-class Texan in his early 20s, expressed an interest in pursuing Indian classical music, his parents were surprised but not averse.

"There is so much flexibility in American culture, and my parents knew no degree would be a constant. They were not concerned about what would happen five or 10 years down the road… it was my interest that meant the most."

David's interest in India, and in Indian cultural music, was fanned by the growing late 1960s and early 1970s influence that Pandit Ravi Shankar and India, in general, managed to beget in the US.

"Growing up, my family was a musical one, though nobody else is a professional. We were always encouraged to try our hand at music; be it instruments or singing. Also, I had many Indian friends, mostly graduate students from Rice University in Houston (Texas).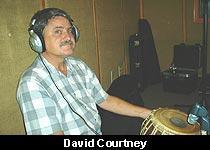 "Hanging out with them interested me in India. I loved listening to my friends' collections of Indian classical music. At the time I was just in high school. I even worked as a host for a radio program on classical Indian music when I was a high school senior. I learnt my initial lessons in Indian music from amateurs. My first real teacher was Ustad Zakir Hussain."
In 1973, David enrolled at the Ali Akbar College of Music in San Rafael, California, and began learning the tabla and pakhawaj (vocal music) under Zakir Hussain.
Three years later, he decided it was time to follow his passion to its roots. David was 22 and eager to experience India first-hand.
"At that age, you think that whatever is going on with you is what happens to everybody. The 1960s and early 1970s were a crazy time anyway. Reflecting back, it does seem unusual," he smiles.
David met with two big hurdles initially.
He spent almost his entire first year in India being sick. Also, he felt handicapped by the language barrier.
"I was in Hyderabad the whole time. I made trips to different places off and on. V Seetha Devi of the well-known Vinjamuri sisters (two famous Indian folk singers of the 1960s) was my primary contact there; her sister Anasuya Devi's daughter Rathna is a well-known dance teacher here in Houston and was responsible for putting me in touch with her famous mother and aunt.
"The minute I landed in India, I went straight from the airport to AIR (All India Radio) station in Hyderabad to start my new life. I basically just put myself in the hands of the Vinjamuri sisters. They got me connected with my teacher in India -- and then my wife".
David's wife Chandrakantha is from Machallipatinam in Andhra Pradesh.
The story of David's life gets even more amazing when he says, "It was an arranged marriage."
Chandra chuckles at memories of the first day she met David.
"My family and David had a mutual friend; a music director with AIR in Hyderabad who had adopted David as her son and had started looking for an Indian bride for him," she recalls.
"I happened to be performing on radio and Doordarshan (the Indian government television channel) and she thought I was a good match for her handsome adopted son. It was so easy for me to believe that he was their son, considering his knowledge and absorption of India, the language, the music and our culture."
When David met Chandra, a Hindustani vocalist, for the first time that day, he officially asked her parents for her hand. She, meanwhile, had no idea he had come with a proposal. He tried to impress Chandra's family by playing the tabla; and it worked. "For us it was -- oh wow, a white guy playing the tabla so well!" says Chandra laughing.
Her father was impressed with David's wish to marry a girl who sang Hindustani music.
Some years after their wedding, David and Chandra moved back to the US to spread their knowledge, talent and passion for Indian music and culture. They started living on David's parents' property in midtown Houston.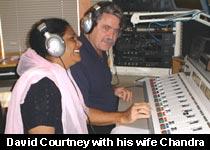 Apart from teaching music, while David proceeded to obtain a PhD -- the topic of his thesis was Computers and Indian Music -- in 1990 and gave several performances including some where he accompanied Pandit Jasraj and Ashish Khan among others. Chandra found her niche as a north-Indian classical singer in the US.
Chandra's activities are not limited to traditional Indian music. She is also the female vocalist with the band Vani, which specialises in a genre of fusion called Raga Rock (ragarock.com) a kind of spiritual fusion. Their most recent project is called The Realm of Raga Rock (which has been translated on Vani's site and is titled Raag Rock ki Riyasat) and they have released an album of the same name.
The band performs all over the world and includes several talented fusion musicians. David is not just accomplished in the tabla, but also plays the dhol and pakhawaj and has a remarkable passion for teaching music. Both are on the board of directors for the Texas Institute for Indian Studies in Houston.
The Courtneys are usually on the road five months in the year teaching Indian classical music, performing and writing books or releasing CDs of information about Indian music and musical instruments. Their goal is to spread their professional knowledge as far and wide in the US as possible.
They work as a team. Their current project is a book-CD set about the tabla, as a sequel to a similar effort they released earlier about the sitar. They, in tandem with 15 others, co-host a weekday radio programme on KMPT Houston called Music Beyond Borders.
The couple has two children; a daughter Venu Krupa and a son Shamsundar Dawood.
"My son's name is in honor of my ustad (guru) in Hyderabad," says David, who studied under tabla maestro the late Ustad Shaik Dawood Khan of Hyderabad. "My kids are currently off to school (university) and we're all in Houston preparing to send them on their new journey," David concludes, while reminiscing of the much more adventurous one he undertook to India almost 30 years ago -- a journey that was to change his life forever.
Photographs: Courtesy David Courtney
The Rediff Specials


What do you think about the story?








Read what others have to say:





Number of User Comments: 2








Sub: David Courtney Indian musical and cultural Journey

" I feel very happy to read the story of Mr. David Indian cultural saga , which signifies again that music looks and accept no ...


Posted by Mayank Chamyal









Sub: Indian culture

Very very nice and enlightening article.


Posted by Sheetal






Disclaimer