Advertisement
September 21, 2005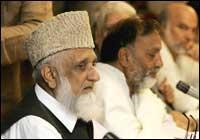 Sardar Abdul Qayyum Khan, who previously held the posts of both president and prime minister of Pakistan Occupied Kashmir -- Azad Kashmir, as he likes to put it -- is in New Delhi to participate in the 'Heart-to-Heart talks' about Kashmir.
Independent Kashmir not possible
Organised by Harcharan Singh Josh, president of the Indian Council of World Affairs, and Bhim Singh of the Panther's Party, the talks are being held between Kashmiris on either side of the Line of Control that divides Kashmir between India and Pakistan.
The meeting was first scheduled to be held in Jammu but Sardar Qayyum Khan did not want to travel to Jammu on an Indian visa, which he said amounts to accepting Jammu and Kashmir [Images] as a part of India.
"I had a problem and I told the organisers," he told Senior Associate Editor Onkar Singh in an interview at New Delhi's Ashok Hotel, where he is staying with other members of his contingent.
"Independent Kashmir is a mental luxury," he said while ruling out the possibility of the two Kashmirs becoming one independent unit. Preferring to give short answers, the 80-year-old politician from across the border is one of the few saner voices from Pakistan, who talks of a practical solution to the Jammu and Kashmir problem.
Don't expect miracles from dialogue process
What do you think of the peace initiative between India and Pakistan?
Despite various difficulties which are inherent in the situation, I think the peace initiative between the two countries headed by Dr Manmohan Singh [Images], prime minister of India, and General Pervez Musharraf [Images], president of Pakistan, is moving forward in the right direction. I sincerely hope these discussions are taken to their logical end. I hope they would continue in the same spirit in which they have started. At least that is what my personal expectations are.

What about the peace talks that were initiated by former Prime Minister Atal Bihari Vajpayee?
I would say that the moves made prior to this initiative were also in the right direction. I supported those moves as well. We Kashmiris would support any move that brings peace in Kashmir. Vajpayee is the only person who could have done things.

What do you mean?
I mean he could have done what he did in Lahore [Images]. This is the specific point that I would like to point out.


You were given an opportunity to travel to the Indian side of Kashmir but you chose not to go there. Why?
You see, I could not go on an Indian visa to Jammu. That was my problem. If I have to visit Jammu from Muzaffarabad via Srinagar [Images] and then go to Poonch and Rajouri, I would be travelling some 4,000 kilometers and that is not feasible.
In your speech at this convention you referred to the reluctance of India to recognise that Pakistan is a reality. What made you say that?
Pakistan is a reality. It is a question where we go into the history and political background. Many, many steps need to be taken by both sides to win the confidence of the people. The ethos of hatred, enmity and antagonism that has been existing puts pressure all the time against Pakistan's defence, economy and security which is known only to the experts; the public would not know about it.
The All-Parties Hurriyat Conference thinks that independent Kashmir is a growing reality?
Independent Kashmir is a mental luxury as I call it. It does not exist anywhere. It does not exist in the scheme of things. You cannot create it. It does not suit India, Pakistan and China. There is no authority, no organisation. Then who can create an independent Kashmir?
Does it suit the Kashmiris themselves?
No, independent Kashmir does not suit the Kashmiris either. They would feel strangulated. Why should we discuss a thing which does not exist anywhere? And which we cannot bring into existence.
So the best solution according to you is to give autonomy to either side of Kashmir?
To begin with, this is one step that could set things in motion. But this should be treated as an interim step. Let me add that autonomy is not the solution, it is moving forward towards the solution. You got to go step by step. You cannot stop all of a sudden. This could be part of confidence building measures. This decidedly is not the end.
Does Sardar Qayyum Khan have a solution in mind?
I have no solution in my mind except that India, Pakistan and the Kashmiris should sit down and open-heartedly discuss all options on the table for a long time and then find a way out.
'Kashmir is falling off the American radar'
Why can an independent Kashmir not exist is something some Kashmiri leaders on the Indian side would like to know.
I have said it earlier and I say it again, that independent Kashmir is a mental luxury and it does not exist. And I for one am not going to waste time discussing something that does not exist.
Where do India and Pakistan go from here?
The two countries would have to strengthen and enhance the confidence building measures and take them to their logical conclusion. We must move forward step by step.
Pakistan wants India to reduce troops in Kashmir and we say they should first wind up the terrorist camps.
This is a blind and baseless allegation and people can go and supervise it. This is not something that can be hidden. We are open to inspection.
What kind of autonomy do you have?
We have a president, a prime minister and an assembly which performs the job of legislation. Of course we have our own election commission which conducts elections in our part of Kashmir.
What kind of future do you see for Kashmiris?
I see the Kashmiris on either side prospering in the future and trade and commerce between the two nations going up.
If India, Pakistan and the Kashmiris have to make concessions, then what kind of concessions are the Kashmiris prepared to make to find a solution to the problem?
I do not know what kind of concessions the Kashmiris can make. But there will have to be a point from where they would have to begin reconciliations. But if you stick to your positions and make no concessions, then there is no movement forward. This is only a perception and a proposal in principle.
Who represents Kashmiris at the negotiating table?
This is a question that has been exploited. I was asked this question by the BBC. My answer is that if we are given an opportunity then we will tell you who would represent the Kashmiris at the negotiating table.
Why should Pakistan decide that the Hurriyat will represent Kashmiris from the Indian side?

That is in the absence of an arrangement. In such a situation many things can happen. Let the time come and we will find out who represents the Kashmiris.
One-time Pakistan supporter Syed Ali Shah Geelani says Pakistan has sold out Kashmir?
This question can best be answered by Geelani himself. I cannot speak for him and I have not been in communication with him for many years.
Are you pained by the sufferings of the Kashmiri Pandits?
Of course I am pained by their sufferings. The non-Muslims in Kashmir have lived in far greater amity than anywhere else in the subcontinent. It is a painful thing that they should have been displaced from their homes.
Photograph: Prakash Singh/AFP/Getty Images