Advertisement
September 15, 2005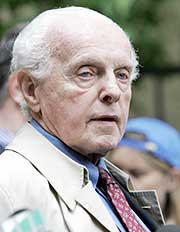 'We know that India has been waging a long -- and until now -- a lonely battle against terrorism... (India) has been dealing with terrorism for decades, and has paid a tremendous price in terms of human lives, lost productivity and the psychological impact on the people of India... I want to reaffirm to you that we value India as one of our most important partners and allies.'
-- November 8, 2001  
'They (India) will pay a heavy price for a total disregard of US concerns vis-�-vis Iran. It just will not fly in this body and they need to be told that in plain English, not in diplomatic English�' 
-- September 9, 2005 
Both statements were made by the same American politician. Tom Lantos, ranking Democrat on the United States Congress' House International Relations Committee.
The first statement came when then prime minister Atal Bihari Vajpayee was visiting the US. The second at the hearing on the US-India nuclear cooperation agreement last week.
And Lantos went on to call India's External Affairs Minister K Natwar Singh 'dense'.
Lantos has ruffled a few feathers in the Indian establishment, with Indian Ambassador to the US Ronen Sen slamming his remarks and India calling his language 'crude'.
If you're wondering just who the man in the eye of the storm is, read on:
Tom who?
Tom Lantos, a Democrat from California who is serving his 13th term in the US House of Representatives, is a Hungarian Jew. He was born in Budapest on February 1, 1928. When Adolf Hitler's [Images] Nazis occupied Hungary, Lantos escaped from a labour camp and was given shelter by the Swedish hero Raoul Wallenberg. In fact, Lantos figures in Steven Spielberg's [Images] documentary about Hungarian Jews, Last Days.
In 1947, Lantos wrote an essay on American President Franklin D Roosevelt, and won a scholarship to study in the US. His official web site says he arrived in the US by sea with 'a precious Hungarian salami, which US customs officials promptly confiscated when he arrived.'
Lantos did his bachelors and masters in economics from the University of Washington in Seattle. He did his PhD from the University of California, Berkeley. In 1950, he started teaching, which, along with international affairs analysis on television and consultancy to corporate houses, was his profession for 30 years. Till he became one of the two Democrats to be elected in the year known as the Ronald Reagan Landslide in American politics, 1980.
Lantos has two daughters and 17 grandchildren.
Tom why?
There are two reasons for Tom Lantos' latest remarks being shocking and important.
One, as his 2001 statement attests, Lantos has hitherto been viewed as a friend of India.
Two, the House International Relations Committee is a very important body in shaping American foreign policy.
In fact, just a few days earlier, Lantos made a four-day trip to North Korea, a country American President George W Bush [Images] clubs in his Axis of Evil, to outline America's position on Pyongyang's nuclear ambitions.
But just what caused the Lantos outburst against India?
One reason is that the issue of Iran trying to develop nuclear arms is quite sensitive for Israel, and the Jewish lobby in America.
Lantos, as a survivor of the Holocaust, quite naturally has strong views on the issue.
"But Tom Lantos was misinformed," says strategic affairs guru K Subrahmanyam. "Natwar Singh never made the statement which was attributed to him by the Iranian media. At first, they (America) attributed the statement to Foreign Secretary Shyam Saran, but Saran did not go to Iran."
The Americans were mistaken because the word secretary implies minister in the US, and not the bureaucratic post it is in India, Subrahmanyam adds.
"Second, Natwar Singh never made such statements in Iran. The Iranian press attributed it to him," Subrahmanyam continues. "In fact, Natwar Singh went to Iran to ask Teheran to accept the European Union-3's (Britain, Germany [Images] and  France [Images], which had been seeking to persuade the Iranians on sticking to their Non-Proliferation Treaty commitments) proposals. I am quite sure the American media will clear the issue when it comes to the Senate."
Tom trivia
Lantos backs the armed forces strongly, is pro abortion and pro cloning and stem cell research. He also sponsored the States' Rights to Medical Marijuana Act.
Also read

India not worried by Lantos' remarks: PM
India being dragged into Iran N-case
Obstacles to Indo-US N-cooperation
Column: The US needs India
Complete coverage: Prime Minister at the UN
External links
Newsweek's interview with Tom Lantos
The House Committee on International relations
Tom Lantos: The official site
Photograph: Tatyana Makeyeva/AFP/Getty Images
Rediff Specials