Advertisement
September 13, 2005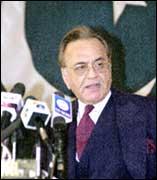 Pakistan Foreign Minister Khurshid M Kasuri is one of the few Pakistani politicians who has consistently advocated good relations with India.
Even today, when he occupies a pivotal position in his country's government, he is very clear he is not interested in the job he holds unless he can make a difference in the process of normalisation of relations with India.
In an interview with Sushant Sareen on the move (it started at his office, continued in his car on the way to the airport and later at the waiting lounge at Islamabad airport) to rediff India Abroad, he explains the dynamics and compulsions behind the peace process.
You are one of the few political leaders in Pakistan who has consistently been in favour of peace with India. Do you see your stand vindicated?
I had been involved in Track II much before I became foreign minister. Top Indian leaders and journalists used to come to Lahore [Images] and meet me.
I have long believed it serves Pakistan's national interest, it serves our internal polity, it serves our economy to have good relations with India.
I have never hidden that fact. But I have told my Indian friends it serves them as well, no matter how much they pretend that it does not matter.
India is beginning to realise it is in our mutual interest to have good relations.
We have tried everything. We have tried not three but six wars -- three major wars and three relatively minor wars. One of the wars was actually not that minor -- the Siachen war is pretty long, 25 years or so. Many people have died. So much loss.
People who say it does not matter are callous as poor jawans are dying. It is a very callous approach to say you can afford five people a day. I don't believe in such an approach. We had the Rann of Kutch, which was minor, and Kargil was bigger. After all this, the standoff in 2002, about which the less I say the better.
One thing is clear. Pakistan never really thought we could impose our military will on India. I have never really seen a sane leader in Pakistan say that. What we have always aimed at is to defend ourselves. We have said we should maintain enough of a deterrent capability.
But I think India has realised that, particularly after nuclearisation and nuclear parity, that war is no longer an option. It has helped matters.
More importantly, when you are thinking in negative terms and your sentiment is negative, you are always looking for little point scoring. What has happened is that after the difficult decision by then Indian prime minister Atal Bihari Vajpayee and Pakistan President Pervez Musharraf [Images] [both sides are looking at the positive aspects of the relationship].
I will give credit to President Musharraf for one thing and Vajpayee for another. Musharraf is the first man in South Asia who had the courage to say what he did, that you need to think out of the box and to think of a solution that will be acceptable to the Kashmiris and India.
It is revolutionary as people here were concerned. He was criticised by a section of the media here. It set a new ball game because our traditional stand on Kashmir is the United Nations resolution. You decide either in favour of India or Pakistan. India will not accept it as it thinks the vote will go in favour of Pakistan. From India's point of view it is a zero sum. What the president has said leads to a win-win situation.
Having said that, Vajpayee too showed a lot of courage. After troops on the borders, after aar-paar ki laraai (skirmishes), having taken the pitch so high, it required a lot of courage to extend a hand of friendship. It will be lack of charity to say Vajpayee did not respond. The credit goes to the two leaders for having taken the most difficult decisions.
When there was a change of government, Pakistan was quite upset. We had worked hard with Vajpayee, (then Indian national security adviser) Brajesh Mishra, (then external affairs minister) Yashwant Sinha.
We thought they were a hardline Hindu fundamentalist party and we could deal with them. It was like Richard Nixon and China and Ronald Reagan and Russia [Images]. We thought the change of government would destabilise the whole thing.
But I must say that President Musharraf and Prime Minister Dr Manmohan Singh [Images] in New York really struck a very good personal relationship. I don't know how it happened. Maybe because he is from northern Punjab or Pakistan (laughs). I don't know the reason. But the body language was very different. They both spoke as one.
The Islamabad meeting between Prime Minister Vajpayee and President Musharraf is regarded as a watershed meeting. You are on record as saying you thought the meeting would collapse because the manner in which they were talking to each other made you panic. What happened at the meeting?
It was very, very straight talk on both sides which we did not expect. I don't want to repeat it. President Musharraf is a straight talker by temperament...
A lot of exchange of recriminations.
No, no recriminations but very blunt talk. This will not happen, that will not happen, if you do not do this, then this will not happen. so anything that had to be said was said. I was very, very apprehensive.
But it ended well. They realised the responsibility and wanted to make their minds very clear.
President Musharraf stressed the centrality of Kashmir and Prime Minister Vajpayee on what he called terrorism. None of them pulled punches. The talk was so blunt that I have not seen in other conversations that I thought this meant bad. But it did not mean bad because it cleared up the air and everyone understood what the other wanted.
Cynics in both countries still harbour doubts about the irreversibility of the peace process and attribute it to the US pressure and certain compulsions of both countries.
Let me be very truthful with you and tell you of my experience as foreign minister. I do not want to underrate anything. I don't want to overstate anything. Yes, every leader in the world congratulated us on starting the peace process. Does it mean pressure?
Are Pakistan and India such small and insignificant countries that we can be pressurised?
No. But we also live in a global village. While we cannot be pressurised we cannot ignore international opinion entirely. It means that if Pakistan is seen to be patently unjust and irrational in its behaviour with India we will be told so, and so will be India.
That's the cost.
But we are not being pressurised. It depends on how you interpret the word pressure. There is nobody who can tell Pakistan to talk to India or else!
It is humiliating. We will never take it. We are talking because we think it serves our national interest not because any country is dictating to us.
No country can dictate to Pakistan. It is utter nonsense when people say that because the Americans have said you do this so we are doing it.
When President Musharraf went to Agra, he said you need to find a solution which is acceptable to India, Pakistan and the Kashmiris. What pressure was there on him at that time?
There is a realisation that we have got an opportunity. People feel if this opportunity is lost we may not get another opportunity for many, many years. That is applying pressure.
We have tried so hard, we have been criticised in Pakistan, people are saying you are being over flexible. Yes, we are being over flexible but a resolution will come when there is mutual flexibility between India and Pakistan. We have staked a lot and that is the pressure.
If there is pressure on India and Pakistan it is because both the leaderships have invested a lot. If this fails both the leaderships will suffer in some way or another and there will be political consequences.
While the Kashmiris had been invited earlier as well by Pakistan, the timing of the current invitation suggests an effort is underway to crystallise Kashmiri public opinion behind the peace moves. What is the objective behind the invitation to the Kashmiri leaders?
There is more than one objective. We have been trying to talk to the Indian government very openly and frankly. We have been trying to tell them that you know the best way is to sit across the table.
We would like to have the Kashmiris sitting at the table and get it out and be over with it and have a solution, the sooner, the better. I know the political reality in Pakistan. The best chance of an opening is between now and December 31, 2006.
2007 will be full of political activity in Pakistan because of the election, the president's uniform and such issues. December 2006 is the date. The sooner, the better.
Photograph: AFP/Getty Images