September 09, 2005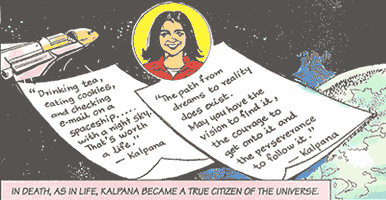 For 28 years India's famous comic book label has told the stories of India's heroes and heroines, gods and demons, kings and queens, mythological characters and creatures through comic strips.
Amar Chitra Katha's newest tale is of a young Indian many regard as a superwoman.
Kalpana Chawla [Images].
September 6, Amar Chitra Katha released a comic book, priced at Rs 30, on this modern heroine of India.
Chawla has inspired a generation of Indians with the example of excellence she set in her pursuit of science and technology. And the courage and achievement reflected in her young life.
The astronaut, in her bright vermilion jump suit, beams out of the cover of the book. Amar Chitra Katha put together tales from her short but exciting life by speaking to members of her family like her sister Sunita Chaudhary or to Vimla Raheja, her principal at the Tagore Bal Niketan school. Through 32 pages it profiles her life from when she dreamed of rocketing into space as a little girl in Karnal, Haryana to her success at NASA [Images].
Little facts about the spunky astronaut's life are highlighted in the pictorial biography. Did you know her sister Sunita nicknamed her Monto? Or that Kalpana chose her own name? And that she loved to bicycle in the moonlight? Or that she cut her own hair as a kid? That she -- ah never mind, grab a copy.