Advertisement
September 09, 2005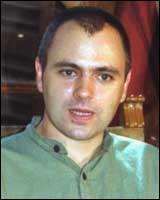 When Omar Abdullah, president of the National Conference and former Union minister of state for external affairs, applied for the Eisenhower Fellowship given to 25 most outstanding politicians around the world there was much speculation. People wondered whether he would be away from Jammu and Kashmir [Images] politics during the period of the fellowship or would he simply decline it. Why did he apply in the first place if he did not want to leave Kashmir?
In an exclusive interview to Senior Associate Editor Onkar Singh at his home in New Delhi, Omar Abdullah made it amply clear that he had no intention of giving up Kashmir politics for a fellowship.
"First of all the media got it wrong when it reported that it is a two year fellowship. The entire duration is for two months. It becomes effective in April 2006. I am going there for a month and then return for three weeks and go back again for the second tenure," he explained.
On the whether the Americans were pushing developments in Jammu and Kashmir, he felt Kashmir was gradually falling off the radar of the Americans.
What after November 2 in Kashmir?
Why did you get interested in the Eisenhower Fellowship?
This Fellowship begins sometimes in March or April 2006. It is a two-month study and the advantage of the Eisenhower Fellowship is that they do not give you a structure or a subject. You are allowed to choose subject or subjects that you would like to study. Accordingly they organise your fellowship programme and the individuals that you want to meet. They allow certain amount of flexibility and give you a gap between the two-month course.
What is your subject of study?
I have decided to study conflict resolution as my subject. The basic reason of taking up this subject is that Kashmir is going through conflict both internally and externally and everything else stems from that whether it is the economic development of the state or whether it relates to political management. This is clouded by the conflict that we are in.
We also keep in mind that in a unipolar world, the United States is the only superpower. Institutions and think tanks have a bearing on this part of the world and hence I would be interested to interact with experts from some of the leading strategic institutes which have specialised courses for conflict resolution like Harvard, Berkley. The last one has run some good courses on the subjects and some of my friends have been to these institutes.
As a secondary subject I would be interested in eco-tourism which also has bearing on Jammu and Kashmir but my primary focus continues to be on conflict resolution.
How did you get interested in the fellowship?
An individual from the Institute got in touch with me and asked me if I would be interested in the fellowship, that was in May or June. Since the duration of the course was something I could manage and the subject of my kind of interest hence I thought it was worth applying and it came through in no time.
How do you look at the forthcoming meeting between Prime Minister Dr Manmohan Singh [Images] and Pakistan President Pervez Musharraf [Images] in New York next week?
As a part of the process it is significant. Our viewpoint is that the peace process that has been initiated should continue between India and Pakistan. Obviously, this is a process that seeks to arrive at a particular outcome which is the final resolution of the problem of Jammu and Kashmir.
Barring the start of the bus service between Srinagar [Images] and Muzaffarabad there has not been much forward movement. But we do realise that this has been a problem that has been around for more then fifty years.
I hope the meeting between the two produces some forward movement so the peace process gets certain boost and momentum.
President Musharraf promises to wipe out terrorism from Pakistani soil but has he done it?
There is no yardstick by which we can measure what he has done and what he hasn't. There are any number of people who would tell you that Musharraf has been a victim of terrorism on his own soil. Terrorists who were operating in Afghanistan and Jammu and Kashmir at one point of time are now also operating on Pakistani soil.
But this is certainly not any excuse for him for not doing anything. We must ask our own government if there has been clarity on what has happened and what has not happened. We have been speaking in a different voice and hence giving him room to wriggle out of a tight corner.
When our defence minister says infiltration has come down to almost zero then obviously we cannot ask Musharraf. He would tell us if your defence minister says that then there is no infiltration. We are giving him a report card to use against us.
What is your own take on this?
My own understanding is that there has been a decline in the infiltration level but it had something to do with the new fencing that the militants are finding it difficult to cross. There are reports that they are now trying to cut the fence, throw rubber sheets and portable ladders to climb over and cross into Indian border.
But I would not say it has come down so much as some people in Delhi might like to suggest.
Has violence in the state come down?
Well in terms of incidents one could say there has been some decline in the level of violence. Random violence may have gone down but targeted violence has gone up. Attacks on the security forces, political activists and ministers of the ruling coalition government continue.
Improvised explosive devices are placed outside schools and this had not happened before. There are targeted attacks against the minorities in the Jammu region of the state. Innocent families have been beheaded.
So the terrorists have changed only tactics?
They are much smarter now than they were before. Earlier it was quantity that was infiltrating but now it is the quality that is infiltrating.
Rather than ramming through as many terrorists as possible now the tendency seems to be send less number but better trained persons. They are more focussed. They are not bothered if the bombs are placed in hospitals or schools and innocents get killed. Their task is to inflict as much damage on the security establishments as possible.
More incidents have taken place in Lal Chowk, the heart of Srinagar city. Is it deliberate?
They will hit where there is a vacuum. We had raised the matter with the state government that we have been lulled into a false sense of security by the cease-fire on the border and the peace process between India and Pakistan.
Hence I am not surprised that the militants are being able to strike almost at will in the heart of Srinagar.
We lowered our guard and they have moved in and now it would be very difficult to clear out those areas keeping in mind the lanes and bylanes of downtown Srinagar.
A top terrorist commander was killed by the security forces in the same area last year. When grenade attacks and incidents of shooting take place in Lal Chowk, I am not surprised at all.
Last year there was a talk that the Americans have a road map for the Kashmir problem. Are the Americans still pushing through this road map?
I think Kashmir is gradually falling off the radar of the Americans. And it is not surprising because the Americans have their fingers in so many pies. For it to be focussed on Kashmir would be perhaps impossible.
The Americans got interested in Kashmir at a time when there was a threat of a nuclear war between India and Pakistan. Now that the peace process is on, I am not surprised that Kashmir is gradually falling off the radar of the Americans.
When asked about Kashmir after his meeting with Prime Minister Manmohan Singh, President Bush had said Kashmir was a bilateral matter between India and Pakistan and the United States would do to see to it that the peace process keeps on going.
That is a long long way off from when the Americans diplomats were flying into India time and again. I think the focus is now on Afghanistan, Iraq and Palestine. Not Jammu and Kashmir. Whatever road map there is I think India and Pakistan would have to first arrive at it. But while doing so they would have to keep the sentiments of the people of Jammu and Kashmir in their minds.
How would you assess the progress made so far?
Over all the progress made by India and Pakistan is fairly satisfactory. But if you are talking in relation to Jammu and Kashmir, unfortunately it is not. Barring starting one bus service no other progress has been made.
How do you read the meeting of the Hurriyat Conference with Prime Minister Singh?
I think this is a good first step. We have hyped the meeting to such an extent that we can ill afford to have a failure at this stage. Because if this fails then where do we go. This is the highest level. Not just the Hurriyat Conference but all the sides would suffer. And the worst sufferers would be the people of Jammu and Kashmir.
Unfortunately the Hurriyat does not have an agenda. There is an ongoing conflict between the moderates and the hardliners. This has its own ramifications on the dialogue side.
Is Pakistan making substantial changes in its outlook towards Jammu and Kashmir?
I would not go as far as to say that Pakistan is making concessions but so far as President Musharraf is making changes but to what extent he is able to sell it to the people of Pakistan remains to be seen.
I have never heard a Pakistani leader publicly saying that India has a secular character and this has to be kept in mind while resolving the problem of Jammu and Kashmir. Never heard a Pakistani leader saying that the solution can be found outside the UN resolution. Or a Pakistani president or prime minister talking about self governance in Kashmir.
This is a huge concession and we should recognise it.
Photograph: Sondeep Shankar/Saab Press