Advertisement
September 06, 2005


During the 1965 war, I was working with the Nawa-e-Waqt daily in Lahore [Images]. Since August 1965, Kashmir was on the boil. India alleged Pakistan had sent raiders who were indulging in mischief. Pakistan claimed it was a local uprising against India's atrocities. The issue was raised in international forums too.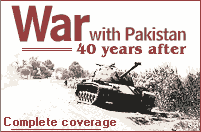 During the midnight between September 5 and September 6, India crossed the Lahore border, despite assurances at international forums that it would not cross international borders.
The next day, then Pakistan President Ayub Khan addressed the nation and said, 'We are at war with India.'
Pakistanis consider it one of the most memorable and historic speeches by a Pakistan President. 'India has dared to go to war with a people whose hearts are filled with the message of Kalama of Quran that says there is no one like Prophet Mohammed: the Prophet of Allah.' Khan said. 'We will never tolerate such attacks. Our army has been sent to borders and you too must be ready and form the second line of defence.'
It was a special moment in Pakistan's history. It was when we became a nation. A wave of emotion inundated Pakistanis from Karachi to Lahore to East Pakistan (now Bangladesh). People came out in big numbers to participate in rallies in support of the army.
Every Pakistani wanted to contribute. Poets wrote nationalistic poetry. The radio became the medium of the masses. Television was accessible only in Lahore. Popular singer Mallika-e-Tarnoom Noor Jehan went to the Lahore television station, requesting them to allow her to sing for Pakistan.
Amidst the groundswell of emotion, everybody -- rulers and Opposition -- were united. That was the way it was throughout the war. It was the first full-scale war. In 1947 we saw a few skirmishes and war in pockets but this time we saw India attacking us on the International Border.
There is evidence to prove India crossed the International Border first, not us.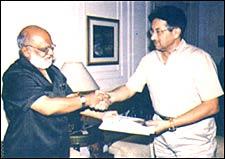 India's stand was that Pakistan was involved in the uprising in Kashmir. Pakistan's stand was that Kashmir is a disputed territory and whatever happens in Kashmir cannot be dubbed as a war.
Before the war started, there were skirmishes in the Rann of Kutch. The then Indian prime minister Lal Bahadur Shastri had said, 'We will open the front of our choice.' All this is recorded history and books have been written on it as well.
The then Indian chief of army staff Joyanto Nath Chowdhuri had said: 'I'll have a bada (large) peg in the Lahore Gymkhana.'
We have evidence that the Indian Army [Images] had crossed the Wagah border in Punjab and arrived in Batapur. The Pakistani people believed India would not cross the International Border, so we were not prepared for the war. Somehow, Indians thought it must be a trap, so they retreated. There was severe criticism of the Pakistan government for leaving the Lahore border unprotected.
It was a conventional war: tanks against tanks, aircraft against aircraft. After three or four days of Indian attack near Lahore we got fresh news that Pakistan had managed to attack the Khemkaran sector in Indian Punjab, there was heavy war in Sindh too.
People always wanted to hear news of the war from Shakeel Ahmed, a radio announcer whose strong, resonant voice is still remembered. He was always asked to read the news of the war on radio.
Raees Amrohi, older brother to Kamal Amrohi (husband of Indian actress Meena Kumari), wrote a poem on Lahore: 'Hey Lahore, I salute the people who are dying for you.'
The omnipresent anti-India feelings increased. Hostility and enmity against India solidified with the 1965 war because the British had casually sketched our country's border but it was the first time we gave blood to the borders.
From 1947 to 1965, Bengalis or Punjabis would prevail in Pakistan. We were struggling to become a nation. But during the 1965 war all of us were one: Pakistanis.
Nishan-E-Haider (Pakistan's highest military award) Aziz Bhatti became our hero. He died defending the lines near Lahore and became a legend. Many novels have been written on him.
Outside the Lahore radio station a post box was kept in which people would submit patriotic poetry. I wrote poetry too. A poem I wrote for the Pakistan Air Force became very popular:
Yeh hawa ke rahion/Yeh badalon ke sathion/Harfanshan Mujahidon/Apni jaan pe khel kar/Tum [Images] bane salamati
The war lasted till September 22, 1965, when a ceasefire was declared due to the intervention of the United Nations.
Our then foreign minister Zulfikar Ali Bhutto gave a very emotional speech at the UN Security Council. 'If needed, for Kashmir we would fight a war for a thousand years,' he declared.
When he made the speech, most Pakistani cities were under blackout. To this day, every Pakistani remembers that speech on the radio.
I remember we were taken to the Wagah border for reporting and we collected some used shells and packets of Indian cigarettes. We were also taken to Khemkaran. We felt proud to see the battleground where we won.
Even Time magazine reported that 'despite claims from both sides the awkward fact is Khemkaran is under Pakistan administration.'
Iran supported us but America didn't upgrade/replace the arms we were using against India. China famously declared that India should behave otherwise their ships will sail. It was a symbolic statement, which alarmed India.
Many Pakistan Army [Images] men have said that the 1965 war happened at the wrong time and we suffered political losses.
After World War II, the biggest tank battle was fought in Chawinda in Sialkot district. Books have been written on that battle. Pakistan claims its soldiers tied bombs to their bodies and destroyed the Indian tanks.
When the ceasefire was announced, both sides were trying to capture maximum land at the last moment to strengthen their bargaining position after the war. In February 1966, Ayub Khan and Shastri met at Tashkent in what is now Uzbekistan. Bhutto, as foreign minister, expressed his disagreement. Later, he quit and said, 'Whatever we earned in the battleground we lost on the talks table.' Tashkent is a controversial chapter in Pakistan's history books.
It was decided that on the International Border pre-war positions should be held. Our history has always believed and will believe that we won the 1965 war but we lost the 1971 war because of military and political reasons.
After the war, in East Pakistan, people turned against the Pakistan Army. So the focus turned from valour and pride to these problems. East Pakistanis felt they were left unsecured during the war. China had assured us it would help protect East Pakistan. But the people in East Pakistan felt unprotected.
Unrest in East Pakistan started after that period. East Pakistan Rifles fought against India: and fought very well. At least during the 1965 war both sides of Pakistan were united.
Ayub Khan's political strength also weakened. Like Winston Churchill [Images], he won the war but lost the elections after the war. The US was also against Khan.
Bhutto got the momentum and support. But he didn't get as much support in East Pakistan. It was evident that the image of the two leaders did not resonate much in the East.
Even after 40 years Pakistanis remember the war with India because we have many memorials and we pay homage to them on September 6. Many ceremonies are held in memory of the martyrs. September 6 is our Defence Day. Newspapers publish special supplements and there are special radio and television programmes in memory of the dead.
The only change in our memory is that in a few government publications the word 'enemy' has replaced 'India'!
Previously we used to say 'India did this and that.' Now, after the Shimla Agreement, we say 'the enemy had done this and that.' With the passage of time, September 6 is not so much about India's aggression in 1965 but more a day to fete our defence forces.
Mahmood Shaam, group editor, Jang group of publications, Pakistan, seen above with General Pervez Musharraf [Images]
Guest Columns